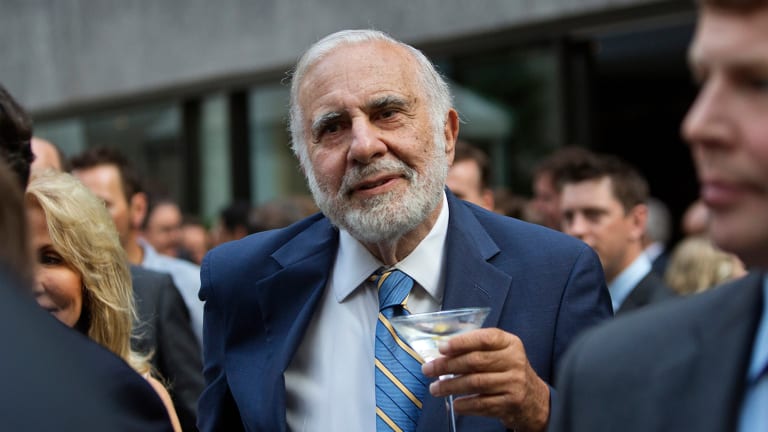 Billionaire Investor Carl Icahn Quits as Adviser to Trump
Activist investor Carl Icahn has stepped down from his informal advisory role on regulatory reform to President Donald Trump, he said on Friday.
Activist investor Carl Icahn has stepped down from his informal advisory role on regulatory reform to President Donald Trump, he said on Friday. He announced the move in a pair of tweets.
Icahn is the latest in a series of people to quit as Trump advisers or officials. Chief strategist Steve Bannon exited his role on Friday. Two of Trump's executive advisory councils disbanded earlier this week in response to his equivocal treatment of racist violence in Charlottesville, Virginia, and a handful of charities canceled events scheduled to be held at his Mar-a-Lago club in Florida. The Trump administration has also lost two White House communications directors, a chief of staff, a press secretary and a national security adviser, among others.
Icahn said in a letter posted on his website on Friday that he ended his agreement with the president's blessing after a conversation with him. He said he wants to end "partisan bickering" about his role as an informal adviser on regulations to Trump and questions about his overlap with Neomi Rao, Trump's appointee as Administrator of the Office of Information and Regulatory Affairs.
Icahn, 81, emphasized that he never had any official duties.
"I never had a formal position with your administration nor a policymaking role. And contrary to the insinuations of a handful of your Democratic critics, I never had access to nonpublic information or profited from my position, nor do I believe that my role presented conflicts of interest," he said. "Indeed, out of an abundance of caution, the only issues I ever discussed with you were broad matters of policy affecting the refining industry. I never sought any special benefit for any company with which I have been involved, and have only expressed views that I believed would benefit the refining industry as a whole."
Icahn has come under scrutiny over whether he might use his position with Trump to advance his own financial interests. 
Senator Elizabeth Warren (D-MA) and other Democratic lawmakers have raised questions over potential conflicts of interest, including levying charges of potential insider trading.
Warren and a group of Democratic lawmakers in May demanded a probe into Icahn's activities in the biofuels market, focusing on possible insider trading. The Democrats argued that Icahn, as an unpaid adviser to Trump, recommended personnel and policies that they assert caused the price of renewable fuel credits to drop. They argued that the investments resulted in a $50 million turnaround from Icahn's initial investment. At the center of their concerns is Icahn's majority control of CVR Energy Inc. (CVI) - Get CVR Energy, Inc. Report , an oil refiner that has a significant interest in the renewable fuel credit market.
Warren in July also urged Treasury Secretary Steven Mnuchin to examine whether Icahn had urged regulators to remove a costly "systematically important" designation from American International Group (AIG) - Get American International Group, Inc. Report . 
Trump often spoke about Icahn on the campaign trail and touted their relationship. He even floated the idea of appointing him as Treasury Secretary.
"Carl was with me from the beginning and with his being one of the world's great businessmen, that was something I truly appreciated," Trump said when he tapped Icahn for the advisory spot in December. He said Icahn was not only a businessman but a also "brilliant negotiator" and someone who "is innately able to predict the future, especially having to do with finances and economies."
"I sincerely regret that because of your extremely busy schedule, as well as my own, I have not had the opportunity to spend nearly as much time as I'd hoped on regulatory issues," Icahn wrote. "I truly appreciate the confidence you have in me and sincerely hope that the limited insights I shared have been helpful to you. I love our country which has allowed me to achieve so much and I thank you for the informal opportunity you have given me to aid it."
Don't miss these top stories on TheStreet:
Amazon's Instant Pickup Service Shows Clearly Who Jeff Bezos Is Targeting Next