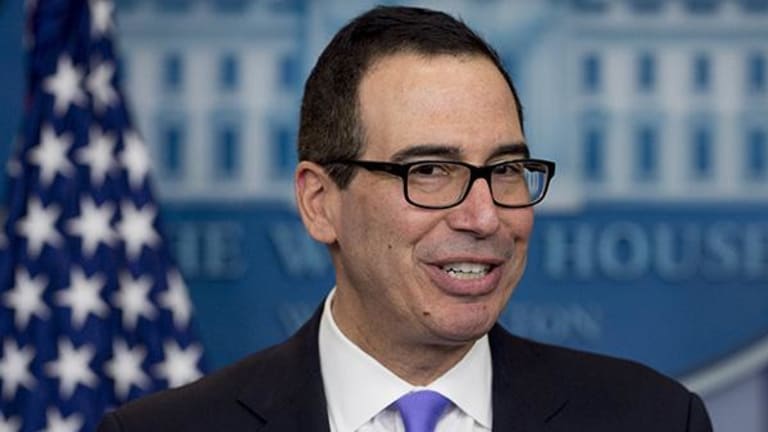 Big and Mid-Sized Banks Will Cheer Treasury Report on Wall Street Rules
The Trump Administration released a 149-page report urging lawmakers to ease restrictions on big banks, though the recommendations aren't as sweeping as those in a House bill approved last week
Small, mid-sized and large U.S. banks are likely to benefit from a Treasury Department report released late Monday proposing a variety of changes to tough financial regulations imposed after the 2008 financial crisis, including a measure that would significantly ease so-called annual stress tests banks must undergo to see if they could survive a hypothetical economic meltdown.
The report, written in response to a Trump Administration executive order in February, is 149 pages long, and includes dozens of recommendations to cut back on restrictions imposed by the Obama Administration's post-crisis Dodd-Frank Act.
Nevertheless, the recommended changes, which were issued under the oversight of Treasury Secretary Steve Mnuchin, are less sweeping than legislation approved last week by a divided House of Representatives. The House OK'd legislation seeking to eliminate key sections of Dodd-Frank in a vote that did not get the backing of a single Democratic lawmaker.
Some of the report's recommended alternations stand to buoy lenders from Bank of America Corp. (BAC) - Get Bank of America Corp Report to JPMorgan Chase & Co. (JPM) - Get JPMorgan Chase & Co. Report , Wells Fargo & Co. (WFC) - Get Wells Fargo & Company Report , Citigroup Inc. (C) - Get Citigroup Inc. Report , Morgan Stanley, (MS) - Get Morgan Stanley Report and Goldman Sachs Group Inc. GS. Others will likely be viewed positively by regional banks such as Zions Bancorporation (ZION) - Get Zions Bancorporation, N.A. Report and Comerica Inc. (CMA) - Get Comerica Incorporated Report  as well as smaller community banks.
The narrower scope of the legislative recommendations also suggests that any bill based on the report would have a greater chance of being approved. Any legislation that reaches the White House would need the support of some moderate Democrat senators, since Republicans have only a 52-seat majority and 60 votes are needed to prevent a filibuster. As a result, the package will be carefully reviewed by the Senate Banking Committee and its chairman, Sen. Mike Crapo, R-Idaho, who is expected to release his own legislation to restructure the Dodd-Frank Act.
The Treasury report highlights many areas that require further study and recommends that banks with less than $10 billion in assets be exempted from the Volcker Rule, a measure mostly focused on the largest U.S. banks that was designed to keep institutions from speculative trading on their own accounts. Also recommended is a provision that could exempt bigger banks for the Volcker Rule if they don't trade a lot, however little detail is provided as to how regulators would oversee such a change. Nevertheless, the recommendation is vastly different than what the House bill proposes -- a complete elimination of the Volcker Rule and many other standards in exchange for a higher capital buffer at big banks. 
The package also seeks to provide relief for small, mid-sized and possibly even larger banks when it comes to annual stress tests they must undergo to identify if they could survive a financial crisis similar to the 2008 credit crunch. The report recommends easing restrictions so that banks with less than $50 billion in assets would be exempt from conducting one set of tests. Currently banks with greater than $10 billion in assets must participate.
The report also suggests that even the biggest banks could be excused if they can make their business models simpler. It also seeks to adjust stress tests for the biggest banks to a two-year cycle instead of the current annual approach. Finally, it even suggests that these tests, a signature part of the Obama Administration's financial crisis response, could be eliminated if banks hold higher capital buffers.
The Treasury report also took issue with the threshold at which banks are deemed Systemically Important Financial Institutions, and thus subjected to stricter oversight and capital requirements, suggesting that some mid-size banks with more than $50 billion in assets could be exempted. The report said that tough restrictions have created barriers for regional and mid-sized banks at the same time that they are "contributing to the solidification of the market position of the largest" banks.
This recommendation, which could gain the support of some moderate Democrats, should give mid-size regional bank stocks, including Zions and Comerica, a boost in trading Tuesday since their institutions stand to gain the most from becoming exempt for the regulatory oversight. 
In addition, the findings come just a few days ahead of a Thursday, June 15, Senate Banking Committee hearing that will focus on the SIFI threshold and other regulatory issues affecting regional banks. Zions CEO Harris Simmons and Randy Chesler, CEO of Glacier Bancorp (GBCI) - Get Glacier Bancorp, Inc. Report , are both scheduled to testify and are likely to say that the SIFI threshold has hurt companies like theirs more than so-called global banks. At the hearing, Crapo -- the committee chairman -- may provide some guidance about his own legislative proposals.
Additionally, the report's recommendations seek to make the Consumer Financial Protection Bureau chief removable at will by the president or, alternatively, have Congress restructure the one-person led agency so that it is made up of a five-member bipartisan panel. It also wants the CBPB, which was set up to write rules for mortgage and credit products, to get its funding from the appropriations committee, rather than the current way it is automatically funded from the Federal Reserve. Either approach could restrict the agency's oversight role. Such a move would be cheered on by opponents who say the bureau adds costs to banks. However, backers of the agency point out that it has returned billions of dollars to consumers since it was formed in 2011.
Not all of the report seeks to ease restrictions. For example, the legislation also recommends that Congress expand the authority of the Financial Stability Oversight Council to play a larger role in picking a lead regulator to tackle a particular issue when multiple agencies have conflicting and overlapping jurisdiction. For example, the FSOC could pick either the Securities and Exchange Commission or the Commodity Futures Trading Commission to head a particular task in a situation where the two agencies don't agree on who should have jurisdiction. The FSOC is made up of agency chiefs and seeks to identify emerging threats to the financial system.
Also, expect more recommendations to come. President Trump in April directed the Treasury Department to look at whether it would scrap a system set up after the 2008 crisis for handling failures of large banks. The memo orders Mnuchin to review the effects of a Dodd-Frank reform law provision creating Orderly Liquidation Authority, the power to wind down a collapsing financial institution deemed likely to threaten financial stability. Of particular concern, the president wrote, is whether the system improperly shifts costs to taxpayers, might cause excessive risk-taking and conflicts with Trump's goal of curbing unnecessary regulation. A report on the OLA is due in September or October.