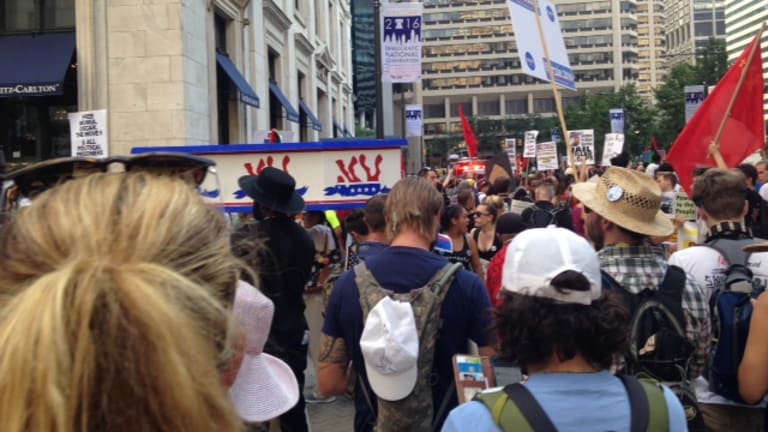 Why Some Bernie Sanders Supporters Still Won't Vote for Clinton
As roll call was underway at the DNC arena to nominate Hillary Clinton, protestors gathered a handful of miles away. As to what they want, it depends who you ask.
PHILADELPHIA (TheStreet) -- As roll call was underway at the Democratic National Convention arena to nominate Hillary Clinton, protesters gathered a handful of miles away. As for what they want, well, it depends who you ask. One thing many of them don't want: to vote for Clinton in November.
Activists trickled into Philadelphia's center city throughout the day Tuesday, gathering in the early evening in preparation to march to the Wells Fargo Center, where the DNC is being held.
Signs read "Black Lives Matter," "Love Trumps Fear," "Bernie or Bust." A Fox News reporter taking selfies, when spotted by the crowd, was shouted away by protesters shouting, "F*** Fox News" and "Kick Fox out!"
"They covered Bernie better than any other of the major networks during the primaries," one man in the crowd said.
Most in attendance were there supporting Bernie Sanders, still refusing to accept the Vermont Senator is out of the race and spurning the idea of voting for Hillary Clinton.
"The ideal scenario is that something happens at the convention with the super delegates, I know they're doing a roll call right now, and that Bernie ends up being the candidate," said Skylar Joseph, a student who travelled to Philadelphia this week from Boston. She acknowledged that such an event is unlikely. "I'm just sort of trying to be a part of the social movement for the issues that I care about."
Joseph said she will not vote for Clinton in November but wasn't sure who she would vote for instead. When I floated the idea of Donald Trump, both she and her mother responded a flat, "no."
Christopher Reed from West Virginia was more optimistic about Bernie's chances, telling me she had just received a text message from a delegate saying the convention would be contested. This was not the case.
"What I do know is FDR went into a contested convention, and he was not the nominee officially, and he came out winning," she said, citing Franklin D. Roosevelt's ascension to the presidency in 1932. "From what I understand, it means that Bernie gets a fight to actually be the nominee."
And if not, the objective beyond Bernie was hazy. "I want most of what Bernie's platform issues are to kind of start being focused on," she said, noting she plans to vote for Jill Stein come November.
She's not the only one. Gordon, a protestor from Massachusetts who declined to give his last name, he said he would at the very least not be voting for Clinton. As for his reason for attending the rally, "I'm here to push the DNC left, to push Bernie Sanders' agenda," he said.
#BernieorBust wasn't the only item on the agenda.
Direct Action Everywhere, a group dedicated to "total animal liberation," was represented in the crowd as well. "I just want people to stop eating animals," said Jack Weber, a young man who had traveled from Kenneth Square, Pennsylvania with the group.
Code Pink, a women-led grassroots non-governmental organization (NGO) against U.S. wars and militarism, is present in Philadelphia as well. The group was at last week's Republican National Convention, dancing to Demi Lovato's "Confident" outside the Quicken Loans Arena in Cleveland. (Coincidentally, Lovato performed the song at the DNC on Monday.)
"We want a peace president," said Leslie Harris, who traveled with the group from Dallas. The group hasn't endorsed a specific candidate, but she mused about her views of Clinton. "Who knows, she might become the peace president, but her past record isn't very peaceful."
Suhail Shafi stood in the crowd with two signs: one said "All Live Matter," listing out various groups, and another said, "I respect the police but I condemn police brutality."
"What I'm here to protest for isn't exactly what the rest of them are protesting for, but there is a strong element of overlap," he said.
Shafi currently lives in Danville, Pennsylvania but is originally from India -- in other words, he cannot vote. But that doesn't mean he's not engaged.
"I still do have a lot of respect for [Sanders], but now that Hillary is the Democratic candidate, I want her to win, because Trump is obviously far worse," said Shafi.