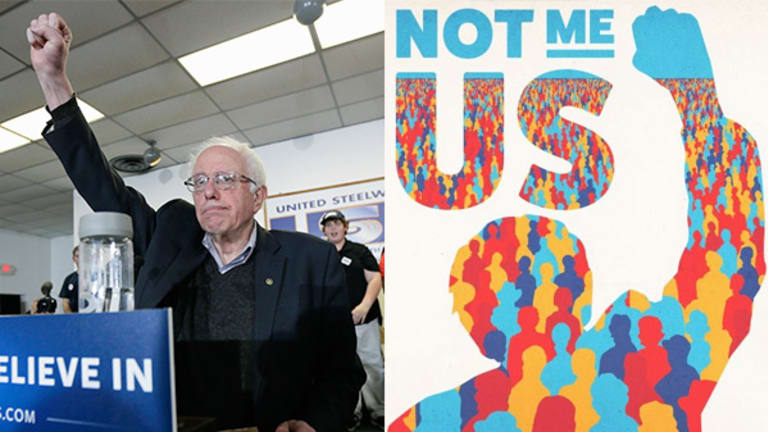 Bernie Sanders Kicks Off #AmericaTogether Campaign in Arabic on Twitter
Bernie Sanders just made a bold statement on inclusion: He tweeted in Arabic.
Bernie Sanders just made a bold statement on inclusion: He tweeted in Arabic.
The Vermont senator and Democratic presidential nominee posted on Twitter Friday a graphic and message in Arabic. "America becomes a greater nation when we stand together and say no to racism, hatred, and bigotry," the translated message reads. The graphic says, "Not me, us."
The tweet is part of a larger initiative the Sanders camp rolled out this week: #AmericaTogether. A social media call to action, the goal of the campaign is "to give Bernie a huge surge of online support, and to show as many on-the-fence voters that taking part in the democratic process is a powerful way to break through the hate-filled barriers that often divide so many of us."
Versions of the tweet are available for download on the Sanders website in various languages, including Chinese, Dutch, French, German, Hebrew, Italian, Korean, Portuguese, Russian, Spanish, Tagalog and Vietnamese. The posters were designed by Aled Lewis, a London-based designer and illustrator.
The move comes a day ahead of the Nevada caucus, where a last-minute surge has Sanders polling nearly neck-in-neck with rival Hillary Clinton. According to a RealClearPolitics average of polls, Sanders trails Clinton by just two percentage points in the state. (In South Carolina, where the two will face off next weekend, she retains a dominant 20-plus-point lead.)
Sanders reiterated his message of inclusion at a town hall hosted by MSNBC and Telemundo Thursday evening when asked by an audience member how he would address Islamophobia.
"This country's greatness relies on the reality that throughout our history we have welcomes people into this country," he said, noting that his father came to the U.S. from Poland at age 17. He said that people may disagree about immigration and took a swipe at the GOP frontrunner. "It is absolutely unacceptable to me that in the year 2016 we have people like Donald Trump and others who are trying to gain votes by scapegoating people who may be Muslims or people who may be Latinos. That is unacceptable," he said.
The campaign is in part an effort on the part of the Sanders team to expand his appeal, explained Democratic political consultant Jon Reinish.
"Part of Hillary Clinton's strength is built on a strong, highly diverse coalition of support, including key portions of the so-called Obama coalition. Sanders knows that in order to come close to cinching the democratic nomination, he will need to move beyond his largely homogenous base of support. So this is a smart move on his part, engaging core young supporters that largely live on Twitter and trying to reach out -- and bring in -- as many new demographics as possible," he said. "This includes Arab Americans, and why not? It's a growing community. He's not leaving any stone unturned and emphasizing a sense of diversity that's well beyond standard palaver -- even if it's unclear whether it translates into great or game changing numbers of actual votes. That's probably beside the point."