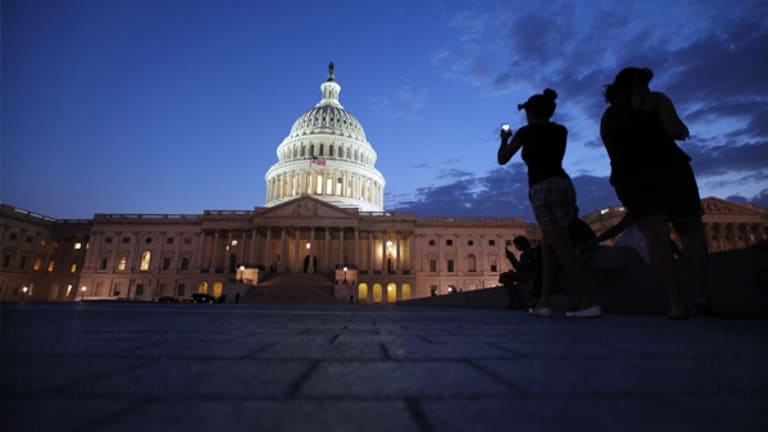 Bernanke Defends QE2, Pressures China
Federal Reserve Chairman Ben Bernanke defended the central bank's latest round of economic stimulus and criticized the impact of currency undervaluation by some countries, most notably China, for impeding the global economic recovery in a speech Friday.
Updated from Thursday, Nov. 18
NEW YORK (
) --
Federal Reserve
Chairman Ben Bernanke gave a
wide-ranging speech in Germany
on Friday where he defended the Fed's latest round of economic stimulus and criticize the impact of currency undervaluation by some countries, most notably China, for impeding the global economic recovery.
"
Currency undervaluation inhibits necessary macroeconomic adjustments and creates challenges for policymakers in both advanced and emerging market economies," Bernanke stated in his speech Friday, the text of which was posted on the Federal Reserve's Web site late Thursday. "Globally, both growth and trade are unbalanced, as reflected in the two-speed recovery and in persistent current account surpluses and deficits. Neither situation is sustainable."
Of the Fed's latest round of stimulus -- a program to purchase $600 billion worth of long-term Treasury securities by the end of the second quarter of 2011 -- Bernanke said it's "inappropriate" to refer to the plan as quantitative easing because the purchases work by impacting yields on the securities, not by boosting bank reserves. He also seemed to respond to some recent criticism of the program by saying its form and completion wasn't set in stone.
"This policy tool will be used in a manner that is measured and responsive to economic conditions," Bernanke stated. "In particular, the Committee stated that it would review its asset-purchase program regularly in light of incoming information and would adjust the program as needed to meet its objectives."
Of China, Bernanke noted the country has built up significant foreign exchange reserves, and then speaks generally about how relying on export-led growth is a mistake for emerging market countries as they also need countries with advanced market economies to recover as well; although it's clear who the remarks are mainly aimed at.
"In particular, for large, systemically important countries with persistent current account surpluses, the pursuit of export-led growth cannot ultimately succeed if the implications of that strategy for global growth and stability are not taken into account," he said.
Bernanke also argued for increased global coordination and cooperation to manage the international monetary system.
"
Itwould be desirable for the global community, over time, to devise an international monetary system that more consistently aligns the interests of individual countries with the interests of the global economy as a whole," Bernanke stated.
"In particular, such a system would provide more effective checks on the tendency for countries to run large and persistent external imbalances, whether surpluses or deficits," he continued.
Bernanke delivered the remarks at the Sixth European Central Bank Central Banking Conference in Frankfurt on Friday.
--
Written by Michael Baron in New York.
>To contact the writer of this article, click here:
Michael Baron
.
>To submit a news tip, send an email to:
Disclosure: TheStreet's editorial policy prohibits staff editors, reporters and analysts from holding positions in any individual stocks.