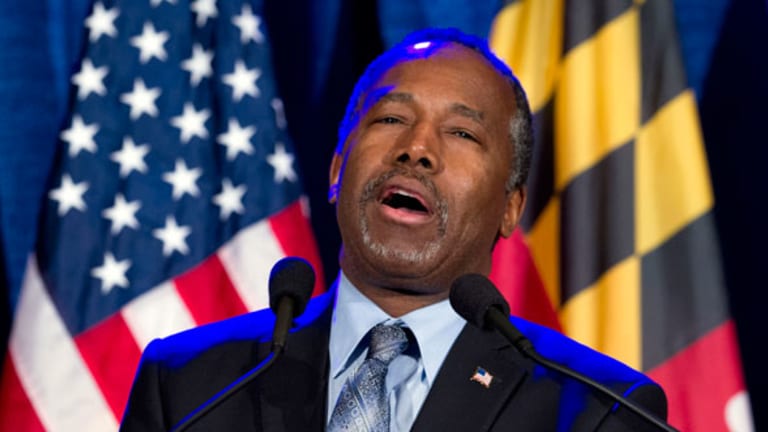 Ben Carson Sees No 'Path Forward' in GOP Race: 7 Strange Moments from His Campaign
Remember when Ben Carson was polling so well he was placed center stage next to Donald Trump at the Republican presidential debate? Oh, how times have changed.
Remember when Ben Carson was polling so well he was placed center stage next to Donald Trump at the Republican presidential debate? Oh, how times have changed. 
The retired neurosurgeon told supporters in a statement on Wednesday he has decided not to attend Thursday's presidential debate in Detroit, having decided he does not see a "political path forward" in the wake of his poor showing in Super Tuesday voting. He pledged to continue with his "grassroots movement on behalf of 'We the People'" and said he will discuss more about the future of the movement during his speech on Friday at the Conservative Political Action Conference in Washington, D.C. 
Carson's campaign had been flailing for quite some time since he surged in the polls last fall. He came in a disappointing fourth place in the Iowa caucus, bringing in just over 9% of the vote in a state where he had the best prospects to make a dent, and it was all downhill from there.
While Carson's wasn't the winningest campaign, it was among the most intriguing and, at times, puzzling. Poised alongside Trump as a Washington outsider, Carson's rookie status often showed, whether through his inability to differentiate the pronunciation between Hamas and hummus, his repeated gaffes on basic foreign policy issues, or the simple inability to walk onto the debate stage.
Unless he is pegged as frontrunner Trump's running mate -- 
which a recent poll indicates voters would like to see
-- we may have seen the last of Carson in the political sphere. (Luckily, the good doctor has
and
to fall back on.)
Here's a look at seven of Carson's most interesting, albeit at times bizarre, moments on the campaign trail. Maybe now that it's over, he'll finally come clean about whether or not he actually stabbed someone as a teen. And squeeze in a nap.
1. The Book Tour Timeout
Back in October, Carson decided to take a time out from campaigning to sell books. ABC News reported the doctor would put his public campaign events on hold for two weeks to go on a book tour for A More Perfect Union and catch up on fundraising events, of which more than 20 were scheduled.
"It's a question of co-mingling from the corporate standpoint to the Federal Election Commission standpoint so it's just better to avoid any bad appearance," spokesman Doug Watts told the outlet at the time.
But almost as soon as the news broke, the Carson camp appeared to reverse course, telling CNNseparately that he would not be suspending campaigning.
"Dr. Carson does have a book out that he's talking about on the campaign trail, but he's also talking about issues. He's talking about his policies. It's a very delicate situation but Dr. Carson has not suspended [his campaign]," said Armstrong Williams, Carson's business manager.
2. The Laundry Pit Stop
Carson appears to have an aversion to dry cleaners in Iowa -- or he's just not great at making up excuses. On the day of the Iowa caucus, the retired neurosurgeon announced that after voting concluded in the Hawkeye State he would head home to Florida for a while to rest and "get some fresh clothes."
Carson's campaign was quick to clarify that his pit stop didn't signify the end of his campaign, but it still led to an enormous debacle.
Ted Cruz's camp used the announcement to spread a false rumor that Carson was suspending his bid, citing a
CNN
report that the
. Carson
the Texas senator's team of sabotage and playing a "dirty trick" to get a leg up, but the damage was already done.
The internet had a fun time with Carson clothes jokes as well.
3. Carson Makes a Funny
Carson has admitted to falling asleep while driving on more than one occasion, and he appeared to fall asleep on the campaign trail at time as well. His subdued manner and reduced energy became a running joke among onlookers, and Carson decided it was better to laugh with people than to be laughed at by them.
"I'm very happy to get a question early on. I was going to ask you up when the time came," he cracked in response to his first question from Fox Business Network moderators at a January GOP debate.
4. Carson Can't Figure Out to Take the Debate Stage
The first step of any good debate is getting all of the candidates onto the stage, and for Carson, making it to the podium was a struggle at the February 6 showdown in New Hampshire.
The retired neurosurgeon appeared to have missed his cue when introduced by moderators and instead remained patiently -- and awkwardly -- planted backstage as Cruz, Marco Rubio and Jeb Bush passed him by.
Trump stayed behind along with Carson, and the moderators forgot to call out John Kasich until Chris Christie reminded them of the error.
5. The Campaign Shakeup
Just ahead of the New Year, three of Carson's top aides walked away from his campaign. Campaign manager Barry Bennett, communications director Doug Watts and deputy campaign manager Lisa Coen left the doctor's White House bid.
According to The Des Moines Register, Bennett and Watts quit because of tensions with Armstrong Williams, a conservative radio personality and longtime friend of Carson's who had been advising him. Coen followed them because she was "deeply concerned about the campaign's ability to move forward successfully" without their involvement.
Carson explained away the shakeup, saying in an interview days later that his campaign was in a "different ballgame" and that the leadership he had in place was unable to execute.
"We have had very good people that had very good ideas and no one predicted that we would even be in the hunt," he said. "It really is quite spectacular what we were able to do. But the fact of the matter is now we're in a different ballgame and we need the ability to execute and not just have good ideas."
6. The Secret Closet Meeting with Cruz
Cruz's dirty tricks in Iowa caused a rift between the senator and the neurosurgeon, and in February, the two held a private meeting to chat it out. The location: a closet. Really.
According to The Daily Beast, the pair huddled in a storage closet for 20-to-25 minutes as Carson's Secret Service detail stood outside the evening before the Conservative Review convention in South Carolina. Carson's campaign confirmed the meeting, which was supposed to be short and off-the-record, and blamed Cruz for leaking its occurrence in an attempt to rectify his public image.
"We weren't going to comment to the press on it, but it seems pretty clear that the other party involved had a different agenda," Jason Osborne, senior communications strategist for Carson's campaign, told the publication. "How else could we perceive that to be?"
He also clarified that the meeting "did not go well."
7. "Putin is a one-horse country -- oil and energy."
That was one of Carson's lines from the January 28 Republican debate. It pretty much speaks for itself.