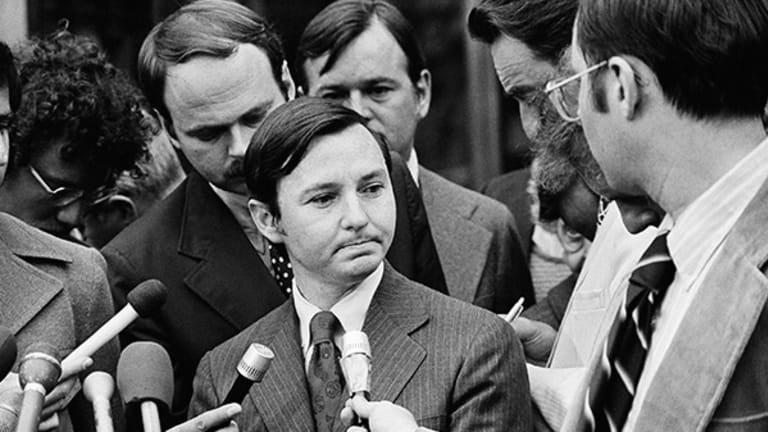 Before Ted Cruz, There Was Donald Segretti, Nixon's Master of Dirty Tricks
Texas Sen. Ted Cruz is backpedaling for allegedly using dirty tricks to bolster his campaign. But for Republicans, such schemes fit a long tradition.
If you think Ted Cruz is getting dirty, try 1972.
Back when Richard Nixon was running for re-election, it was called "ratfucking," and the man in charge was Donald Segretti. A former Treasury Department lawyer, Segretti knew Nixon from their days at the University of Southern California, where they first began using dirty tricks in student elections.
As a staffer on Nixon's Campaign to Re-elect the President, known widely as CREEP, Segretti worked with others to spy on investigative reporter Jack Anderson, infiltrate the grassroots group Vietnam Veterans Against the War and ultimately to break into the Democratic Party's national headquarters at The Watergate in Washington D.C.
Watergate remains the Nixon campaign's defining event, but before the break-in Segretti was responsible for the "Canuck Letter," which accused liberal Maine Senator Edmund Muskie of making disparaging comment about Canadians, all but ruining his 1972 presidential campaign. 
Segretti was also the brains behind a slew of anonymous mailings, one printed on Muskie letterhead, that accused Democratic Senator Henry "Scoop" Jackson of fathering a child with a teenager, and charging that another had been arrested for homosexuality in the 1950s. Back before Stonewall, so-called anti-sodomy laws were commonplace, and fair game for politics. 
For some, these were 'Good Fellas' moments. Boys being boys. But as Charles Pierce wrote, "ratfucking" was born of the belief that "political sabotage for its own sake is a worthy enough goal." On a more personal level, it's "essentially bullying...about ridicule and deceit as ends in themselves."
Of course, dirty tricks didn't begin or end with Segretti.
George W. Bush's political advisor Karl Rove, who met Segretti when he was 21, used accusations of being gay to undermine opponents, including Texas Governor Ann Richards, whom Bush defeated in 1994. Then in 2000, in South Carolina, fliers, e-mails and push polls surfaced alleging that Arizona Senator John McCain had fathered an African-American daughter out of wedlock. He actually had adopted a girl from Bangladesh.
Rove's attacks on McCain in 2000 read like a laundry list of dirty tricks. Which leads us to Cruz's presidential campaign.
In recent days, both Florida Senator Rubio and Ben Carson have accused the Texas senator's campaign of dishonesty, deceptiveness or downright lies. Carson remains bitter that on the day of the Iowa Caucuses, Feb. 1, Cruz's campaign told its supporters by phone and e-mail, that the nuerosurgeon-turned-religious-book-writer was suspending his quest for the Republican nomination, and heading to his home in Florida.
Cruz supporters were alerted with "breaking news" that Carson was dropping out, encouraging them to "inform any Carson caucus-goers of this news and urge them to caucus for Ted instead." Cruz narrowly defeated Trump in Iowa. The news about Carson was wrong, but Cruz went on to win the caucuses, defeating frontrunner Donald Trump, and gaining early momentum.
Since then, Cruz's campaign manager Jeff Roe, an operative in the tradition of Segretti and Rove, stepped up attacks on Rubio, first on immigration and later on abortion. In both instances, the Cruz campaign was accused of underhanded tactics.
And then on Monday, Cruz communications director Rick Tyler posted a video in which Rubio appears to portray the Bible as "not having many answers in it." Such an attack ad seemed like fair game considering that both candidates often invoke religion as guiding their positions on major issues. 
Yet the Cruz campaign's accusation that Rubio was insufficiently impassioned over the Bible was actually the product of clever video editing. An earlier Cruz video had done something similar, creating the impression that Rubio was shaking hands with President Obama, a Republican no-no.
As for the Bible video, Rubio in fact states that when it comes to the good book, "all the answers are in there." Cruz fired Tyler afterward. 
RedState, the right-wing website that supports both candidates, called on Cruz and Rubio to knock it off, and focus their attacks on Donald Trump, who many establishment Republicans now fear will be their nominee.
"In an election that is just as much about the identity of conservatism and what it means for our country, this spat does little more than give two camps which are normally stellar examples of the conservative identity a chance to tear each other apart," wrote RedState's Joe Cunningham. "This leaves the substantially less conservative Donald Trump still standing tall.
Dirty tricks may be easier to expose than in generation's past, but it's unlikely they'll disappear. As for Segretti, he served a little more than four months in federal prison for distributing illegal campaign material, back in the 1970s, and then surfaced, ironically, as the co-chair in conservative Orange Country, Calif. for McCain's 2008 presidential campaign.
Nonetheless, Obama defeated McCain eight years ago in California, 61% to 38%.