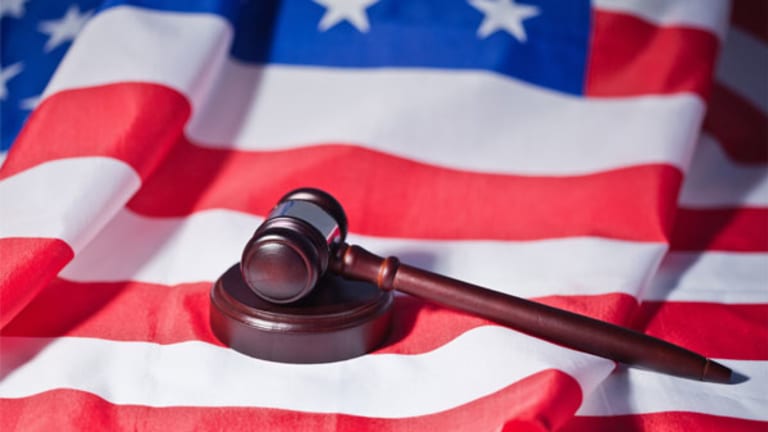 Barack Obama Elected 44th U.S. President
The Democratic senator from Illinois easily collected enough electoral votes to defeat Arizona Republican John McCain in the race for the White House.
Updated from 7:25 a.m. EST
To view election results for each state, click here: Votes.
Democrat Barack Obama was elected to a four-year term as the next president of the United States Tuesday night, easily defeating his rival, Arizona Republican John McCain.
According to
CNN
, Obama, an Illinois senator, has thus far won 338 electoral votes, while McCain has 163. Obama needed a minimum of 270 electoral votes to claim victory. Three states, Indiana, Missouri and North Carolina, haven't yet been called.
In the Senate,
CNN
projects the Democrats won 17 seats in the election for a total of 56 seats, while the Republicans won 14 seats for a total of 40. Four contests remain to be decided.
After his win, Obama told supporters that "change has come to America," as he addressed the country for the first time as the president-elect.
"If there is anyone out there who still doubts that America is a place where all things are possible, who still wonders if the dream of our founders is alive in our time, who still questions the power of our democracy, tonight is your answer," Obama said in his victory speech in Chicago.
Photo Gallery: Race for the White House
Police estimated more than 200,000 people gathered in Grant Park to hear Obama claim victory,
CNN
reports.
"The road ahead will be long. Our climb will be steep. We may not get there in one year or even one term, but America, I have never been more hopeful than I am tonight that we will get there. I promise you, we as a people will get there," Obama said.
Obama said he was looking forward to working with McCain and Alaska Gov. Sarah Palin "to renew this nation's promise in the months ahead."
Regarding the financial crisis in the U.S., Obama said, "Let us remember that if this financial crisis taught us anything, it's that we cannot have a thriving Wall Street while Main Street suffers. In this country, we rise or fall as one nation, as one people.
McCain urged all Americans to join him in congratulating Obama on his win in the presidential election.
"I pledge to him tonight to do all in my power to help him lead us through the many challenges we face," McCain said before his supporters in Phoenix.
Obama's campaign worked hard to win gritty industrial states of Ohio and Pennsylvania and powered the Latino vote in the West. He also won other battleground states such as Florida, Iowa and Virginia. He's leading in Indiana as results are still being tabulated,
CNN
reports.
The election was historic on many levels, including the fact that Obama is the first nonwhite to be elected as president. This was also the first election that prominently featured women as contenders for the White House, first Sen. Hillary Clinton (D., N.Y.) in a hard-fought Democratic primary, and Palin on the McCain ticket.
The victory sends a message to America and the world. The American Dream is alive and well. A mixed-race man can overcome a challenging childhood and a humble economic background to become the leader of the free world. The world was pulling for this to happen.
Obama played his cards well and won important swing states. In Ohio, Obama narrowly lost the white vote to McCain -- 51% to 47% -- and overwhelmingly won the African-American vote with 97% of the total. In New Mexico, Obama benefited from the help of Democratic Gov. Bill Richardson, who managed a strong ground game that 7 out of 10 hispanic voters supporting Obama.
One of the stories of this election may be the Latino vote out West. The Republican party had strongly lobbied against immigration reform last summer, and forced McCain to withdraw his support. More importantly, President Bush has increased immigration raids in many states. This news has gone largely unnoticed by most Americans, but has not been forgotten by Latinos.
A recent poll showed Latinos heavily favoring Obama over McCain, signaling a large reversal from the number of votes in 2004 garnered by President Bush.
Obama's victory in Pennsylvania was an early predictor of the demise of McCain's hope for a surprise win. The Keystone State had been close in both 2000 and 2004. McCain and Palin had camped out in the state, campaigning time and again down the stretch. However, Obama prevailed.
McCain's campaign had long recognized that Obama would pick up Western and Midwestern states won by Bush in 2004, including Colorado, Iowa, Nevada and New Mexico. So resources were reallocated to three blue states: Michigan, New Hampshire and Pennsylvania.
McCain surrendered in Michigan a month ago, but he had pressed hard in Pennsylvania and New Hampshire. McCain also had to fight a wave of discontent. Bush's approval ratings had sunk into the 20th percentile, and large numbers of voters were worried the country was headed in the wrong direction.
Plus, Obama had incredible resources behind his campaign. According to the
Center for Responsive Politics
, he had outraised McCain by nearly $300 million.
Obama ran a campaign in all 50 states during his primary battle with Clinton. The struggle with Clinton allowed him to build a strong machine to drive voters to the polls. Voters became familiar with him and his background, and this blunted many of the negative attacks by McCain.
The top issue among voters in the election, unsurprisingly, was the economy, and change was the biggest priority for voters in selecting a candidate, according to
MSNBC
.
In exit polls, 37% said they were looking for change, one of Obama's key election themes. Values ranked second, with 31%, and experience -- one of McCain's talking points -- getting 22%, according to the network.
The economy was the top priority among 62% of voters. Iraq came in next with 10% of those polled, while terrorism and health care tied with 9% each.
Early voting had a dramatic effect on the election. More than 31 million Americans voted early, surpassing the total numbers in 2004. The two campaigns utilized divergent methods in their get-out-the-vote campaigns. Obama was well-prepared for months and got voters to the polls. Due to funding constraints, McCain waited until the final weekend.
Most pundits assumed the reports of heavy turnout would favor Obama. This stands to reason given the huge voter registration drives of Democrats over the last year.
For more articles like this, check out our Political Pulse section.