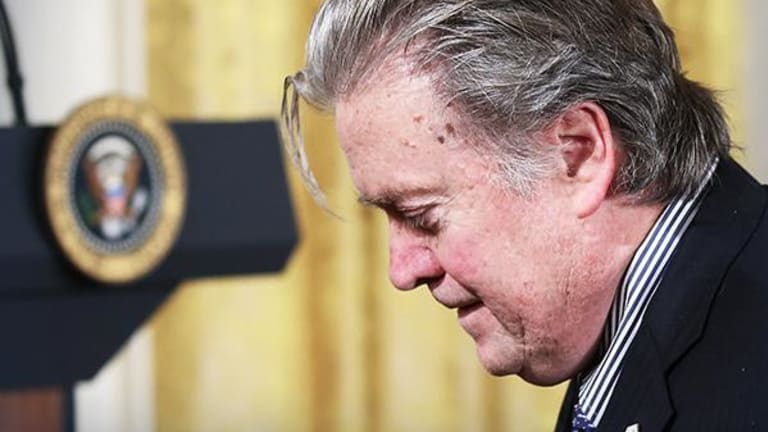 Bannon Out, Cohn In Might Be a Short-Lived Victory for Wall Street
Steve Bannon's exit from the White House and Gary Cohn's decision to stay are both wins for Wall Street -- for now.
Steve Bannon's exit from the White House and Gary Cohn's decision to stay are both wins for Wall Street -- for now.
Stocks saw a brief bump after news broke on Friday that Bannon would be leaving his job as chief strategist to the president on Friday. Earlier in the week, stocks slipped amid concern Cohn would exit his spot as director of the National Economic Council. Investors seem to have a clear preference for who they do and do not want in the Trump administration, but they shouldn't be too complacent -- White House turmoil is unlikely to subside, and Bannon's exit may not be as clear-cut of a victory as it seems.
"We have all become accustomed to assessing this White House within the construct of constant combat: globalists vs. nationalists or corporatists vs. populists," wrote Compass Point analyst Isaac Boltansky in a Monday note. "Steve Bannon's departure is undoubtedly a noteworthy victory for the globalists inside the administration -- especially NEC Director Cohn and Treasury Secretary [Steven] Mnuchin -- as staff messaging on key issues ranging from trade to national defense should become slightly less cacophonous.
Still, Boltansky wrote, "the reality TV nature of the West Wing wars suggest that there could be a reversal of fortunes on the other side of the commercial break."
Bannon returned as executive chairman to Breitbart News on Friday and is poised to weaponize the conservative news site from outside the White House. His potential targets include Ivanka Trump, Jared Kushner, H.R. McMaster, Dina Powell and Cohn, according to Vanity Fair.
"The Trump presidency that we fought for, and won, is over," Bannon said in a Friday interview with The Weekly Standard. "We still have a huge movement, and we will make something of this Trump presidency."
Analysts Bannon's return to Breitbart could heighten the risk associated with fiscal deadlines at the end of September: the debt ceiling and funding the government.
Bannon had emerged as an important go-between the ultra-conservative House Freedom Caucus and the White House, said Capital Alpha president Chuck Gabriel in a Monday note, and the absence of the relationship could complicate efforts to get their votes on government funding and the debt limit. And Bannon from the outside is likely to further criticize Republican leaders such as Senate Majority Leader Mitch McConnell (R-KY) and House Speaker Paul Ryan (R-WI), which could harden conservatives even more.
"...[O]ur conviction in 'messiness' to come has just gone up, with our eyes peeled for disruptive daily themes that could emerge from Breitbart and other conservative outlets in weeks ahead," Gabriel said.
While Bannon may be gone from the White House, the populist nationalist ideas for which he stood are not. Commerce Secretary Wilbur Ross on Saturday portrayed the administration's tax reform efforts as a campaign against elites at a free-market group summit reported by The Washington Examiner. "We must drain the swamp of corporate tax lobbyists and the loopholes they create for special interests," he said. "We can no longer coddle the elite and let them hide smugly behind their K Street hired guns."
Cohn is one of the "Big Six" leading the way on tax reform efforts and is also helming the search for the next chairman of the Federal Reserve. The former Goldman Sachs (GS) - Get Goldman Sachs Group, Inc. (GS) Report COO is a candidate for the spot himself.
The prospect of Cohn tackling tax reform and heading the Fed has generally been viewed as positive on Wall Street, and investors were heartened last week when the White House confirmed he would stay in the administration despite speculation to the contrary. But markets shouldn't be too bullish on Cohn.
Republicans in the White House and in Congress may view Cohn with suspicion, which could derail his candidacy for Fed chair, said Capital Alpha Ian Katz in a Monday note. Moreover, reports that Cohn was "disgusted" by the president's equivocal response to racist violence in Charlottesville, Virginia, and the market's reaction to rumors of his exit, won't help his cause.
"The narrative that any White House aide is indispensable is a quick route to being ousted or marginalized by the president," Katz said. "Cohn's best chance is if Trump is unaware of those reports."
"Trump cannot lose his id and ego in the same month, so we would expect the 'Goldman' wing of the White House to stay as the 'Breitbart' wing decamps for their previous employer and prepares to continue their civil war for the heart and soul of the Trump Presidency," said Cowen analyst Chris Krueger in a note.
More of What's Trending on TheStreet:
The 30 Nastiest Storms in Recent U.S. History Have Caused Mind-Blowing Damage
Editors' Pick: Originally published on Aug. 24.