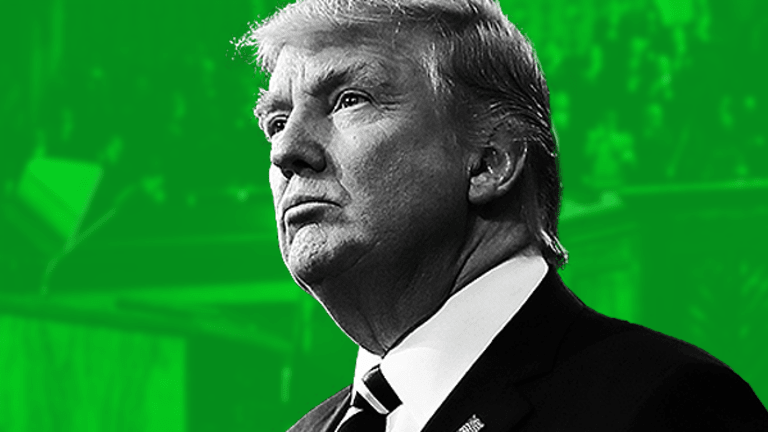 Bank Stress Tests Could Embolden Trump's Deregulatory Agenda
The big banks' high scores on the Federal Reserve's stress tests could speed up deregulation out of Washington.
The big banks' high scores on the Federal Reserve's stress tests could speed up deregulation out of Washington.
For the third time in as many years, all 34 of the biggest banks in the United States met the minimum capital standards in the first half of the Fed stress tests designed to safeguard against another financial crisis on Thursday. The strong performance of firms such as Goldman Sachs (GS) - Get Report , Morgan Stanley (MS) - Get Report and Citigroup (C) - Get Report could embolden D.C. lawmakers to loosen regulations on the financial sector.
"[T]he Trump administration will likely use the findings to support its push for deregulation," said Cap Alpha analyst Ian Katz, according to Politico. "That should be good for the banks and their investors."
He said it gives Treasury Secretary Steven Mnuchin, National Economic Director Gary Cohn and Republican lawmakers hoping to ease bank regulations a new line of argument: "If even the stern taskmasters at the Fed think everything is OK, regulators and members of Congress should get on with it and start deregulating already."
The impetus towards deregulation is already in motion on Capitol Hill and on Wall Street as the 10-year anniversary of the financial crisis approaches.
The House of Representatives earlier this month passed legislation to roll back large portions of the Dodd-Frank Act. While the bill is dead-on-arrival in the Senate in its entirety, portions of it will likely make it into law, namely, items that reduce the regulatory burden on community banks and adjustments to certain threshold designations.
Secretary Mnuchin also released a nearly 150-page report on overhauling financial regulations this month. The report takes a more moderate stance on deregulation than the House bill but makes recommendations on a wide range of issues, including capital and liquidity, living wills and the Volcker rule.
Those charged with banking oversight sang a deregulatory tune at a Senate Banking Committee hearing on Thursday.
Fed governor Jay Powell in prepared remarks touted the improvements made since the financial crisis but indicated some regulations might have gone too far.
"U.S. banks today are as strong as any in the world, as shown by their solid profitability and healthy lending over recent years," he said. "As we consider the progress that has been achieved in improving the resiliency and resolvability of our banking industry, it is important for us to look for ways to reduce unnecessary burden."
Federal Deposit Insurance Corporation Chairman Martin Gruenberg discussed his agency's efforts to "streamline and simplify banking regulations and supervisory program" to reduce the burden for community banks specifically. Both he and Powell recommended reducing the living will frequency.
Keith Noreika, Acting Comptroller of the Currency, issued what Bloomberg described as a "sweeping list" of recommendations to streamline oversight and shift duties to the office he currently oversees. He said his agency's efforts would be informed by the Trump administration's regulatory policy and the Treasury report.
"[W]e need to avoid imposing unnecessary burden and creating an environment so adverse to risk that banks are inhibited from lending and investing in the businesses and communities they serve," he said. "Regulation does not work when it impedes progress, and banks cannot fulfill their public purpose if they cannot support and invest in their customers and communities."
Katz said in a note on that the Volcker Rule, which prohibits banks from conducting certain types of trading activities, "took it on the chin" at the Banking Committee hearing. "In our view, there is room for eliminating or relaxing aspects of the implementing regulation that do not directly bear on the Volcker rule's main policy goals," Powell said.
Powell, who currently oversees bank regulation at the Fed, will likely give up his role once Trump nominates and the Senate confirms a vice chairman of supervision. TheStreet's Jim Cramer said recently he would like to see Powell considered as a potential replacement for current Fed Chair Janet Yellen.
Noreika is expected to step down once Joseph Otting, Trump's nominee for his post, is confirmed. Gruenberg's term expires in November.
President Donald Trump on Friday morning took to Twitter to tout his on-the-job performance, including getting rid of "massive amounts of regulations," an assessment with which many would disagree.
The second round of bank stress tests lands next week.
Editors' pick: Originally published June 23.