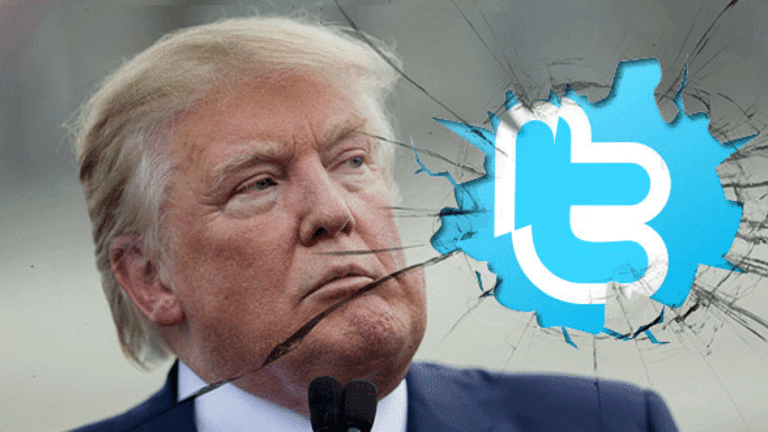 Auto Investors Keep Calm and Carry On Through Trump Tweets
The first full month of the Trump presidency signals uncertainty for the auto industry, but risks are event-focused, not policy-based.
The first full month of the Trump presidency signals uncertainty for the auto industry, but the risks are event-focused, not policy-based.
Perhaps no other sector has been on Trump's radar as much as cars. He's taken on automotive giants like General Motors (GM) - Get General Motors Company Report , Ford (F) - Get Ford Motor Company Report and Toyota (TM) - Get Toyota Motor Corp. Report on Twitter and spent the morning of his second full day in office huddled at a breakfast with top Detroit auto executives. Investors are wise to be cautious in light of the president's impulsive attention to the industry, but sweeping policy changes probably won't come until much later.
"The next month is really going to be more about the headlines and tweets than actual substantive action by Trump or the U.S. Congress as far as the automakers go," said Peter Cohn, senior analyst at Washington, D.C.-based investment research firm Height Securities.
The implications of any moves Trump might make in terms of trade, taxes and other broad policy will take months to be seen. So for the next 30 days or so, invest like Trump's not watching. Well, almost.
"What's going to move the stocks the most, I expect, for February will not be political but earnings," said Efraim Levy, senior analyst at equity research firm CFRA.
Both GM and Toyota report earnings in early February. Ford reported last month.
The possibility Trump will revive his habit of targeting specific companies on Twitter is a headline risk investors need to pay attention to in the near term.
A temporary blip in the stock might provide a buying opportunity for those fast on their feet, but expect automakers to have wised up to Trump's tweeting tactics and have Trump-pleasing news teed up and ready to go.
"I would imagine every automaker, import and domestic, is right now preparing soundbites or good news in case they do come under Trump's scrutiny," said Kelley Blue Book analyst Michael Harley.
Jim Cramer says investors should buy the stocks Trump slams on Twitter.
Companies have already been testing out the tactic.
Both Fiat Chrysler (FCAU) - Get Stellantis N.V. Report and GM announcedplans to invest $1 billion in the U.S. in January, and Ford scrapped plans for a $1.6 billion plant in Mexico at the start of the year, saying it would instead invest $700 million in a Michigan expansion.
"Business[es] don't make billion-dollar decisions based on a tweet. These are things where they went through their books, and they said, 'Hey, what have we been working on? What have we been planning?' " Harley said.
Another important headline risk: Mexico and Trump's plans to renegotiate the North American Free Trade Agreement. Things got off to a rough start when Mexican President Pena Nieto cancelled a meeting between the pair scheduled for Tuesday after Trump continued to insist Mexico would pay for a wall at the border and Press Secretary Sean Spicer suggested Trump may seek to impose a 20% import tax on products from Mexico. (The White House now says the tax is one of a number of options.)
The import tax, which resembles the border adjustment tax put forth by Congressional Republicans, would raise costs for auto companies. But it is a long-term matter. Speaker of the House Paul Ryan, R-Wisc., has said he expects a tax reform package by August. NAFTA talks, however, are starting to happen now.
"If those NAFTA talks don't get off on the right foot and it's all adversarial ... and we're on a pathway to potentially dissolving NAFTA or potentially worse in the form of punitive tariffs on Mexican tariffs, that's going to continue to be an overhang on the sector," said Cohn.
While there will certainly be a lot of noise and volatility surrounding talks with Mexico, most don't believe the relationship will sever entirely.
"It would be almost unfathomable to think Mexico would say, 'Thanks, but no thanks,'" said Harley. "Everybody wants to do business with everybody."
To be sure, what happens with Mexico in the long term will be important for auto investors. Ford's net income fell last year due in part to the cost of scrapping a new Mexico plant.
Still, many analysts and industry players remain optimistic. They say Trump's meeting with automakers is a good sign and provides an opportunity for dialogue to get started. While there will certainly be pressure for carmakers to up operations in the United States, they may be able to convince the president that they simply don't have enough capacity to do it all here. More than half of auto plants in the United States are already running three shifts.
A likely softening of emission standards and fuel economy requirements under the Trump administration and the Environmental Protection Agency likely bodes well for U.S. auto companies as well.
The EPA under the Obama administration issued a final determination in January that vehicle emission standards for model year 2022-2025 should remain unchanged; however, it is unlikely the EPA under likely administrator Scott Pruitt will stick to the prior plan. Moreover, the National Highway Traffic Safety Administration (NHTSA) rulemaking on fuel economy will likely ratchet back previous targets.
"If the government slows down the phase-in of the fuel economy standards, then that will spread out the investment [for automakers]," said Ron Harbour, a partner at New York consulting company Oliver Wyman Group. "If I was an investor, I'd look real close at that."
Trump's tax plans could overhaul the lay of the land for investors in all industries, including automotives.
He campaigned on a plan to reduce the corporate tax rate to 15% (Congressional Republicans prefer a 20% rate) and enact a 10% repatriation holiday. Border tax policies could have an adverse effect, though Capitol Hill does not appear particularly close to a conclusion on the matter. (Cohn gives a border adjustability tax a 30% likelihood of becoming a reality and estimates a small tariff of about 5% could be rather reasonable.)
Efraim Levy, senior analyst at CFRA, said while automakers might not reap enormous benefits from Trump's tax plan, retailers might. He pointed to AutoNation (AM) - Get Antero Midstream Corp. Report , which has a 38.6% effective tax rate.
"If they get a lower tax rate, that goes right to the bottom line," he said.
Analysts also warn that investors ought not get spooked by a drop in sales. Vehicle sales surpassed 17 million units sold for the second consecutive year in 2016, and a slowdown is all but inevitable.
"Keep in mind that we've had these A+ years. Even if we drop down to the mid-16s, it's still a very strong automotive year," Harley said. "No one should be dissuaded."
More information on TheStreet's guide to trading in the month of February can be found here: