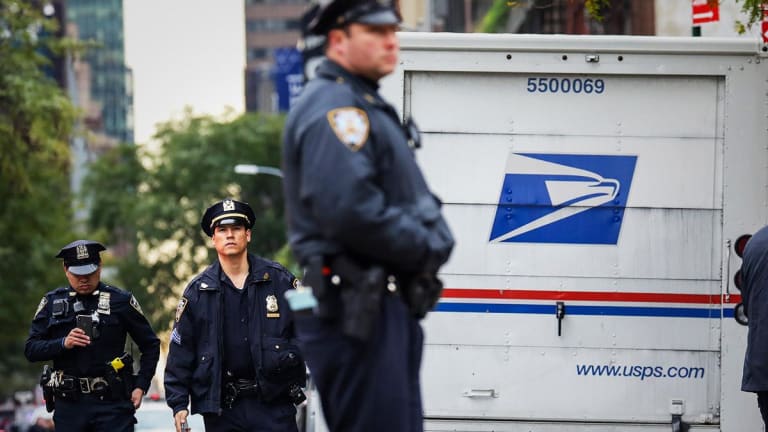 Cesar Sayoc Arrested in Bomb Mailing Scare; Suspect Faces 48 Years in Prison
Sayoc is charged with numerous felonies including interstate transport of an explosive device.
Federal authorities have taken Cesar Sayoc, 56, of Aventura, Fla. into custody in connection with the recent spate of bomb targeting politicians and media figures. 
Sayoc faces up to 48 years in prison if convicted of all charges, which include interstate trafficking of an explosive device and threatening a former President. The Department of Justice updated the time Sayoc faces to 48 years after originally stating that he faced 58 years in prison. 
"This is a law and order administration. We will not tolerate lawlessness," U.S. Attorney General Jeff Sessions said.
The first bomb was discovered by a person working at billionaire Democratic booster George Soros' home in Bedford, New York, on Monday.
Each improvised explosive device featured six inches of pvc pipe, a small clock, a battery, some wiring and explosive material that gives off heat or energy.
Since then, bombs sent to former President Bill Clinton, former Secretary of StateHilary Clinton, former President Barack Obama, the New York headquarters of CNN, former CIA director John Brennan, former Vice President Joe Biden, former U.S. Director of National Intelligence James Clapper, Congresspeople Cory Booker (Sen., D-NJ), Maxine Waters (Rep. D-CA) and Debbie Wasserman Schultz (Rep. D-FL), former Department of Justice head Eric Holder and actor Robert De Niro. 
The bombs that were addressed to Cory Booker and James Clapper were discovered Friday. 
A latent fingerprint was lifted from the package sent to Rep. Maxine Waters, which helped lead authorities to Sayoc, according to FBI Director Christopher Wray. Wray also said that this is an open an active investigation. 
President Donald Trump tweeted about the bombs shortly before reports surfaced of the arrest. 
The targets and timing of the attacks, less than two weeks from the midterm elections on Nov. 6, suggested that the mailings were politically motivated.
The President made comments about the arrest at an unrelated White House event Friday afternoon.