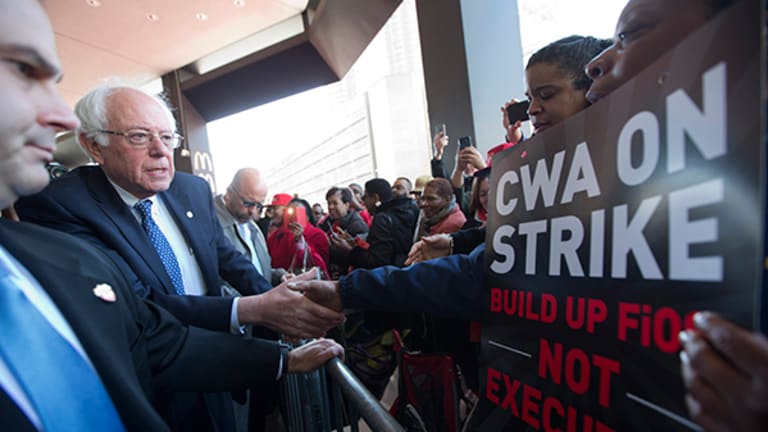 At Democratic Convention, Push for Consumers to Buy American Union-Made Goods
Some at the Democratic National Convention aren't just asking Democrats to back unions -- they're asking them to buy union, too.
Editors' pick: Originally published July 28.
PHILADELPHIA (TheStreet) -- Some at the Democratic National Convention aren't just asking Democrats to back unions -- they're asking them to buy union, too.
The exhibition hall at the Pennsylvania Convention Center in Philadelphia is lined with booths promoting various progressive issues and groups -- Black Girls Vote, Moms Demand Action, EMILY's List. Among them are a handful of organizations with more of a business focus.
One such initiative is Buy Blue, a campaign launched by Labor 411, an organization that encourages consumers to contemplate whether the goods they buy are American-made and union-made.
"We're asking people to think blue, buy blue and vote blue," said Cherri Senders, publisher of Labor 411 who is spearheading the Buy Blue initiative. "It's about celebrating the power of consumers to make a difference."
The group has created a directory for consumers to help guide them to find which companies and products fit the criteria.
Here in Philadelphia, it has put together a local guide for products and services that gives the stamp of approval to Rite Aid (RAD) - Get Free Report , Hertz (HTZ) - Get Free Report and various Philadelphia stores. It has also rolled out a "Drink Responsibly" campaign encouraging consumers to "support good jobs and buy union beer." Anheuser Busch Inbev's (BUD) - Get Free Report Budweiser makes the cut, as do brews from Molson Coors (TAP) - Get Free Report and SABMiller (SBMRY) .
Philadelphia estimates the DNC will bring in about $250 million to $300 million in spending -- and the Buy Blue team hopes a significant portion of that will go to union-friendly places.
"It can't always be about cheap, because otherwise we stand at the docks and wave goodbye to our jobs," Senders said.
Fair Hotel has taken a similar approach to influencing spending, but its focus is solely on the hospitality industry. Created by union Unite Here, Fair Hotel has a website and mobile app that helps businesses and travelers find union hotels in the United States and Canada and also identify properties with active labor disputes going on.
"You go out and stay in a hotel, you're paying $200, $300, sometimes $400 a night, and you're going to pay that whether the place is union or non-union if that's the going rate for the market," said Jeremy Pollard, customer organizer at Unite Here. "If you go and stay at one of these hotels, you have fair wages, decent workloads, health care, the workers are going to have all those things."
Here in Philadelphia, Fair Hotel marks the Sheraton Suites Philadelphia Airport Hotel as one currently in the midst of a labor dispute.
Unite Here is also the union representing Atlantic City's Trump Taj Mahal workers. The Local 54 has been on strike there since July 1 and its members have made their presence felt here at the convention.
"It's a core fight for our union," said Pollard, who lives in Atlantic City and is working with the Taj Mahal laborers. The Taj Mahal, he said, would be a red dot on the Unite Here map.
Labor has had a stronger presence at this year's DNC than it has in years past. In fact, 2016 marks the first time a Labor Council has ever been held within the framework of the event.
"Income inequality has become such a defining issue," said Senders, considering a possible reason for the shift in attention.
Pollard emphasized that supporting unions and labor is an issue that goes beyond the ballot box.
"Your dollar makes a difference," he said. "You vote every year or two years or four years, depending on how elections are run in your area, but every time you spend money, you're kind of voting with that."