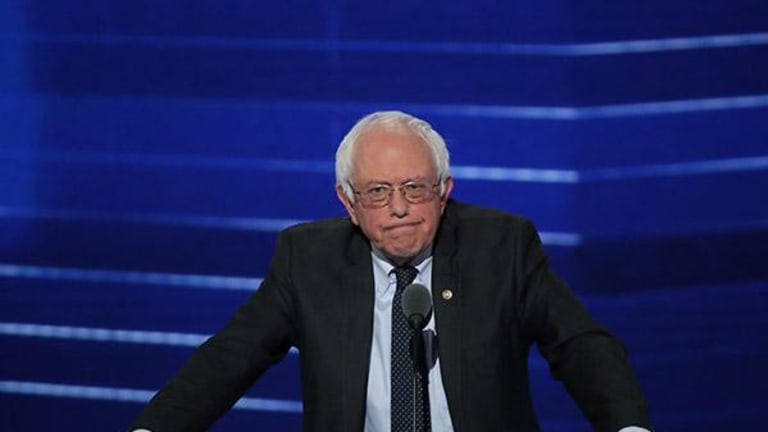 Publish date:
AT&T-Time Warner Proposed Deal Draws Fire From Sanders, Clinton, Trump
Bernie Sanders opposes the AT&T -Time Warner merger, and he's not the only one on Capitol Hill who does.
Bernie Sanders opposes the AT&T -Time Warner merger, and he's not the only one on Capitol Hill who does.
Bernie Sanders opposes the AT&T (T) - Get Report - Time Warner (TWX) merger, and he's not the only one on Capitol Hill who does.
The Vermont Senator issued a letter to the Justice Department's antitrust division on Wednesday afternoon calling for it to block the proposed $85 billion deal, calling it "just the latest effort to shrink our media landscape, stifle competition and diversity of content, and provide consumers with less while charging them more." He also cited another of his top issues, rising CEO pay, pointing out that Time Warner CEO Jeff Bewkes could walk away with an enormous pay package if the deal goes through while the combined company is strapped with billions of dollars in debt.
Sanders first attacked the deal on Twitter over the weekend soon after it was announced:
AT&T and Time Warner did not return a request for comment on Sanders' letter.
Democratic presidential nominee Hillary Clinton weighed in on the AT&T-Time Warner merger as well, taking a more measured approach. "I think it raises questions and concerns, and they should be looked into," she told reporters on her campaign plane, according to Reuters. "If I'm fortunate enough to be president, I will expect the government to conduct a very thorough analysis before making a decision."
Her running mate, Virginia Senator Tim Kaine, in an appearance on "Meet the Press" aired Sunday took a similar line.
"I share those concerns and questions. We've got to get to the bottom of them. Generally pro-competition and less concentration, I think, is generally helpful, especially in the media. But this has just been announced and I haven't had a chance to dig into the details. But those are the kinds of questions that we need to be asking," he told host Chuck Todd.
Clinton's opponent, Republican Donald Trump, was even quicker in attacking the deal.
While campaigning in Gettysburg, Pennsylvania on Saturday, the GOP nominee said his administration would block the merger. "As an example of the power structure I'm fighting, AT&T is buying Time Warner and thus CNN, a deal we will not approve in my administration because it's too much concentration of power in the hands of too few," he said.
Trump has become increasingly critical of Time Warner's CNN, often referring to it as the "Clinton News Network" on the campaign trail and complaining that it is unfairly biased against him.
The real estate magnate Saturday used the opportunity to discuss media megadeals to hit one of his favorite targets, Amazon (AMZN) - Get Report . Trump has accused the company of violating antitrust laws and attacked CEO Jeff Bezos, who also owns The Washington Post, another media outlet Trump says treats him unfairly.
Amazon "should be paying massive taxes, but it's not paying, and it's a very unfair playing field," he said Saturday. "Very, very unfair."
He said he would look into breaking up the 2011 merger of Comcast (CMCSA) - Get Report and NBCUniversal as well. That deal offers a potential model for the AT&T-Time Warner tie-up.
Beyond Sanders, Clinton and Trump, many on Capitol Hill are looking at the AT&T-Time Warner deal with a critical eye.
Minnesota Senator Al Franken on Saturday said the proposal "raises some immediate flags" in a Facebook post on Saturday. "I'm skeptical of huge media mergers because they can lead to higher costs, fewer choices, and even worse service for consumers," he wrote.
Democratic Connecticut Senator Richard Blumenthal, member of the Senate Judiciary Committee, said he will be "looking closely at what this merger means for consumers and their pocketbooks" and warned that such "massive consolidation" requires rigorous evaluation and serious scrutiny.
Senator Blumenthal discussed the merger in an appearance on CNBC's "Squawk Alley" Thursday. 
"This measure deserves very rigorous scrutiny. It raises alarm bells because it is a vertical integration with potential impacts on competitors. It may not be taking out a competitor, but it may severely constrain competition and hard consumers," he said, adding that he believes the SEC should be involved in reviewing the deal as well.
Massachusetts Senator Ed Markey, also a Democrat, in a Facebook post said he plans to "carefully review" the merger. He said the deal announcement also "underscores the urgency of the Federal Communications Commission approving its broadband privacy rules," set to take place Thursday.
Utah Senator Mike Lee, a Republican, and Minnesota Senator Amy Klobuchar, leaders of the Senate antitrust subcommittee, said they would hold a hearing on the proposed merger in November in a statement.