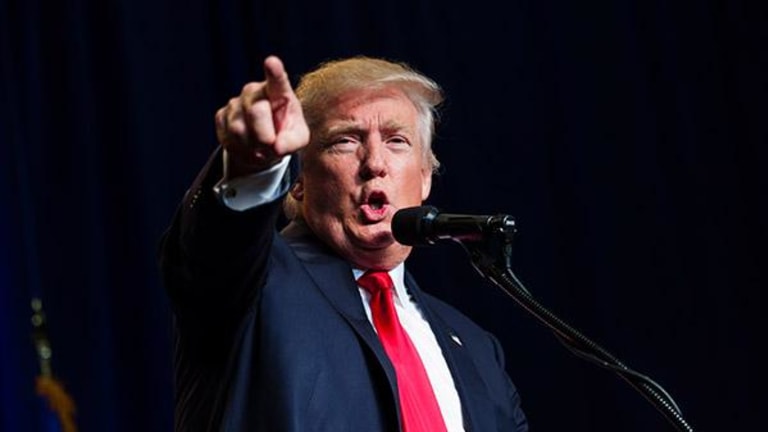 As Donald Trump Rebounds in the Polls, So Does His Stock Portfolio
Donald Trump saw a rebound in some polls last week; so did some of the stocks that stand to do well with him in the White House.
Donald Trump saw a rebound in some polls last week (though many show he continues to lag). Stocks that could excel with him in the White House had a similarly "less bad" go of things.
Our Donald Trump Stock Portfolio, a set of 15 stocks TheStreet has identified that could do well under a Trump presidency, declined 1.31% from market close Friday, September 2 to market close Friday, September 9. While the performance was work than the week prior, it did edge out our Hillary Clinton Stock Portfolio, which fell 3.31%.
Last week was a relatively unremarkable one for the often controversial Trump. Some of his comments at an NBC News town hall with Matt Lauer raised eyebrows, including his continued praise of Russian President Vladimir Putin and his suggestion he might fire military generals as president. Lauer's performance, however, largely overshadowed Trump's comments in media coverage.
Trump also released his education proposal and delivered a speech on national security and foreign policy. And ahead of his town hall appearance, he addressed an audience of conservatives in New York, insisting to an unconvinced audience that he can, in fact, win his home state. (Clinton is ahead by 19 points in the state, according to the RealClearPolitics polling average.)
Here's an overview of how the Trump portfolio did.
Unlike Clinton's portfolio, in which all of the holdings ended the week in the red, Trump's portfolio did have a few gainers.
The Bitcoin Investment Trust (GBTC) - Get GRAYSCALE BITCOIN TRUST Report was the biggest gainer, climbing 14.87% to $92.01. The price of Bitcoin has climbed recently, largely driven by bullish market sentiment on the cryptocurrency and low liquidity.
The Geo Group (GEO) - Get GEO Group Inc Report ended up the week up 2.93%, trading at market close Friday at $21.46. This comes as a welcome change of course for the private prison operator, which has declined significantly since the Department of Justice announced in August that it would be ending its use of private prisons. Shares of the company are down more than 30% over the past month.
Capital One Financial (COF) - Get Capital One Financial Corporation Report ended the week essentially flat, up a slight 0.01% to $71.65.
U.S. Steel (X) - Get United States Steel Corporation Report was the hardest-hit in both the Trump and Clinton portfolios. Its price plunged 9.89% to $17.03. The stock was the hardest hit in the Trump portfolio on Friday as well.
Cemex (CX) - Get Cemex SAB de CV Sponsored ADR Report , the Mexican cement company that could be enlisted should Trump's border wall becomes a reality, dipped 8.02% to $7.80. Cemex on Monday announced that one of its U.S. subsidiaries has signed an agreement for the divestment of its Fairborn, Ohio plant to Eagle Materials (EXP) - Get Eagle Materials Inc. Report for $400 million.
Tetra Tech (TTEK) - Get Tetra Tech, Inc. Report shares dipped 3.25% to $34.88. Last week, the National Oceanic and Atmospheric Administration awarded the company a $49 million contract to support the Office for Coastal Management's Digital Coast program. Despite last week's dip, the stock is up more than 30% year-to-date.
Here's how the entire Trump portfolio did last week, leading with the top gainers:
Bitcoin Investment Trust 14.87%
The Geo Group 2.93%
Capital One Financial 0.01%
ExxonMobil (XOM) - Get Exxon Mobil Corporation Report -0.66%
Elbit Systems (ESLT) - Get Elbit Systems Ltd Report -0.70%
Steel Dynamics (STLD) - Get Steel Dynamics, Inc. Report -1.32%
Northrup Grumman (NOC) - Get Northrop Grumman Corporation Report -1.88%
Boeing (BA) - Get Boeing Company Report -2.01%
Randgold Resources (GOLD) - Get Barrick Gold Corporation Report -2.08%
Lockheed Martin (LMT) - Get Lockheed Martin Corporation (LMT) Report -2.21%
Microsoft (MSFT) - Get Microsoft Corporation (MSFT) Report -2.53%
Oracle (ORCL) - Get Oracle Corporation Report -2.96%
Tetra Tech -3.25%
Cemex -8.02%
U.S. Steel -9.89%