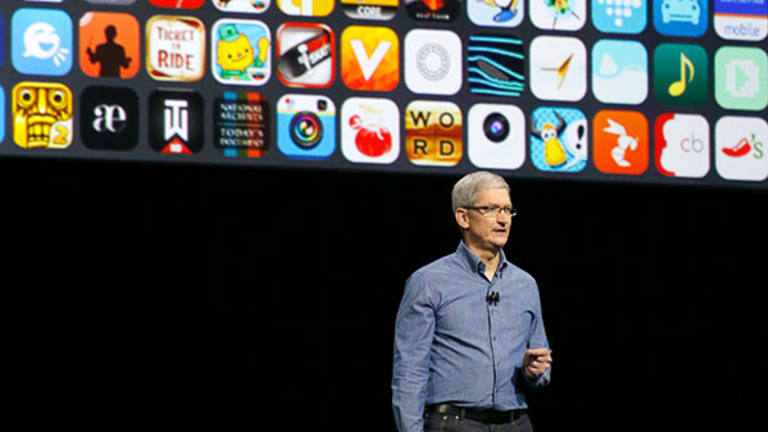 Are Apple's Politics Hurting Its Brand?
Apple has waded further into the political fray recently, but the jury's still out on what the impact will be on the brand or the business.
Apple has waded further into the political fray recently, but the jury's still out on what the impact will be on the brand or the business.
Apple (AAPL) - Get Report has waded further into the political fray recently, sometimes against its will, but the jury's still out on what the impact will be on the brand or the business.
Presumptive Republican nominee Donald Trump has invoked the iPhone-maker as an example of a corporate bad behavior on the jobs front, insisting as president he will force Apple to manufacture its products in the U.S. He also called for a boycott of its products when the company found itself in the midst of a political firestorm over backdoor access to its devices.
For its part, Apple has decided not to provide funding or support for the Trump-helmed Republican National Convention in Cleveland in July, according to Politico, citing the candidate's controversial comments about women, immigrants and minorities as its reasoning. But the Cupertino, Calif.-based company isn't anti-GOP: CEO Tim Cook this week hosted a private fundraiser alongside House Speaker Paul Ryan to benefit Republicans.
"What it comes down to is Apple just doesn't want to be associated not necessarily with the actual party but more so with the individual running within that party," said Angelo Zino, senior equity analyst at S&P Global Market Intelligence. "It's not Apple making a statement on one party versus the other."
Historically, Apple has been rather hesitant to get entrenched in politics and has stayed neutral. Cook's predecessor, Steve Jobs, was famously reticent to political involvement. Unlike competitors Facebook, Twitter and Alphabet's Google, Apple does not have a political action committee, nor does it donate to individual candidates or parties. According to a political contributions disclosure on the Apple website, the company has made only two donations since 2012, giving $9,000 and $9,500 in 2012 and 2014, respectively, to the "Support our Cupertino District Schools" campaign addressing the funding of local schools.
Apple, Facebook, Twitter and Alphabet are holdings in Jim Cramer's Action Alerts PLUS Charitable Trust Portfolio. See how Cramer rates the stock here. Want to be alerted before Cramer buys or sells AAPL, FB, TWTR or GOOGL? Learn more now.
However, the level of Apple's political involvement has crept up somewhat under Cook's watch.
The company spent $4.5 million on lobbying in Washington in 2015, according to data from OpenSecrets, a notable increase over the average of just over $1 million per year it spent between 1998 and 2011, the years Jobs was in charge. Cook himself has made political donations on both sides of the aisle, contributing to Democrats like President Barack Obama and Senator Chuck Schumer as well as Republican Senator Rob Portman.
And Apple's political involvement hasn't just been monetary.
Cook testified before the U.S. Senate in 2013 about Apple's tax practices amid concerns it was stashing cash overseas to avoid paying its fair share. In December, he addressed the issue yet again, in an interview calling the idea Apple is avoiding taxes "political crap." This year, he went head-to-head with the FBI over unlocking the San Bernardino shooter's iPhone.
Cook's political activism has been personal, too. He publicly came out as gay in a 2014 Bloomberg op-ed, making him one of the highest-profile openly-gay executives in the world. In 2015 he spoke out against religious freedom laws popping up across the U.S., calling them "dangerous" and "pro-discrimination."
It is all part of the "Tim Cook doctrine," said Philip Elmer-DeWitt, former Fortune Apple columnist and founder of Apple 3.0, a business news site dedicated to all things Apple. He believes the company's Election 2016 activities are simply a continuation of the executive's public approach. "Tim Cook has taken on the mantle of a powerful voice in the public affairs of the U.S. and the world," he said.
Apple's decision to avoid the Trump-led Republican convention is unlikely to impact its business. Numerous companies have declined sponsorship of the event this year, and given Trump's direct attacks on Apple, it's not exactly shocking the company may not be in a hurry to throw money at him.
"There's just been so many comments from Trump about Apple in a negative manner, I think Apple's maybe had enough," Zino said.
Elmer-DeWitt echoed the sentiment that Apple's RNC decision, in light of Trump's criticisms of Apple and his incendiary comments on the campaign trail, makes it understandable for it to sit it out. But he believes the Ryan fundraiser may be a step too far.
"Now he's picking favorites within one of the parties," he said. "I think he's made a mistake. It's not fatal. Apple is not doomed because he is hosting Paul Ryan, but Apple is pretty sure-footed, usually."
But has being caught in the political crosshairs been detrimental to Apple's brand?
Data from YouGov's BrandIndex, a daily perception research service for brands, indicates that could be the case. At the start of the year, Apple had an "impression rating" of more than 45 (meaning 45% more people said they were positive than negative about the brand) among Democrats and of over 40 among Republicans. Since that time, Apple's rating among Democrats has dropped to about 30 and among Republicans to about 35. Since news broke of Cook's Ryan fundraiser, favorability among Democrats has dropped by about four points and has climbed among Republicans by about three points.
It is worth noting BrandIndex does not perform qualitative polling, meaning it is unclear whether politics is at the root of Apple's decline in reputation. However, among independents, Apple's brand rating has remained relatively stable.
But Rohit Bhargava, professor of marketing and pitching at Georgetown University and author of 2015 book Non Obvious, says Apple will be just fine, regardless of politics.
"Apple has always been a unique brand that doesn't really live by the same rules as other brands in good and bad ways. Apple gets away with things that other brands don't because of the consumer passion that exists for people who are Apple fanatics," he said. "The risk for Apple is super low."
And with the iPhone 7 likely to launch in September, Apple's brand reputation may be due for a boost. Apple representatives did not return request for comment.