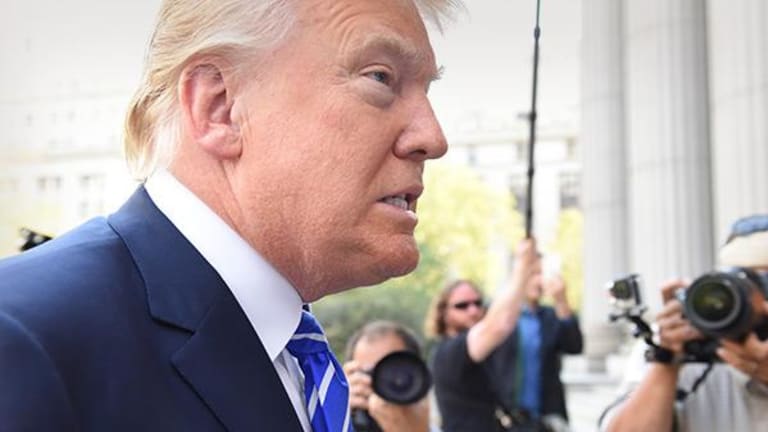 Why Trump's Potential $500 Billion Tax Holiday Could Make Apple and Microsoft Huge Winners
There could be a major windfall for Fortune 500 companies.
Fortune 500 companies could reap a more than $500 billion windfall if President Donald Trump gets his way on tax reform.
Major corporations including Apple (AAPL) - Get Apple Inc. Report , Microsoft (MSFT) - Get Microsoft Corporation Report and Oracle (ORCL) - Get Oracle Corporation Report will save billions of dollars in taxes if Trump is able to enact the repatriation holiday he promised on the campaign trail, according to a new analysis from the Institute on Taxation and Economic Policy (ITEP), a Washington, D.C.-based think tank. Instead of taxing U.S. corporations at the current 35% rate, Trump's proposal would offer them a one-time repatriation rate of 10%, representing a 70% discount.
Repatriation has become a hot-button issue in recent years as American companies have accumulated billions of dollars in earnings abroad in order to avoid paying taxes stateside.
The ITEP estimates that U.S. firms currently have $2.5 trillion in offshore earnings. At the current rate, they would owe $720 billion in taxes. But with Trump's holiday, they will have to pay an estimated $206 billion, meaning a $514 billion tax break.
Corporate tax reform is a major plan of Trump's economic platform. Apart from the repatriation proposal, he campaigned on a promise to reduce the corporate tax rate to 15%. His camp says these and other measures will help them to boost annual economic growth to 3.5% and create 25 million jobs over the course of a decade -- goals many economists say are unrealistic.
House Speaker Paul Ryan's A Better Way plan is slightly less ambitious on the corporate tax front. It would reduce the corporate tax rate to 20% and would subject foreign earnings to an 8.75% tax on cash and cash equivalents and a 3.5% tax on other profits.
While tax reform won't be the first item on Trump and Congressional Republicans' agenda (that appears to be healthcare), it is an issue they may seek to tackle fast.
If Trump gets his way and has the 10% repatriation holiday enacted, here are the 10 U.S. companies that will benefit most, according to estimates from ITEP:
Apple
Apple's $216 billion in unrepatriated income would render it the biggest winner under Trump's tax plan. By ITEP's estimates, it would save $48.1 billion on its tax bill.
Apple CEO Tim Cook has spoken openly about repatriation. Before Trump's election, he said during an interview on Irish radio reported by Bloomberg the tech giant would seek to bring cash back stateside. "We provisioned several billion dollars for the U.S. for payment as soon as we can repatriate it," he said.
Cook and Trump have been in contact since the election. The president-elect told the New York Times in a sit-down after the election he had pushed Cook to build an Apple plant in the United States, promising a "very large tax cut for corporations" to facilitate the process.
Cook met with Trump as part of a roundtable of tech leaders in December. After the gathering, he told employees in a memo obtained by TechCrunch that taxes had been on the agenda, among other items. "We have other things that are more business-centric -- like tax reform -- and something we've long advocated for: a simple tax system," he said.
Microsoft
Trump's repatriation tax would save Microsoft $28.1 billion on the $124 billion it has in unrepatriated income.
Microsoft CEO Satya Nadella in a statement in the wake of Trump's election offered his congratulations and said his company "look[s] forward to working with all those elected." He said Microsoft's mission and values are steadfast, "in particular fostering a diverse and inclusive culture."
Nadella attended Trump's December tech roundup.
Chris Liddell, former chief financial officer at Microsoft, will serve as assistant to the president and director of strategic initiatives in the Trump administration.
Oracle
Trump's tax holiday would save Oracle $9.5 billion on its $42.6 billion abroad.
Oracle CEO Safra Catz joined the executive committee of Trump's presidential transition team in December. The move was announced the day after the tech roundtable, which she also attended. Ahead of the meeting, she said she hoped Trump would reform the tax code as well as reduce regulation and negotiate trade deals to benefit the tech community.
Catz in January penned an op-ed in support of Steven Mnuchin, Trump's nominee for Treasury Secretary, and specifically cited tax reform.
"He proposes reducing business taxes to bring the tax burden on U.S. businesses more in line with that of our global competitors, and creating a tax system that favors companies that produce goods and services in the U.S., thereby creating jobs here," she wrote.
Citigroup
Citigroup (C) - Get Citigroup Inc. Report will see $9.1 billion in tax savings under Trump, according to ITEP, which estimates its unrepatriated income to be $45.2 billion.
Citigroup was one of a number of banks to see a boost in trading during the fourth quarter as stock markets rallied and bond yields surged in the wake of Trump's election.
Amgen
Biotech giant Amgen (AMGN) - Get Amgen Inc. Report has an estimated $32.6 billion abroad and will save $8.1 billion through Trump's repatriation tax plan if enacted.
Qualcomm
Qualcomm (QCOM) - Get Qualcomm Inc Report would see tax savings of $7.3 billion on its $28.8 billion in income abroad.
The semiconductor and telecommunications company's executive chairman, Paul Jacobs, and former chairman, Irwin Jacobs, were among 145 tech leaders to sign an open letter to Trump in July, warning he would be a "disaster for innovation."
Trump's aggressive stance towards China has caused concerns over Qualcomm's pending purchase of NXP Semiconductors (NXPI) - Get NXP Semiconductors NV Report . TheStreet's Jim Cramer recently raised the issue. "I've done a number of checks, and all I keep coming back with is that when Trump makes noise about China, what can China do directly to cause problems?" he said.
Gilead Sciences
Trump's tax plan would save Gilead Sciences (GILD) - Get Gilead Sciences, Inc. Report $6.9 billion on $28.5 billion.
The president-elect appears to have once been a Gilead shareholder -- he reported holding the company's stock in his personal finance disclosure to the Federal Election Commission from May 2016. His camp says he has since sold off all of his stocks.
JPMorgan Chase & Co.
JPMorgan Chase & Co. (JPM) - Get JPMorgan Chase & Co. Report will see $5.9 billion in tax savings on $34.6 billion in unrepatriated income, according to ITEP's analysis.
JPMorgan CEO Jamie Dimon was once rumored to be under consideration for Treasury Secretary under Trump. He said last week he thinks the incoming administration will do the right thing for the U.S. and is comforted by the president-elect's appointment of experienced people to surround him.
Goldman Sachs
Trump's tax holiday will result in $4 billion in savings on Goldman Sachs' (GS) - Get Goldman Sachs Group, Inc. Report $28.6 billion in unrepatriated income.
A number of current and former Goldman employees are poised to join the Trump administration, including Mnuchin, Anthony Scaramucci, Steve Bannon, Gary Cohn and Dina Habib Powell. Jay Clayton, Trump's pick for Securities and Exchange Commission chair, has represented Goldman Sachs as an attorney at Sullivan & Cromwell.
Goldman CEO Lloyd Blankfein supported Democratic candidate Hillary Clinton during the election. Speaking at the World Economic Forum in Davos on Wednesday, he called Trump's platform "highly stimulative."
Bank of America
Bank of America (BAC) - Get Bank of America Corp Report will save $3.6 billion on its tax bill through Trump's tax holiday by ITEP's estimates on its $18 billion in unrepatriated income.
Bank of America announced plans to boost its stock buyback program last week thanks to a trading surge following Trump's win.