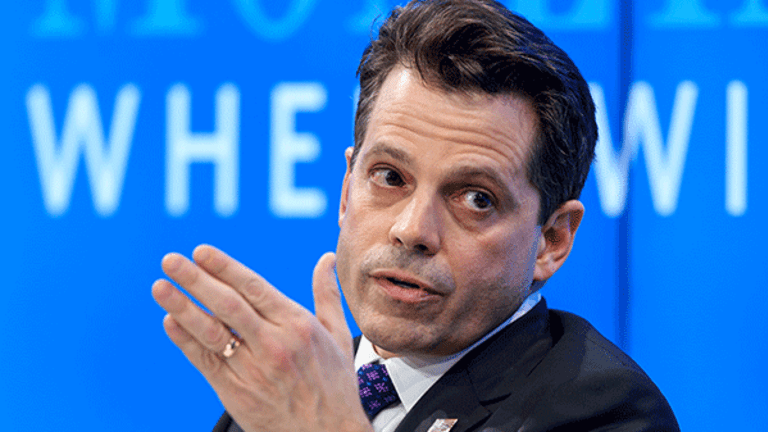 Anthony Scaramucci, Michael Wolff to Talk Trump and Wall Street
Donald Trump has brought a number of Wall Street figures to the White House with him--Anthony Scaramucci isn't one of them, at least for the time being.
There are countless "what ifs" surrounding Donald Trump, including when it comes to Wall Street. And if anyone has any insight into his thinking along those lines, it might be Anthony Scaramucci.
The SkyBridge Capital co-founder's expectations of taking a role in the Trump administration were dashed at the start of the year when the sale of his firm to a politically connected Chinese conglomerate sounded too many alarm bells for even the conflict-of-interest-oblivious White House. But Scaramucci remains close to Trump and his team, and on Monday, he'll sit down with author and columnist Michael Wolff in Manhattan at a special event hosted by TheStreet.
"There's only one subject today, and that's Donald Trump," Wolff said in an interview ahead of the event. "Anthony Scaramucci is a long-time friend of Donald Trump and is a figure of renown on Wall Street, so we're going to try to combine those two topics--Wall Street and Donald Trump--for what should be a very interesting evening."
The markets rallied in the wake of Trump's election, with his promises on tax reform, deregulation and infrastructure spending inspiring optimism among investors. The president touted the markets' $3 trillion run in his address to a joint session of Congress in February.
"Judging by the stock market, Wall Street loves Donald Trump," Wolff said. "It's an interesting thing that we went into this election with virtually everyone, almost 100%, saying that if Donald Trump got elected, the stock market would not only go down but it would probably crash. And, in fact, as we know, the exact opposite happened. So, that's one of the things that you deal with when you deal with Donald Trump. All bets are off."
In the first of TheStreet's "Wall Street Goes to Washington" series of conversations with the president's economic advisers, Wolff and Scaramucci will discuss the Trump administration's first 100 days, policies and legislation on the horizon, and how it will all play out on Wall Street.
When: Monday, March 27, 2017 at 6:00 p.m. ET

Where: The Metropolitan Club, New York City

Live Stream Begins at 6:30 p.m. ET via Facebook Live, Periscope, YouTube and TheStreet.com
Scaramucci, 53, launched investment firm SkyBridge in 2005 and was the chairman of the SkyBridge Alternatives "SALT" Conference held in Las Vegas annually. He also co-hosted television show "Wall Street Week" and authored three books--The Little Book of Hedge Funds, Goodbye Gordon Gekko and Hopping Over the Rabbit Hole.
After initially backing Scott Walker and Jeb Bush, Scaramucci signed on with the Trump campaign in May 2016 as part of its national finance committee. He became a prominent surrogate for Trump on the campaign trail and after the election was named to the Presidential Transition Team Executive Committee.
Scaramucci was slated to join the Trump administration as a liaison to the business community, but those plans were squashed soon after inauguration day. Chief of Staff Reince Priebus reportedly told the president the administration couldn't wait until Scaramucci's ethics review was complete, and Press Secretary Sean Spicer said he was never officially given a job in the first place. (The administration never made an official announcement of a spot for Scaramucci, as it has with other positions.)
Rumors are floating that Scaramucci may one day wind up with a White House post, and on Monday, we could gain insights into his thoughts on the matter.
Wolff, whose byline has appeared in Vanity Fair, The Hollywood Reporter and USA Today, among others, has developed a close relationship with a number of figures in Trump's orbit. He's written profiles on Steve Bannon and Kellyanne Conway and has emerged as a critic of the media's coverage of the administration, in February engaging in an at times heated back-and-forth with CNN's Brian Stelter.
"I think the goal is, it's actually everyone's goal, to figure out what Donald Trump is thinking, to figure out who Donald Trump really is, and Anthony Scaramucci I think is one of the people who at this point can get closest to that," Wolff said.
Monday's event will kick off at 6:00 p.m. ET and will be streamed live via Facebook, Periscope and TheStreet.com.
For more information or to RSVP, email events@thestreet.com.