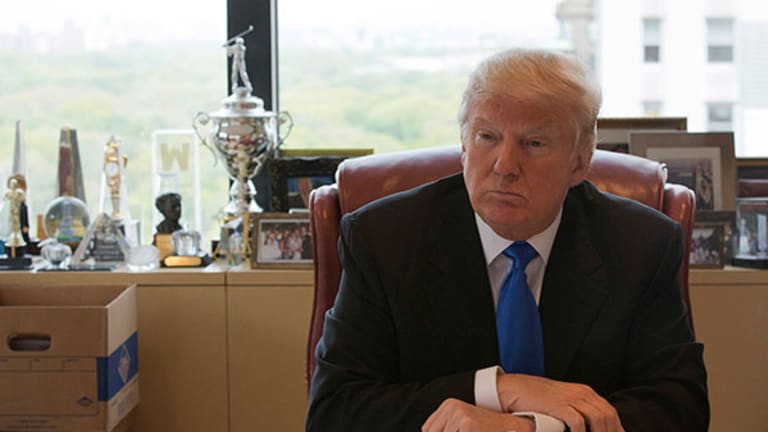 Another Economist Says Trump Presidency Would Lead to Recession in U.S.
Gregory Daco of Oxford Economics claims that Donald Trump's policies would send the U.S. economy into recession by end of 2017.
Another economist is singing a doomsday tune on the prospect of a President Donald Trump.
If implemented fully, presumptive Republican presidential nominee Donald Trump's tax proposal would reduce government revenues by more than $4 trillion over the next five years, according to an analysis from Gregory Daco, head of U.S. macroeconomics at Oxford Economics. By his team's calculations, Trump's policies would also send the U.S. economy into a recession by the end of 2017, and in 2018, they would lead the economy to contract by 2%.
Trump has proposed collapsing current tax brackets, increasing standard deductions and repealing the Alternative Minimum Tax, a supplemental income tax designed to keep wealthy taxpayers from using loopholes to avoid taxes. He has also said he would reduce the corporate tax rate to 15% from 35%. The Tax Policy Center, whose analysis Oxford used for its own economic impact report, indicates the billionaire businessman's tax plan would reduce government revenues by $9.5 trillion over a decade.
According to Oxford, Trump's proposal would result in a $3.25 trillion reduction in revenue from individual taxes and a more than $1 trillion drop in revenue from corporate taxes. And since Trump has argued against cutting entitlements and indicated he may increase defense spending, it is likely that just about a quarter of revenue loss would be offset by reductions in spending. The rest would be financed through increased government borrowing.
The result, Daco says, would be pretty bad.
"By the end of Mr. Trump's first term, real disposable income would be about 1.5% lower while the economy would have 3 million fewer jobs than in our baseline," he writes. "The unemployment rate would settle at 6.2% at the end of 2020 (after reaching 7.6% in early 2019) compared with 4.8% in our baseline. As a result of weaker income growth and employment consumer spending and business investment would both be 5% below the baseline levels."
His team also concludes that a sharp and rapid deterioration in public finances as a result of Trump's economic policies would send interest rates surging, with yields on 10-year Treasuries rising to 6% in 2017.
Oxford's analysis assumes Trump's proposals are implemented directly, sans any negotiations with Congress. A Congress-approved and likely watered-down version of his policies would be bad but not as dire -- while private sector activity would initially be stimulated, economic activity would soon slow, resulting in a lag in growth in income, employment and GDP.
A Trump spokeswoman did not respond to request for comment on the matter.
The Oxford Economics report comes on the heels of a separate analysis from Moody's (MCO) - Get Moody's Corporation (MCO) Report concluding a Trump presidency would "significantly weaken" the U.S. economy, leading to a recession and resulting in the lost of 3.5 million jobs and a 7% unemployment rate.
"The key thing is the very large budget deficits which would ensue under his plan," Moody's economist and author of the report Mark Zandi said in an interview with CNBC, adding the candidate's policies would result in much higher interest rates, undermining corporate earnings and stock prices.
He, like Daco, estimates a more watered-down and less damaging version would likely make it through Congress.
Peter Navarro, a professor at the University of California-Irvine and adviser to the Trump campaign, called the Moody's report a "hit piece" in a Trump-friendly rebuttal analysis.
Trump delivered a speech outlining his plan for the economy in Monessen, Pa. on Tuesday, tackling taxes, China and trade. The U.S. Chamber of Commerce panned Trump's remarks, rebutting his assertions on Twitter. Trump responded in kind on Wednesday.