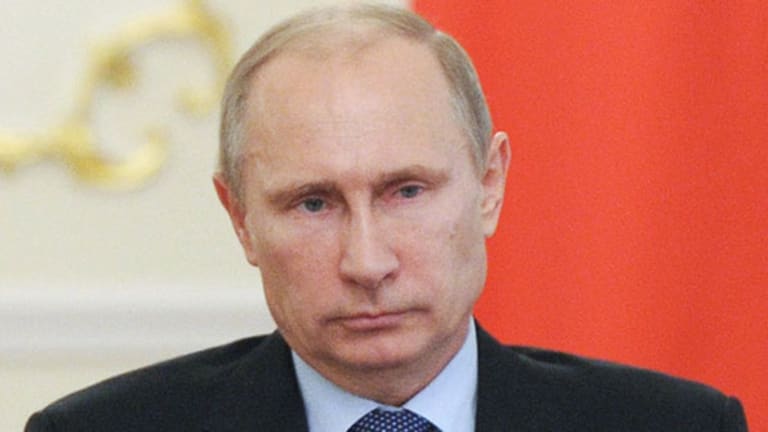 Two Days of Terror in Russia
A second bomb kills more than a dozen in Russia on Monday.
Updated from Sunday to include news of second bombing, first paragraph
MOSCOW (TheStreet) -- Volgograd's bustling transportation system has been attacked again, for the second time in two days. Monday morning, a bomb was detonated on a trolleybus, killing at least 15 people and injuring dozens more, RIA Novosti reports. This time the suspect is male, though no group has claimed responsibility for either of the two days of terror.
On Sunday, at least 16 people were killed and 44 injured, allegedly by a female suicide bomber at a check point in a train station in the Russian city of Volgograd. Russian news agency RIA Novosti said earlier that it could be the work of Oksana Aslanova, a native of Russia's North Caucasus Republic of Dagestan, and widow of a militant group leader.
DNA tests will be performed to confirm the bomber's identity. 
Security for the 2014 Winter Olympic Games in Sochi, already under scrutiny, continues to be in the spotlight as attention-grabbing violence persists in Russia. A Chechen rebel leader has advised his followers to use "maximum force" to disrupt the 2014 Winter Olympic Games scheduled for February.
President Vladimir Putin has responded with calls for increased security throughout Russia.
There have been two other similar attacks in the last two months. On Friday, Dec. 27, a car bomb claimed two lives in Pyatigorsk, about a 9-hour drive from Sochi, but just 167 miles. In October, another young female detonated a bomb that killed 6 and inured 37 on a commuter bus in Volgograd. That attack was allegedly carried out by another "black widow," Naida Asiyalova, 30-year old woman from Russia's North Caucasus Republic of Dagestan.
Dagestan has been fragmented by unrest since the mid-1990s. More than 260 militants have been killed this year in the North Caucasus region, according to a national anti-terrorism committee statement to RIA Novosti. Women known as "black widow" bombers are typically related to "Islamist" rebels who have been killed by Russian security forces. Suicide, however, is an act that conflicts with the religion of Islam.
Disclosure: TheStreet's editorial policy prohibits staff editors and reporters from holding positions in any individual stocks.