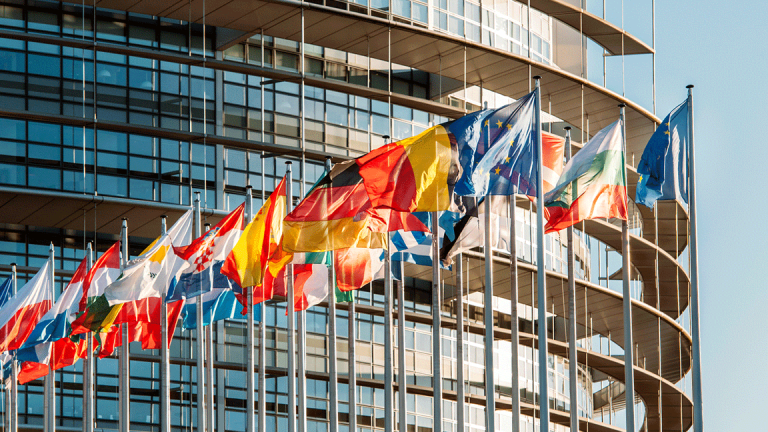 Angela Merkel Heads to 'Make-or-Break' EU Summit With Future Hanging in Balance
A major EU investment risk could emerge from the bloc's two-day Leader's Summit, which kicks-off today in Brussels, with Germany's venerable Chancellor describing it as a "make-or-break" chance to tackle the region's migrant crisis.
A major EU investment risk could emerge from the bloc's two-day Leader's Summit, which kicks-off today in Brussels, with Germany's venerable Chancellor describing it as a "make-or-break" chance to tackle the region's migrant crisis.
Game on for Merkel.
European Union leaders will meet in Brussels this week as part of a crucial summit on migration and reform that could not only mark a sea-change in the bloc's financial future but may also trigger the downfall of Germany's Chancellor Angela Merkel.
Facing discord at home over her migrant policy, which has allowed 1.6 million people to enter Europe's biggest economy over the past four years, and resistance in many European capitals thanks to her hard-line stance on fiscal discipline and taxpayer-funded bailouts, Merkel's fate may hang in the balance of the outcome of what she's called a 'make-or-break' summit, creating a major risk event for European markets and the suddenly-volatile single currency.
"Europe faces many challenges, but that of migration could become the make-or-break one for the EU," Merkel told lawmakers in Germany's parliament, the Bundestag, Thursday. "Either we manage it, so others in Africa believe that we are guided by values and believe in multilateralism, not unilateralism, or nobody will believe any longer in the system of values that has made us strong."
The euro, which has fallen more than 2% against the U.S. dollar this month and sits near the lowest level in nearly a year, was hovering at around 1.1542 in early London deal as investors waited for the start of today's summit and the reaction Merkel will receive from other European leaders.
Merkel's "immigrants welcome" declaration in 2014 sparked a wave of European migration, much of it from Syria and North Africa, following the peak of the former's devastating civil war. However, her open-arms policy has proved extremely unpopular in Germany, ultimately leading to a surge in support for the far-right Afd party at last year's elections that forced Merkel to cobble together a weak coalition government to secure her fifth term as Chancellor.
That government, however, could fail if allies in her sister party, the CSU, follow-through on a vow to close internal borders to new migrants in the wealthy state of Bavaria, a move that would effectively bring down the Schengen agreement on free movement inside the European Union. It could also trigger the collapse of her coalition and fresh national elections less than a year after Germans last went to the polls in September. 
Merkel is also finding little support abroad, particularly in Italy, where the country's new government is pushing for a change in EU rules say migrants must remain in their first port of entry. Italy's location on the Mediterranean Sea has meant that more than 650,000 people have landed on its shores in the past month alone, creating an enormous human and logistical challenge for an already struggling economy.
Giuseppe Conte, Italy's new Prime Minster, has said he's prepared to come to a compromise with European leaders over the migrant rules, with some analysts suggesting he'll seek a relaxation of the EU's tight budget deficit rules in order to allow Rome to spend more money on both migrant support and the broader Italian economy.
That may unnerve investors who are already concerned about the fate of public finances in Europe's third-largest economy and the new government's commitment to the single currency. Benchmark Italian government bond yields have been inching steadily higher as a result, and are currently trading at 2.82%, putting the extra yield, or spread, that investors demand to own them instead of triple-A rated German bunds at 2.5%.
"Although trade war is now the most obvious risk that investors are trying to price in, it seems that European investors have quickly forgotten about the shivers that Italy sent to the market when its politicians seemed unable to form a new government just over a month ago" said Althea Spinozzi, a fixed income specialist at Saxo Bank.
"These shivers, which had a great deal to do with the fragility of the European Union in the face of a populist, eurosceptic government in Rome, appear to have receded from many investors' minds and plans," she added. "There is precious little reason to imagine that anything has really calmed or returned to 'normal."