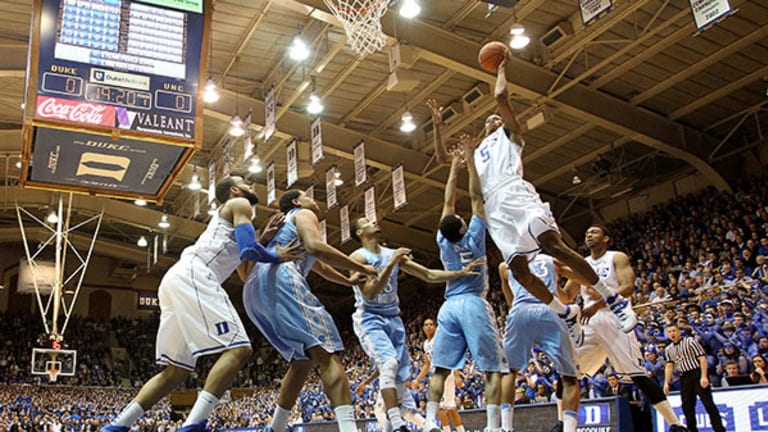 America's March Madness Obsession May Cost Employers up to $2.1 Billion
Calculations by Challenger, Gray & Christmas indicate that lost wages from unproductive workers filling out brackets will cost employers at least $615 million.
It's Selection Sunday, and you've got just a few days to put together your NCAA bracket picks. That process will cost employers up to $2 billion, according to a new study.
According to the American Gaming Society, more than 40 million Americans fill out brackets, which at current employment levels of 59.2% translates to 23.68 million current workers. Once they've filled out their brackets, a dozen games will take place during working hours during the first two full days of play on Thursday and Friday.
Estimates of lost wages paid to distracted and unproductive workers range from about $615 million to $2.1 billion, according to Challenger, Gray & Christmas, an outplacement firm.
"In the current political climate, more American workers might welcome this distraction leading to an even higher cost to productivity," Challenger, Gray & Christmas CEO John Challenger said in a statement.
Challenger, Gray & Christmas calculated the most conservative estimate from the assumption that the estimated 23.68 million workers filling out brackets will spend an hour of unproductive work time following games or updating their brackets. At an average wage of $26 per hour, this time will cost employers $615.6 million for each unproductive hour.
At the high end, Challenger, Gray & Christmas cited a 2012 survey which found that 56% of all workers, or 81.5 million people, will spend at least an hour on their brackets. At $26 an hour, that's $2.12 billion.
Despite this lost productivity, Challenger said he still recommends employers adopt a lax policy toward March Madness activity, as clamping down "would most likely result in long-term damage to employee morale, loyalty, and engagement that would far outweigh any short-term benefit to productivity." Brackets "foster camaraderie," he added.
Still, there's some signs that the impact of March Madness, being air by CBS (CBS) - Get CBS Corporation Class B Report and the Turner networks, but also pushed hard by Disney's (DIS) - Get Walt Disney Company Report ESPN, Fox Sports (owned by 21st Century Fox (FOX) - Get Fox Corporation Class B Report ) and other sports networks, may be waning.
Average viewership during the first two days of the 2016 tournament fell 6% from 2015 to 8.5 million. Although 17.8 million viewers tuned in to watch Villanova edge out UNC on a buzzer beater, that was down 37% from 2015, when Duke defeated Wisconsin. And in a break with the tradition set by his predecessor, President Donald Trump said he won't fill out men's and women's brackets, which Barack Obama did before reviewing his picks on SportsCenter. 
Higher wages and higher employment probably cancel out the decreased viewership in lost wage calculations, Challenger noted.
Bracket already busted? You can enter here to make your selections in TheStreet's Market Bracket Challenge.
DISCLAIMER: This challenge is for entertainment purposes only. There is not a prize associated with this challenge. All trademarks are the property of their owners. This challenge is not sponsored, endorsed or administered by any such trademark owner. Question can be sent to bracketchallenge@thestreet.com.
Action Alerts PLUS, which Cramer manages as a charitable trust, has no positions in the stocks mentioned.