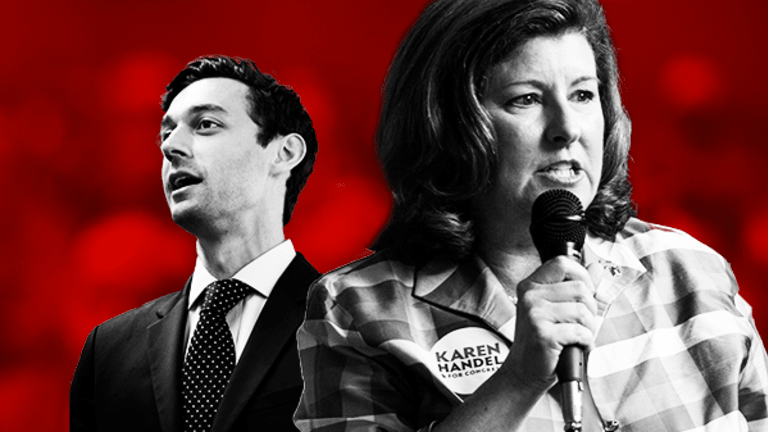 All eyes are on Georgia on Tuesday and the special election that has turned out to be the most expensive House race in American history.
After months of campaigning, Democrat Jon Ossoff and Republican Karen Handel are facing off to fill the seat vacated by Health and Human Services Secretary Tom Price in Georgia's Sixth Congressional District. The race, which has seen candidates and outside groups spending roughly $55 million, has captured the national spotlight -- and even Wall Street is paying attention.
A RealClearPolitics average of polls gives Handel, 55, a 0.2-point edge over 30-year-old Ossoff. Prediction market PredictIt gives Handel a 55% chance of victory. FiveThirtyEight's Nate Silver outlined a range of scenarios, some indicating a handy victory for Handel and others a win for Ossoff.
"We would be surprised if the Democrats did not win this race," said Cowen analyst Chris Krueger in a note on Monday. "This is the Trump referendum race national Democrats have been targeting for months, which has the added liberal kicker of previously been represented by Newt Gingrich."
"This is a winnable race for Democrats -- and they need it, as this is the type of district they must to be able to win to sustain momentum going into November 2018," said Height Securities analyst Peter Cohn in a Tuesday note. "For Republicans, losing a seat they have held for decades would unquestionably be a blow, but they are still on track to keep four out of five GOP-held seats in special elections this year (including in today's less-heralded South Carolina election)."
The suburban Atlanta district has traditionally swung Republican, though trends have begun to shift. The district went for Mitt Romney by 23 percentage points against Barack Obama in 2012. By contrast, it chose Donald Trump over Hillary Clinton by only 1.5 percentage points.
While the general consensus among most observers is that the national significance of Georgia's special election is overblown, its results are being closely watched in Washington and on Wall Street as a signal of what might be to come in the 2018 midterms.
Republicans have thus far failed to deliver on their major legislative agenda items -- namely, health care and tax reform -- though Speaker of the House Paul Ryan (R-WI) renewed his pledge to tackle tax legislation by the end of the year on Tuesday. An Ossoff win could signal a potential Democratic takeover of the House next year, which would stall the GOP's agenda then but could potentially speed things up now.
"Both parties will spin the outcome of these elections -- especially given the distinctiveness of the districts and the distance to the midterms -- but we believe the GA-06 could have an impact on the broader agenda in D.C.," said Compass Point analyst Isaac Boltansky in a note on Monday. "Our sense is that a GOP loss in the GA-06 would further embolden Democratic opposition, but it could conceivably catalyze GOP action on key legislative agenda items. Self-preservation is a powerful motivator and its will only strengthen as the midterm elections draw near."