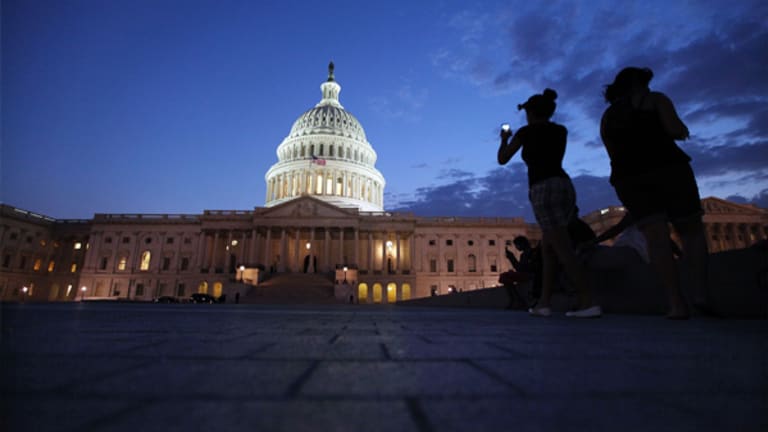 Akin Loses Support of His Biggest Contributor
Emerson Electric distances itself from the beleaguered Senate candidate.
NEW YORK (
) -- U.S. Rep. Todd Akin (R-Mo.), who's under pressure to resign for saying women's bodies can fend off pregnancy in the case of a "legitimate rape," lost the support of his biggest contributor,
Emerson Electric
(EMR) - Get Emerson Electric Co. Report
.
The manufacturing and technology company, based in St. Louis, part of Akin's district, dropped its endorsement of the embattled U.S. Senate candidate. Other large publicly traded companies were less clear on where they stood.
"We backed Todd Akin as a candidate who would help restore the U.S. economy. Given his recent comments, we no longer support his candidacy," Mark Polzin, Emerson's spokesman, said in an email correspondence.
The company's political action committee donated the maximum $10,000 that went toward Akin's 2012 Senate run, while Emerson employees have donated another $26,200, according to opensecrets.org.
David Farr, who has been CEO for 12 years,
the maximum of $5,000 to Akin's campaign -- $2,500 for the Republican primary and $2,500 for the general election.
Including Akin's Senate race, the Emerson Electric Co. Responsible Government Fund (the full official name of the PAC) has contributed a total of about $29,000 to Akin through all his House campaigns, which included six successful campaigns from 2000 through 2010. The PAC has contributed to Democrats and Republicans, according to FEC records that date back to 1997.
Other large companies also have donated the maximum $10,000 to Akin's campaign, but have stopped short of denouncing him.
Those companies include defense contractor
Northrop Grumman
(NOC) - Get Northrop Grumman Corporation Report
, aerospace company
Boeing
(BA) - Get Boeing Company Report
, beer brewer
Anheuser-Busch InBev
(BUD) - Get Anheuser-Busch InBev SA/NV Report
, diversified industrial group
Honeywell International
(HON) - Get Honeywell International Inc. Report
and defense company
General Dynamics
(GD) - Get General Dynamics Corporation Report
, among others.
"He's been a strong supporter of national defense, and that has been the reason that we have supported him in the past," said Rob Doolittle, a spokesman for General Dynamics. "Regarding future contributions, we would certainly take his recent comments into consideration before we provided any additional support."
"Honeywell supports those who support the policies most important to our businesses and help drive the U.S economy and create American jobs," Honeywell spokesman Robert Ferris said in an email. "The donation made to Rep. Akin was made prior to his recent controversial comment."
"The Anheuser-Busch Political Action Committee has made bipartisan campaign contributions to numerous candidates throughout the United States during this election cycle, including $10,000 in contributions to Rep. Todd Akin," Anheuser-Busch spokeswoman Christine Czernejewski said in an email. "The contributions to Rep. Akin were made prior to his announced candidacy for the U.S. Senate."
"Giving by the Boeing PAC (BPAC) supports candidates with whom we have alignment on issues of interest to the candidate and Boeing," said a Boeing spokesperson, who said the company didn't want to ascribe a name to the comment. "That does not mean we agree on every issue with every candidate to whom BPAC gives support. Both the candidates and Boeing understand that we can disagree on certain issues."
Northrop Grumman spokeswoman Margaret Mitchell-Jones said the company declined to comment.
Republicans, including presidential candidate Mitt Romney, have sought to distance themselves from Akin, who later apologized. Akin said women rarely are impregnated during rapes as the stress endured doesn't allow their eggs to be fertilized, which isn't backed up by science.
Akin said Monday on his Twitter account that he would not drop out: "I am in this race to win. We need a conservative Senate."
-- Written by Joe Deaux in New York.
>Contact by
.