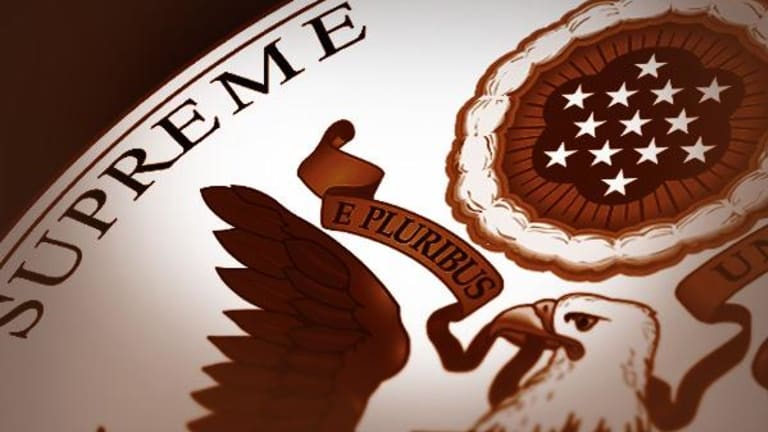 After Days of Buildup, Trump Taps Neil Gorsuch for Supreme Court
President Donald Trump selected Neil M. Gorsuch as his nominee to the U.S. Supreme Court.
President Donald Trump has selected Neil M. Gorsuch as his nominee to the U.S. Supreme Court of the United States.
The much-anticipated decision was announced at the White House on Tuesday evening and will most certainly be met with fierce opposition by Senate Democrats and liberal activist groups around the country. Gorsuch, who has served for over a decade as a federal judge on the U.S. Court of Appeals for the Tenth Circuit, becomes the youngest person in 25 years to be nominated to the Supreme Court.
"Was that a surprise, was it?" Trump said after making the announcement, which he and top aides had teased for days.
The Trump administration described Gorsuch as a "brilliant jurist" with an "outstanding intellect and a clear, incisive writing style," in a statement. An alumnus of Columbia University and Harvard Law School, Gorsuch resides in Colorado.
"The qualifications of Judge Gorsuch are beyond dispute," Trump said, adding that the United States "needs badly" to "ensure the rule of law and rule of justice."
Maureen Scalia, the wife of late Justice Antonin Scalia, who Gorsuch will replace if confirmed, was in the audience during the announcement.
"I am so happy she is still with us," Trump said.
Gorsuch in his remarks described Scalia as a "lion of the law."
While introducing Gorsuch, Trump seemed to acknowledge the importance the Supreme Court had for many who voted for him. Scalia died nearly a year ago on February 13, 2016, and Senate Republicans refused to consider former President Obama's nominee, Merrick Garland.
"This may be the most transparent judicial process in history," said Trump, who released a list of conservative judges he would consider while campaigning. "I will do as I say."
Gorsuch will now face Senate confirmation, a process that Democrats are likely to resist.
Our Revolution, a progressive political action group that sprung from Senator Bernie Sanders' presidential campaign, in a statement after the announcement encouraged Senate Democrats to "stand firm against" Trump's choice.
"Over the past week, we've seen people come together in protests across the country in an effort to push back on Trump's dangerous, radical, and unconstitutional agenda. Now, more than ever, we need Senate Democrats to hold the line," said Our Revolution and former Sanders adviser Jeff Weaver.
Norm Eisen, former Obama ethics lawyer who has been an outspoken critic of Trump's conflicts of interests, earlier in the day on Tuesday on Twitter called Gorsuch a "great guy," noting he was his and Obama's classmate at Harvard Law.
After Trump's announcement, he said he endorses him "as a person" but hasn't taken a position on him as a nominee. He also noted that the GOP's complete resistance to Garland changes things.
"Neil spoke beautifully, normally he would be a shoo-in, but after Garland the rules have changed. #RememberMERRICK," he tweeted.
Gorsuch's legal track record is appealing to social conservatives, whose support was critical to Donald Trump's journey to the White House.
But Gorsuch also has an extensive legal record on business issues too, including serving on the winning legal team in a private antitrust case that resulted in what at the time was the largest award for an antitrust violation ever upheld on appeal -- a 2003 verdict in which tobacco giant UST was forced to pay a $1.05 billion fine to its closest competitor in the smokeless tobacco market, Conwood, owned by Chicago's Pritzker family. A Kentucky jury ordered UST to pay the fine after finding UST manipulated retailers' product displays, including tossing out Conwood displays.
Gorsuch was a partner at Kellogg, Huber, Hansen, Todd, Evans & Figel at the time of the case. Gorsuch served at the firm from 1995 until 2005 where he specialized in antitrust, breach of contract, securities litigation, fiduciary duty, fraud and shareholder rights litigation.
He was picked by President George W. Bush to be deputy associate attorney general at the U.S. Department of Justice in 2006 where he oversaw the agency's civil litigation efforts, including antitrust and civil rights cases.
Bush nominated and the Senate unanimously confirmed Gorsuch to serve on the U.S. Court of Appeals in Denver in 2006. While serving on the appeals court, Gorsuch has served as an adjunct professor at the University of Colorado.
Gorsuch's career provides a paper trail that reveals his views on issues important to Wall St. The National Law Journal noted that as a private law partner he wrote a friend of the court brief on behalf of the U.S. Chamber of Commerce in a 2005 Supreme Court case criticizing what he saw as frivolous shareholder class actions. When the court ruled in favor of the targeted company, Dura Pharmaceuticals, he praised the justices in the National Law Journal for putting a "speed bump" in the "free ride to fast riches enjoyed by securities class action attorneys."
President Trump was likely enamored with Gorsuch's thoughts on reining in federal regulators, who the president has just ordered to start eliminating federal rules the president says are hampering economic growth. In that vein, Gorsuch has written that he would like to roll back the so-called "Chevron doctrine," under which courts have agreed to defer to federal regulators' implementation of ambiguous federal laws. Gorsuch has said that the doctrine encourages courts to hand their obligation to interpret federal statutes over to administrative agencies.
On the Chevron doctrine Gorsuch is to the right of Scalia, according to ScotusBlog, the blog of the Supreme Court. Scalia generally supported the doctrine because of the flexibility it provided regulators in interpreting unclear laws. Many Republican lawmakers side with Gorsuch and some have introduced legislation that would do away with the doctrine.
In two related decisions where social conservatives' and businesses' interests intersect, Gorsuch has also drawn favor with those groups. In 2013 he wrote a concurring opinion backing Hobby Lobby's fight to free itself from the contraception mandate of the Affordable Care Act. The appeals court support for Hobby Lobby was later upheld by the Supreme Court. In a later dissent, he backed Catholic order Little Sisters of the Poor in its fight to be freed from the same mandate. The Supreme Court's eventual decision in that case was more ambiguous.
Gorsuch's writing in those two cases drew criticism Tuesday night from Sen. Diane Feinstein, D-Calif. "I am deeply concerned that throughout his campaign the president promised to use litmus tests when choosing his nominee," she said in a prepared statement. "Then tonight, President Trump declared, 'I am a man of my word.' That's exactly what I'm afraid of. Judge Gorsuch voted twice to deny contraceptive coverage to women, elevating a corporation's religious beliefs over women's health care."
Gorsuch earned his law degree from Harvard, where he was a classmate of former President Barack Obama. After law school Gorsuch served as a clerk to Supreme Court Justices Byron White and Anthony Kennedy and to David Sentelle of the U.S. Appeals Court in Washington.