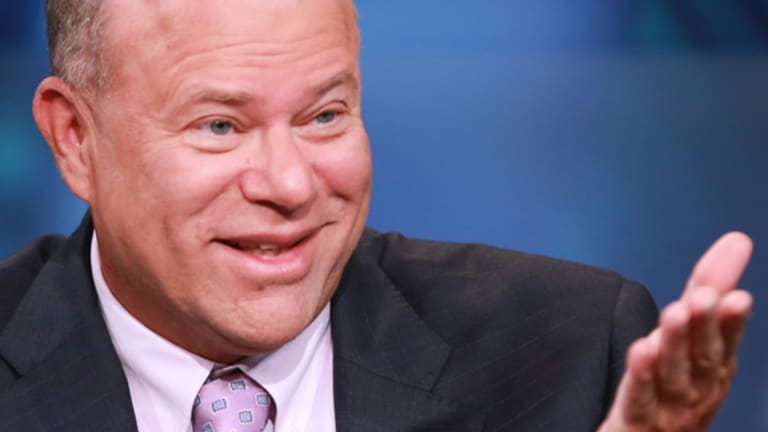 After Backing Bush and Kasich, David Tepper Says He's With Her
A hedge fund billionaire who spent a million dollars backing Jeb Bush and John Kasich in the Republican primary is casting his vote for Hillary Clinton.
A hedge fund billionaire who spent a million dollars backing Jeb Bush and John Kasich in the Republican primary is casting his vote for Hillary Clinton.
David Tepper, the founder of hedge fund Appaloosa Management, in a Monday morning interview with CNBC slammed Donald Trump as the "father of lies." Incensed by Melania Trump's characterization of her husband as a giving, generous and charitable person, Tepper, who until earlier this year lived in New Jersey, laced into the real estate magnate who, according to him, has given "not one dime."
"During the financial crisis, during Sandy, not one dime. Not one dime. I know this firsthand. It's fact. Not conjecture," he said. "You can't tell me this is a charitable candidate for president when you are living in these places and the people here and you are supposedly a multibillionaire and not one dime!"
Trump's actual giving often falls far short of his promises. The Washington Post has reported on numerous such instances, including a 1996 event for children with AIDS that Trump attended and sat on stage for without making any donation.
"When you lie about that stuff, you lie about fundamental beliefs -- listen, Trump masquerades as an angel of light but is the father of lies," Tepper said.
The 59-year-old billionaire said he is voting for Clinton for president and Republican down the rest of the ballot. "I think that combination is best for the country right now, least dangerous for the country right now," he said.
The interview at times got testy. When pushed on Clinton's flaws and concerns about her honesty and activities at the Clinton Foundation, Tepper snapped back, "Did I say anything good about Hillary?"
Markets have generally reacted positively to perceived improved chances for a Clinton victory and have responded negatively when Trump appears to be ahead. One study estimates a Trump victory would cut the value of worldwide benchmark indexes by 10% to 15%, slash oil prices by $4 a barrel and prompt a 25% decline in the Mexican peso.
Stocks declined last week as concerns over the FBI's continued investigation into Clinton's use of email mounted. Bureau director James Comey's letter to Congress Sunday announcing the FBI has not changed its stance on the issue spurred a market bounce.
Tepper, who in October told CNBC he had been "pretty light" on stocks and with a lot of cash on hand, said he has recently done some buying, thanks in part to some of the markets' politically-related swings.
"The market was around 2140, 2160 when we said that, and I think it went down a couple percent because the markets were scared of a Democratic sweep, and then you went right into the emails and the Trump rise, and you know, the market went down another couple percent, down to 2080, more or less," he said.
If Trump wins, he anticipates the S&P 500 will drop to 2040. If Clinton wins and the Republicans keep the House of Representatives and Senate, he predicts it will be 2150. The S&P closed the day Friday at 2085.
Tepper has backed candidates on both sides of the aisle with his vote as well as his checkbook. He donated to Democratic New York Senator Chuck Schumer and former Republican House Speaker John Boehner. He supported President Barack Obama in 2008 and Governor Mitt Romney in 2012.
He appears to have preferred a Republican presidential candidate this election cycle, just not the one who ended up on the top of the ticket. Tepper gave $250,000 to Right to Rise, the super PAC supporting Jeb Bush, and $750,000 to New Day for America, which backed John Kasich, according to campaign finance tracking website OpenSecrets.
Much like he has been able to reach out to both sides of the aisle, Tepper hopes others will do the same.
"I hope people, you know, can join hands in some fashion no matter who wins the election," he said.