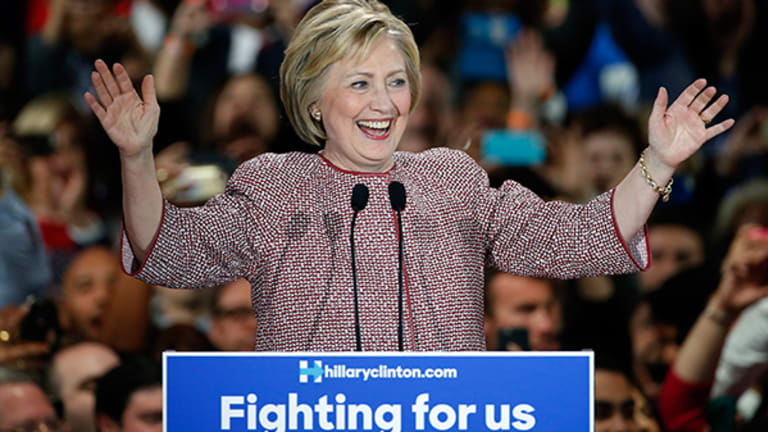 7 Stocks to Buy for When Hillary Clinton Is President
Hillary Clinton has promised to be tough on Wall Street once she's in the White House, but there are many ways investors should be able to profit from her presidency.
Editors' pick: Originally published May 12, 2016.
UPDATE: This story's stock charts have been updated. When you're done reading this, check out which stocks to buy for when Donald Trump is president. 
Hillary Clinton has promised to be tough on Wall Street once she's in the White House, but that doesn't necessarily mean investors should be running for the hills. The former secretary of state's positions and policies might mean good things for certain stocks and sectors.
Wall Street appears to already be bracing for a Clinton presidency and at times reacting to her proposals in turn. The prediction markets and recent surveys indicate she is widely viewed by investors as this election season's likely victor. And even though the markets may not like some of policies she has promised to implement on the campaign trail, they do enjoy the certainty she represents, especially compared to presumptive Republican nominee Donald Trump.
"Trump is an unknown, and the markets hate uncertainty," said Greg Valliere, chief strategist at Horizon Investments. "With Hillary, it's pretty much what you see is what you're going to get."
Clinton's 25 years in the public arena as first lady, senator and secretary of state give investors a clear idea of who she is and how she is likely to approach policy if elected president. This election season, she has hitched her wagon firmly to the Obama administration's legacy, indicating to many her first term in office might look quite similar to the past seven years.
"If you just look at everything that her campaign has laid out on the table, it's hard to see too many dramatic or significant divergences from what we might have seen in Obama's third term," said Height Securities analyst Peter Cohn. "If you look at the way sectors have performed over the last four years or so, that's probably a pretty good proxy for the next four years."
To be sure, not everything about Clinton would look like Obama part three. She has historically been more hawkish on defense policy than President Obama. This election season has also seen her pulled farther to the left by Democratic competitor Bernie Sanders on issues like trade, fracking and the minimum wage. And, she has promised to crack down on inflated drug pricing.
There are also outside factors that would be far beyond Clinton's control as president. There are no guarantees she would be able to get her proposals through Congress. Moreover, global developments, such as oil prices and war, could certainly change the game.
Still, there are some stocks and sectors poised to do well with Clinton in the White House. If she is sworn in on January 20, 2017, here are seven stocks you may want to consider for your portfolio.
1. Lockheed Martin (LMT) - Get Lockheed Martin Corporation Report
Lockheed Martin was the biggest government contractor of 2015, raking in $36.2 billion, including $29.4 billion from the Department of Defense. Should Clinton take office and continue policies that are at least as hawkish as the current administration, there is little reason to believe Lockheed's position will change.
Clinton, who not only served as secretary state but is also a former member of the Senate Armed Services Committee, is an advocate of what RBC Capital Markets analysts described as smart power, "mixing diplomatic, economic and cultural leverage with military strength," in an April note. They said that if she or, for that matter, Trump becomes president in 2017, there is good reason to remain bullish on the defense sector.
"Given the current geopolitical threat situation and the improved fiscal situation of the U.S. government, we think both the new president and the current Congress will be inclined to spend more rather than less on defense going forward," they wrote.
On her campaign website, Clinton promises to "keep America safe and secure by defending our core values and leading with principle," including standing up to Russian President Vladimir Putin, strengthening alliances in the Middle East, Europe and Asia and ensuring the U.S. military is on the cutting edge. Her camp touts her history as secretary of state as well, including her role in imposing sanctions on Iran and in launching the raid against Osama bin Laden.
Defense spending is one area Clinton and Congress will likely find common ground, said Cohn, whether the U.S. stays on the current trajectory or conflict breaks out that necessitates intervention. "You're sort of looking at a few years of flat or slightly increased investment on the defense side," he said.
That will certainly bode well for Lockheed Martin as well as other big getters of government defense contracts, including Boeing, Raytheon and General Dynamics. The four represented $68.2 billion in obligated government contracts last year alone.
Lockheed Martin is a holding in Jim Cramer's Action Alerts PLUS Charitable Trust Portfolio. See how Cramer rates the stock here. Want to be alerted before Cramer buys or sells LMT? Learn more now.
2. HCA Holdings (HCA) - Get HCA Healthcare Inc Report
During the 1990s, Clinton was the GOP's public enemy No. 1 on health care. Today, it's President Obama, and believe it or not, his exit from the White House -- and her entrance -- that might bring about some advancements in the Affordable Care Act that the former first lady often points out was called "Hillarycare" before it was called "Obamacare."
"Her election probably helps to depoliticize the Affordable Care Act a bit," said Spencer Perlman, a health care analyst at Height Securities.
A hallmark of Obama's presidency, the ACA continues to be a hotbed of contention on Capitol Hill and among Republicans who despise the legislation. The president's mere exit from the Oval Office might help to diffuse that. Moreover, a Democratic victory in 2016 would essentially close the door for Republicans to repeal the act until at least 2021, at which point, it will have been in place for a decade.
If Dems and Republicans finally stop fighting over the act itself and get to work instead on tweaking it to make it work better, it would be a good thing from an investment standpoint.
"There's a potential here for a nice catalyst for hospitals," said Perlman.
More states are likely to accept the Medicaid expansion offered by the ACA under incentives supported by Clinton, including a proposal to allow any state that signs up for the program to receive a 100% match from the federal government for three years. Many southern states that have refused Medicaid expansion have a high concentration of for-profit hospitals, and if they reconsidered, it would be impactful, as research suggests hospitals benefit from the state expansion of the program. One beneficiary: HCA Holdings.
HCA has numerous hospitals and surgery centers in holdout states like Florida, Georgia and Tennessee, and were those states to accept Medicaid expansion, its business would likely improve. Tenet Healthcare and LifePoint Health may see a boost as well.
3. Aetna (AET)
Managed health care company Aetna, which is currently on track to acquire competitorHumana (HUM) - Get Humana Inc. Report , would benefit from a Clinton presidency on two fronts: in the Obamacare exchanges, and in Medicare Advantage.
"The exchanges, quite frankly, are a small portion of what managed companies do, for the most part, but I do think that the exchanges can be fixed and likely will be fixed under a Clinton administration," said Perlman.
The health care exchanges set up under the ACA -- essentially online shopping centers for medical coverage -- have not exactly functioned seamlessly, leading some companies, like UnitedHealth, to pull out. To keep more from following suit, Clinton would likely work to cater to the needs of managed care companies like Aetna and others -- allowing for pricing increases, tightening up special enrollments and addressing risk adjustment, for example.
"Clinton is incentivized to make that happen. She doesn't want the exchanges to collapse under her watch," Perlman said.
The continued penetration of Medicare Advantage (a managed care health insurance program that serves as a substitute for parts of original Medicare) due is also likely to be a boon for certain managed care companies. The combined Aetna-Humana entity may be especially poised to benefit, given that their merger would result in a Medicare Advantage membership of 4.4 million.
Medicare Advantage's expansion is largely tied to demographic trends; however, it would also depend on Clinton to foster a facilitating environment.
"A Clinton administration will likely take the same tack as the Obama administration, which is that they are not necessarily going to be cheerleaders for the MA program, but I don't think they're going to stand in the way of its expansion, either," said Perlman.
To be sure, Clinton won't be good for the entire health sector - pharmaceuticals are an area that might stand to suffer, given her tough rhetoric on the campaign trail regarding cracking down on prescription drug prices.
"I do think that she could represent some risk to drug stocks," said Valliere.
Societe Generale analysts warned of a potential risk to pharmaceutical giant Roche in a recent note, pointing out that Clinton "could try to mandate cuts to U.S. pharmaceutical prices" when elected. Other companies that may be concerned: AbbVie and Amgen.
4. SolarCity (SCTY)
Clinton is no friend coal, but she is quite a fan of other sources of energy -- namely, solar.
Her campaign platform includes setting national goals of 500 million solar panels installed by the end of her first term, launching a $60 billion Clean Energy Challenge to encourage local communities to make advancements in clean energy, and expand solar and energy efficiency solutions in low-income communities. According to her camp, achieving her goals will expand the amount of installed solar capacity to 140 gigawatts by the end of 2020 -- a 700% increase from current levels.
"Clinton talks a lot about solar, she's not things in her policy positions that are very pro-solar," said Cohn, though he noted they might be overly ambitious. "She's talking about some very unrealistic things in terms of solar installations. It's going to be very interesting to see how...the administration is going to spin some of these numbers, because they seem very difficult to achieve given the kind of historical runway we've seen."
If she is able to achieve her solar-energy goals, or at least make progress, it would likely mean good things for the companies in the arena. One example: Elon Musk's SolarCity. The company has executed government client projects in states like Connecticut, California and Maryland and could very well be enlisted to work on Clinton's solar initiatives. SunPower and First Solar are firms in the arena that might benefit, too.
5. Renewable Energy Group (REGI) - Get Renewable Energy Group, Inc. Report
Renewable energy might get a boost from a Clinton presidency across the board, beyond just solar.
Clinton is a proponent of the Renewable Fuel Standard, which requires a minimum blend of biofuels in gasoline. In a 2015 op-ed, she called it a "powerful tool to spur the development of advanced biofuels and expand the overall contribution that renewable fuels make to our national fuel supply."
She has also pledged to reduce American oil consumption by a third -- something that would most certainly entail biofuels.
Work towards accomplishing Clinton's goals is likely to benefit companies that produce advanced biofuels and renewable chemicals, such as Ames, Iowa-based Renewable Energy Group REGI, which produces advanced biofuels and renewable chemicals.
And beyond what Clinton actually gets done in the renewable sector, related to biofuels, solar and otherwise, her paying lip service to it may give it a boost regardless.
"You're going to see very much a rhetorical focus on promoting renewable energy and clean energy infrastructure," said Cohn. "To the extent that the Clinton administration talks about these things in a positive light, it is going to be positive for the industry and for the stocks."
6. AECOM (AEC)
As part of her campaign platform, Clinton pledges to boost federal infrastructure investment by $275 billion over the next five years and to create a $25 billion infrastructure bank to support critical infrastructure improvements. Her plans include roads, bridges, highways and energy. She says she will cover the plan through business tax reform.
While it is unlikely Clinton will get all of her policies through, infrastructure is another area where she is likely to see some bipartisan support to get at least something done.
"There is almost unanimous bipartisan agreement that the infrastructure policies that we have in place today are inadequate to what is needed," said Cohn.
Clinton will have to deal with the five-year, $305 billion highway bill President Obama signed last December, which at the time he admitted was not perfect but "an important first step in the right direction."
If Clinton arrives at the Oval Office, she will have the highway bill and other avenues to fund infrastructure projects across the country, such as repatriation tax reform or raising the gas tax.
"The discussion will continue to percolate. The status quo is the floor, there can only be increased federal investment from here," said Cohn.
Among those entities benefiting from increased federal infrastructure investment would be AECOM, an engineering firm that serves governments, businesses and organizations worldwide. In 2015, the firm was the 18th biggest winner of government contract dollars at $2.6 billion.
In fact, an uptick in federal infrastructure investments would be a good thing for a number of companies and sectors. Equipment companies like John Deere and Caterpillar would directly benefit, but those in the travel industry (food service and hotels) and even retailers might get an indirect boost from improved roads and bridges as well.
7. Goldman Sachs (GS) - Get Goldman Sachs Group, Inc. Report
Paid speeches given at Goldman Sachs has become the bane of Clinton's existence on the campaign trail. Despite increasing pressure to release the transcripts of her talks and the GOP's best efforts to uncover what she said, Clinton insists on keeping her words under wraps.
She does, however, insist that she will be bad news for Wall Street and the banking industry, vetoing efforts to repeal or weaken Dodd-Frank and clamping down and closing loopholes on risk. A Clinton presidency might not be a dream for banks like Goldman, JPMorgan, Citi and others, but onlookers say it wouldn't be a nightmare, either.
"I am not inclined to think that the banks or Wall Street would get hurt," said Valliere. "I just don't see her being that aggressive."
The degree of certainty Clinton represents, even if not necessarily the most positive, would likely be good for investors, including the big ones on Wall Street. Moreover, Trump's stances on key financial policy issues often swing wildly, such as his seeming suggestion he might not repay all U.S. debt owed to creditors followed by comments that if there is a problem, American fix it by simply printing money.
Clinton's donation numbers from financial employees indicate most in the industry don't believe she would be disastrous for their field.
"Wall Street is so nervous about Donald Trump that she's a very acceptable alternative," said Valliere. "I don't see her as really being all that negative for the banks or Wall Street."
Up next, read about which stocks to buy for when Donald Trump is president.