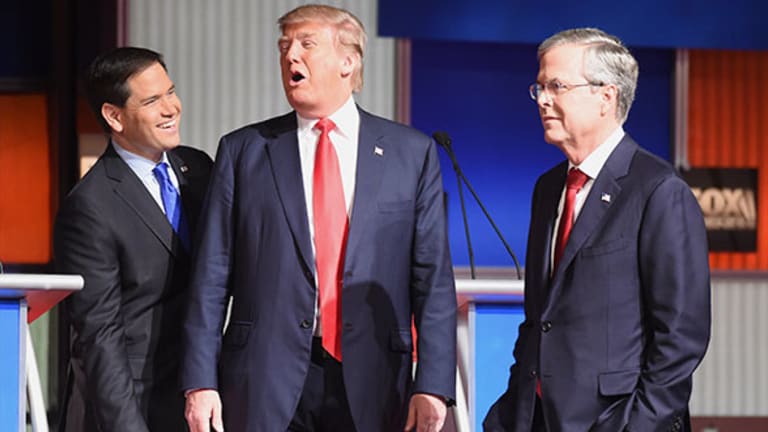 5 Things You'll Miss If You Pull a 'Trump' and Boycott the GOP Debate Tonight
We're about to get a reminder of what American politics is like without Donald Trump, care of Fox News. Don't miss it.
We're about to get a reminder of what American politics is like without Donald Trump, care of Fox News.
The network will host the seventh Republican presidential debate Thursday evening, giving the GOP's White House contenders one last chance to appeal to Iowa voters on national television before they head to the caucuses on Monday. And it will all go down without party's frontrunner on stage.
Tonight's showdown may be the most buzzed-about yet this election cycle, thanks to a huge kerfuffle between Fox and Donald Trump that resulted in him abandoning the event altogether and setting up his own gathering, a rally and fundraiser for veterans, instead. In his absence, Trump says the debate will be a "total disaster."
Trump's involvement in the presidential race has produced some of the highest-rated debates in history, and it is still unclear how viewership will be affected by Trump's absence. According to The Hill, a source from the network said that no advertisers have pulled out or tried to renegotiate their contracts after finding out Trump won't be on stage.
A Fox News spokesperson confirmed this via email: "The debate is completely sold out. No rates have changed and there are no advertisers who have backed out. Prices don't change once the orders have been placed."
The last time Fox hosted the GOP debate, 24 million people tuned in. Will it see similar figures tonight? We'll have to wait and see when the numbers come in. In the meantime, here are five things to watch for at this evening's seventh Republican presidential showdown.
1. What About Trump?
Trump will be the golden-haired elephant in the room at Thursday's debate. 
The billionaire businessman has been the center of attention at the previous six GOP showdowns and has dominated much of the conversation, even when he isn't speaking. Thursday, the seven contenders who are participating in the debate will be faced with the challenge of filling the vacuum. Though, that's probably not how they look at it. More like, they will be taking advantage of the opportunity at increased airtime.
Fox News will also likely be forced to address the issue, especially since one of its moderators, Megyn Kelly, is the main source of Trump's ire. Thus far, Kelly has maintained an even keel in managing Trump's attacks, and chances are, tonight will be no different. Still, she and the other moderators may feel compelled to address the feud.
And finally, viewers will have to decide whether a debate without Trump is worth watching. Rumors are floating around that CNN may air his fundraising event, but so far, the network has yet to confirm involvement.
2. Welcome Back Rand
After sitting out the last debate in protest of being relegated to the undercard event, Rand Paul has clawed his way back to the primetime showdown. The Kentucky senator is raring to go, despite some headwinds.
Politicoreported this week that Paul is facing increased pressure to suspend his White House bid in order to focus on getting reelected to his Senate post. Deep-pocketed Democratic Lexington Mayor Jim Gray officially joined the race for his seat Tuesday, and while there appears to be little risk that Paul will lose, the GOP isn't thrilled about the prospect of having to spend money in Kentucky it needs elsewhere.
Moreover, Paul remains stagnant in the presidential polls. According to a RealClearPolitics average, he boasts about 2% nationally in the Republican primary race.
Still, he is showing no signs of slowing down. In an interview with Fox News Wednesday, the libertarian from Kentucky said his inclusion in Thursday's debate feels like a "double win" -- not only is he on the main stage, but he thinks it will be the "best debate we've had," thanks to Trump's absence. "It's an improvement to the debate. The IQ of the debate went up a dozen points, I would say," he said.
3. Cruz Under Pressure
Ted Cruz fielded his fair share of attacks at the last debate, trading barbs with Florida Senator Marco Rubio over his record on taxes and immigration. He was also forced to face tough questions about undisclosed loans from Goldman Sachs and Citi for his 2012 Senate campaign and his Canadian birth.
This time around, he may be in for even more scuffles.
Trump's decision to drop out of the debate may have put a giant bull's-eye on Cruz's back. The Texas senator, who is polling second to Trump nationally and in Iowa, will assume pseudo-frontrunner status this evening, and his opponents will be gunning for him.
As Cruz preps for tonight's event, he still has an eye on his rival Trump: he has invited the billionaire real estate magnate to take part in a one-on-one debate in Sioux City, Iowa on Saturday evening. Pulling a page out of the Trump playbook, Cruz's super PACs have offered to donate $1.5 million to veterans' charities if the Donald agrees to take part.
So far, Trump's not willing to play.
4. A (Kung Fu) Kasich Comeback
John Kasich has been one of the most overlooked contenders in the 2016 presidential race. Pundits have often lamented Jeb Bush's failure to launch and pondered the merits of Rubio's long-haul hopes, but as for the Ohio governor's place in the contest, it still remains a mystery. Might tonight be his night?
The Kasich campaign has been gaining short spurts of momentum in recent weeks. He picked up The Boston Globe'sendorsement for the New Hampshire primary, the publication calling him not only a "pragmatic, fiscally responsible executive, but one who is also concerned with helping the poor." The Concord Monitor has endorsed him as well.
Reports from the campaign trail paint Kasich as increasingly confident and noted his emphasis on keeping it positive. "You can't live on two sides of the street," Kasich said during an event at Franklin Pierce University in Rindge, reported by ABC News. "You can live on the dark side, where you know, 'woe is us' -- the old Eeyore effect. Or you can actually live on the sunny side of the street, and not only believe, but know, that working together as Americans, we can beat all these challenges."
His plan might be working out: he's doing pretty well in New Hampshire.
5. America, Meet Jim
It's hard enough to remember Ben Carson is still in the race, let alone Jim Gilmore. But believe it or not, the former Virginia governor is hanging in there.
Gilmore will take part in the undercard debate Thursday, marking only the second time this election cycle he has been invited to appear on stage (he participated in the first undercard debate in August). He barely registers in the polls -- and even less in the media -- and is aware remedying the situation is an uphill battle and then some.
"If I got as much attention as Trump, I wouldn't be an asterisk. If you'd flip these things around, he'd been an eccentric and I'd be the frontrunner," he told MSNBC. "If I had a quarter of the equal time, I'd be the frontrunner. With my credentials? You've got to be kidding."
Translation: If Jim Gilmore was Donald Trump, Jim Gilmore would be Donald Trump.
Gilmore served as governor of Virginia from 1998 to 2002 and ran for the U.S. Senate in 2008 but was defeated by a Democrat. His resume also includes a stint as Virginia attorney general and chairman of the Republican National Committee. He is the only military veteran left in either field.