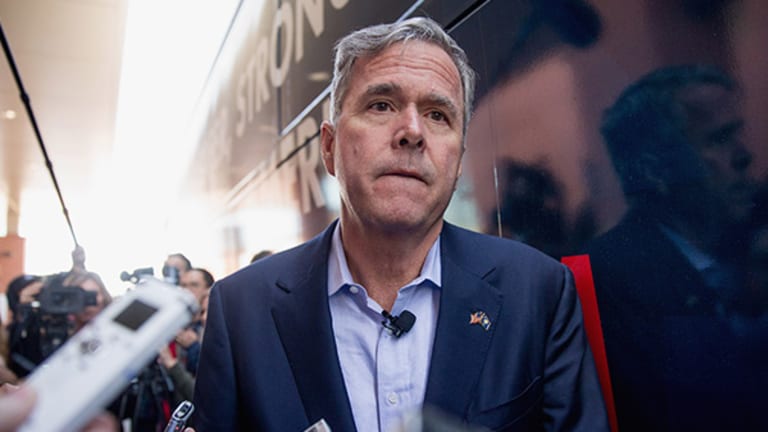 Publish date:
5 Things to Watch for at the First GOP Debate Without Jeb!
We're in for the first Jeb!-less Republican presidential debate tonight, and it's going to be a good one.
We're in for the first Jeb!-less Republican presidential debate tonight, and it's going to be a good one.
We're in for the first Jeb!-less Republican presidential debate tonight, and it's going to be a good one.
The GOP's White House contenders will meet in Houston Thursday evening for their latest showdown -- the last before Super Tuesday, when 595 Republican delegates are up for grabs. With five candidates on stage, the debate will be the party's smallest yet, and perhaps its most contentious.
After racking up victories in New Hampshire, South Carolina and Nevada in recent weeks, real estate magnate and former reality television star Donald Trump has emerged as the race's clear frontrunner, leaving many party leaders dismayed and his competitors scrambling to get an edge. Former Florida Governor Jeb Bush, who has been Trump's top rival in early debates, has dropped out of the race. So this time around, it will be up to Ted Cruz, Marco Rubio, John Kasich and Ben Carson to take on the man whose nomination some believe would tear the Republican Party apart.
Rubio, who is widely perceived as the party's last chance to foil a Trump nod, has largely avoided direct confrontation with the boisterous billionaire in previous showdowns. But on Thursday, he might finally be forced to come head-to-head with Trump. His comments on the campaign trail indicate he is already preparing his fire.
The Florida senator attacked Trump by name at a Houston rally Wednesday, reports NBC News, specifically focusing on Obamacare and Israel.
"The frontrunner in this race, Donald Trump, has said he's not going to take sides on Israel versus the Palestinians because he wants to be an honest broker," Rubio said. "Well, there is no such thing as an honest broker in that. Because the Palestinian Authority, which has strong links to terror, they teach little kids that it's a glorious thing to kill Jews."
He also criticized Trump's refusal to provide detailed plans on things like foreign policy, warning, "You deserve to know exactly what the next commander-in-chief is going to do."
Thursday's GOP debate will kick off on CNN at 8:30 p.m. Eastern Time. TheStreet will be covering the event live on social media via Facebook and Twitter at @TSTPolitics and @TheStreet.
Here are five things to look out for.
1. Will Rubio and Cruz Focus Fire on Trump?
Senators Cruz and Rubio have largely focused their attacks on one another in recent months, and as the two contenders best-poised to rival Trump for the Republican nomination, they're continuing to duke it out. On Thursday, the pair may be better served by training at least some of their ammo on the GOP frontrunner, but will they?
During Wednesday's candidate forum on Fox News, in which Trump did not participate, both senators worked to cast themselves as the best candidate to take him on. Cruz referenced Iowa, contending that his was "the only campaign to beat Donald." Rubio pledged that his camp "would not allow the conservative movement to be defined by a nominee who isn't a conservative" and said "I've been an underdog my entire life."
As mentioned, Rubio has largely avoided direct confrontation with Trump. Cruz, on the other hand, has sparred with the billionaire on numerous occasions, on issues ranging from Cruz's eligibility for the presidency to Trump's alleged "New York values."
At the Houston debate, Rubio and Cruz will be out to prove they are the better choice to take on Trump, and they'll have to do so not only by attacking one another but also by taking on the man himself.
2. Will Candidates Change Their Messages on Issues Important to Latinos?
During the last presidential debate, Rubio and Cruz, both of Cuban descent, shared an exchange over their Spanish-language prowess (Rubio speaks fluent Spanish, Cruz doesn't). Thursday, we may see a bit more -- because the event will mark the only RNC-sanctioned Republican debate aired in Spanish this election cycle. The showdown, dubbed with real-time translation, will air live on Telemundo and its YouTube channel, and it will feature network anchor Maria Celeste Arras, who is from Puerto Rico, as a moderator, joining Wolf Blitzer, Hugh Hewitt and Dana Bash.
In an interview with Variety, Arras stressed the need for Republicans to talk to Latinos during the election. "This is a voting block that has incredible power," she said.
She also addressed the issue of immigration, which has been front and center this election cycle but not always in a way that is likely to appeal to Latino voters. "This time by having Telemundo in the room they know they're speaking directly to Hispanics," she said. "It will be a matter of wait-and-see if they soften up [their messages] or stand their ground. The medium is going to be different; we will see if the message is going to be different."
Trump, who kicked off his White House bid by making disparaging remarks about Mexicans and has repeatedly called for a border wall and mass deportation, will face an especially tough Hispanic crowd. According to a Washington Post-Univision News poll, the real estate magnate has the highest negative ratings of any major GOP hopeful among the group. Moreover, in a matchup with likely Democratic nominee Hillary Clinton, he loses the Hispanic vote by 73% to 16%.
3. Will Trump Talk Tax Returns?
The ghost of elections past that is Mitt Romney has come out of the woodwork this week in search of Trump's tax returns.
"I think we have good reason to believe that there's a bombshell in Donald Trump's taxes," the 2012 Republican presidential nominee said in an interview with Fox News Wednesday. "Either he is not anywhere near as wealthy as he says he is or he hasn't been paying the kind of taxes we would expect him to pay or perhaps he hasn't been giving money to the vets or the disabled like he has been telling us he's been doing."
Trump quickly hit back on Twitter. "Mitt Romney, who totally blew an election that should have been won and whose tax returns made him look like a fool, is now playing a tough guy," he wrote, in separate tweets calling the former Massachusetts governor "awkward," "goofy," a "dope" and "one of the dumbest and worst candidates in the history of Republican politics."
Thus far, Trump doesn't appear to be interested in releasing his tax returns, and at Thursday's debate, the issue will likely come up. Will he give in? 
According to one of his recent tweets, maybe his tax returns would be too hard to figure out anyway.
4. Does Kasich Make His Case for Staying In?
Ohio Governor Kasich has painted himself as a beacon of optimism on the campaign trail, casting his campaign as one of positivity and light in comparison to the negative bids run by his rivals. But the last governor standing in the race has yet to make a real dent in the polls -- according to a RealClearPolitics average, he has just 9.3% support nationally. And as the GOP establishment puts on the pressure for him to drop out of the race, he needs to make the case for staying in.
Kasich has reiterated on numerous occasions in recent days that he has no intention of throwing in the towel just yet. "I intend to go all the way, be the nominee, and I intend to beat Hillary Clinton," he toldFox's Megyn Kelly Wednesday evening. "This is what I'm supposed to do, and I'm doing it all out."
The governor is hoping to stay alive through Super Tuesday and banking on voting in Midwest states like Michigan and Ohio to propel his candidacy. Thursday, he'll have to convince GOP leaders and voters that he's right to keep waiting it out.
5. What's Up with Ben Carson?
Carson is the Republican race's new Jim Gilmore in that most of the time it's easy to forget he's still in the race. The retired neurosurgeon is polling last among remaining candidates nationally and is widely considered a non-contender among pundits. So why is he still hanging around?
In a campaign email to supporters Wednesday, the Carson camp acknowledged "we did not finished where we had hoped" in Iowa, New Hampshire, South Carolina and Nevada and noted Super Tuesday will likely be a make-or-break moment for his presidential bid. "Without a strong showing, it's going to be very tough for my campaign," the email reads.
Thursday's debate will be final chance for Carson to speak to voters and attempt to keep his campaign afloat. He'll start out on the right foot if he can figure out getting onto the debate stage when his name is called.
No matter what happens, one thing is for certain: We'll miss you, Jeb!