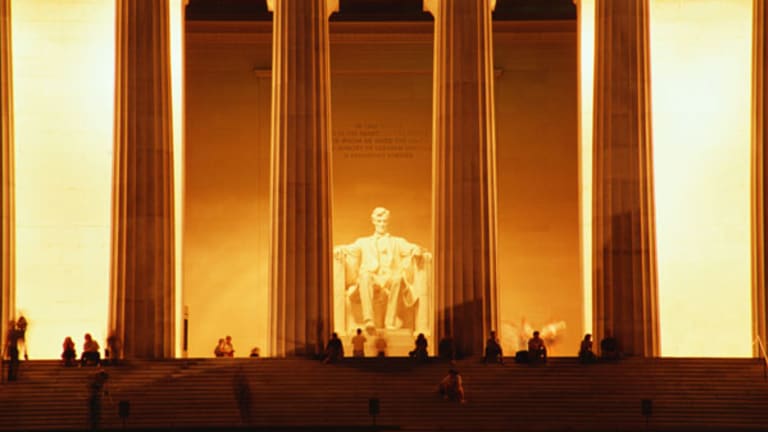 5 Reasons Not To Sell Michele Bachmann
Michele Bachmann has experience and economic credentials that the GOP's presidential frontrunners lack.
WASHINGTON (TheStreet) -- Michele Bachmann's been revered and reviled in the years leading up to her presidential candidacy, but she shouldn't be ignored.
A Republican Minnesota Congressswoman, tea party favorite and progressive punching bag, Bachmann's pre-campaign career has been bolstered by fiery blasts against the Obama administration and its health care and policies. Bachmann also has been buffeted by embarrassing gaffes, including mistakenly placing the battles of Lexington and Concord in New Hampshire during a trip there in March, eviscerating the AmeriCorps program while her son was a member of its Teach For America organization and, last week, signing a
suggesting black couples were better off under slavery.
Michele Bachmann has experience and economic credentials that the GOP's presidential frontrunners lack.
Since announcing her intent to seek the Republican party's presidential nomination during a CNN debate last month, Bachmann has steered away from rhetorical improvisation and improved her message. She's already spent much of the summer making her case to straw-poll voters in Iowa and New Hampshire and making the economy the bedrock of her platform.
It seems to be working, too. A Rasmussen poll released just after the June 13 GOP debate put Bachmann in second place among potential Republican candidates, with 19% of the vote, trailing only former Massachusetts Gov. Mitt Romney's 33%.
Fox News
(NWS) - Get News Corporation Class B Report
, however, has Bachmann trailing Romney and Texas Gov. Rick Perry, who has not announced any intention of seeking the party's nomination.
Against President Barack Obama, Bachmann still trails. The Public Policy Poll group has Obama leading Bachmann by seven points in a potential matchup, a University of New Hampshire poll puts Obama ahead by six points and a
McClatchy
(MNI) - Get McClatchy Company Class A Report
Newspaper/Marist College poll gives Obama a 12-point lead.
Those in the GOP who already may be counting Bachmann out for not being nearly as moderate as Romney should do so with great caution. There are still 15 and a half months before the general election, and
TheStreet
has come up with at least five reasons why Bachmann should be taken seriously as the campaign wears on:
Experience
Much of America was introduced to Bachmann during the 2008 presidential campaign when she shared her apprehensions about then-candidate Obama's "anti-American views." This obscures the fact that she'd been elected to office two years earlier and has held her seat in Congress for the past four years.
Of the GOP frontrunners, only Bachmann is in office. Amid the GOP field, only she, Texas Rep. Ron Paul and Michigan Rep. Thaddeus McCotter are still elected officials.
Unlike frontrunner Romney, though, Bachmann's been re-elected. Twice. Granted, the first reelection in 2008 was by a three-point margin in a race featuring an independent candidate who sucked up 10% of the vote, but that margin expanded to 12 points in her win last year and was still a better showing than Romney Lt. Gov. Kerry Healy, who lost to current Massachusetts Gov. Deval Patrick by 21 points that same year after Romney quit.
It's also allowed Bachmann to put her record on the line and make claims her GOP foes can't. Romney, Herman Cain, Jon Huntsman and Tim Pawlenty can lash out against bailouts for Wall Street, banks and automakers, but Bachmann actually voted against all of them. Sideline sitters such as Perry and Sarah Palin can screech about "Obamacare" all they'd like, but Bachmann opposed the health care legislation as well. The entire field can bemoan the Dodd-Frank changes to financial regulation, but only Bachmann introduced legislation to repeal it that was strong enough to earn the endorsement of California Rep. Darrell Issa, chairman of the House's oversight and reform committee.
Economic clout
Bachmann isn't railing against Obama's health care plan and Congress' financial regulations from the sidelines. She launches her criticism as a former tax attorney who now sits on the House financial services committee's subcommittees on international monetary policy and trade and on oversight and intelligence.
It's given Bachmann a bully pulpit for her stance against the minimum wage that she's held since serving in the Minnesota State Senate. Bachmann has since proposed dropping the federal minimum wage altogether in an effort to "virtually wipe out unemployment." Bachmann has wanted to phase out Social Security and Medicare since before Wisconsin Rep. Paul Ryan's budget plan made that idea cool in GOP circles.
It also made her unpopular for holding the line on public programs before that strategy came into vogue. Bachmann opposed increases in higher education spending during the past Bush administration and voted against an increase in Pell grant limits and loan limits and a decrease in loan interest. Those changes passed through the House in spite of her efforts, but the message was sent.
The anti-Palin factor
Former Alaskan Gov. Sarah Palin still looms large over the Republican presidential field, but that presence only improves the picture for Bachmann.
A mid-June Rasmussen poll found that 45% of Republican voters think a Palin candidacy would be bad for the party, as opposed to 36% who think it would be just great. Non-tea party Republicans are particularly wary of Palin running for office, with 57% thinking it would be a bad idea. Primary voters are evenly divided on the matter.
Bachmann and Palin's tea party base is a bit more enthusiastic, with 49% endorsing a Palin run, but Bachmann's credentials put a healthy buffer between her and the Fox News pundit and host of
Sarah Palin's Alaska
. In the wake of the June GOP debate, the
Christian Science Monitor
pointed out that Bachmann and Palin shared little in common besides the "outspoken conservative women" label.
Palin quit her most significant political gig midterm, while Bachmann is just starting her third in Congress after finishing six in the Minnesota Senate. Instead of agitating against the media as Palin does, Bachmann embraces it and uses it for better and worse.
Since the debate, Bachmann's done a much better job of reining in that "worse" part. Where Palin spent much of June defending her knowledge of Paul Revere's ride, Bachmann spent the debate attacking the GOP's biggest foe and making sure voters remembered her platform and not her pratfalls.
The anti-Pawlenty factor
All the GOP candidates were nice and cordial during their June debate, but it must have been difficult for Bachmann to suppress her instinctive reaction of going straight for mainline GOP favorite Tim Pawlenty's throat.
Bachmann and Pawlenty were with Minnesota's GOP during Pawlenty's time as governor, but saying they were in the same party is like saying the Donner clan was in the same party. Bachmann showed outright disagreement with, if not disdain for, Pawlenty's policies during her term in the Minnesota state senate.
By 2003, Bachmann was already fed up with Pawlenty administration plans that she felt were trying to centralize the state's economic development into a Pawlenty politburo. She went so far as to put Pawlenty in league with Karl Marx by saying his plan for tax-free "Job Opportunity Buliding Zones" in Minnesota's rural areas stemmed from Marx's teaching "from each according to his abilities, to each according to his needs."
The two tended to see eye-to-eye on social issues and even supported anti-abortion groups together, but even that bond took a turn for the worse once taxes got involved. Pawlenty wanted to slap a state surcharge on cigarette sales in 2005, but Bachmann wasn't having it. She called it a tax increase and voiced her opposition, but eventually compromised and allowed it to pass.
The anti-war factor
Oh, we're not saying that Bachmann's anti-
war
, mind you. She's just not so thrilled about the wars the U.S. is in
now
.
In Bachmann's camp, there's no shooting first and asking questions later. Bachmann voted against the troop surge in Iraq back in 2007 largely because she didn't feel she had all the facts. Even after visiting Iraq and speaking with Gen. David Petraeus during the troop increase, Bachmann refused to either endorse or criticize the effort.
She's far more candid about current military operations in Libya. Through her campaign, she's called Obama "a president who stumbles into Libya, without a clear mission or exit strategy, to protect its population, but can't or won't devise a strategy to secure our borders." This puts her at odds with Sen. John McCain and other supporters of the Libya intervention, but they're not running for president and aren't sitting in her seat on the House intelligence committee wondering "who the rebel forces are."
The battles Bachmann wants to fight involve a lot more emphasis on homeland security and the "war on terror" nobody's talking about anymore, a lot more palling around with Britain and seeing what that government's up for and a whole lot of attention for Iran. That means getting much cozier with Benjamin Netanyahu's Israeli government and getting an office with better access to launch codes, since Bachmann feels a nuclear strike shouldn't be off the table.
It's well shy of Texas Rep. Ron Paul's call to end U.S. involvement in Iraq, Afghanistan and elsewhere, but why diddle around in the desert when there are bigger, colder wars to be fought?
-- Written by Jason Notte in Boston.
>To contact the writer of this article, click here:
Jason Notte
.
>To follow the writer on Twitter, go to
.
>To submit a news tip, send an email to:
.
RELATED STORIES:
>>Pizza Dough Rising Force in 2012 Politics
>>5 of Mitt Romney's Best Bain Capital Buys
>>5 Things You Don't Know About Ron Paul
Follow TheStreet.com on
and become a fan on
Jason Notte is a reporter for TheStreet. His writing has appeared in The New York Times, The Huffington Post, Esquire.com, Time Out New York, the Boston Herald, the Boston Phoenix, the Metro newspaper and the Colorado Springs Independent. He previously served as the political and global affairs editor for Metro U.S., layout editor for Boston Now, assistant news editor for the Herald News of West Paterson, N.J., editor of Go Out! Magazine in Hoboken, N.J., and copy editor and lifestyle editor at the Jersey Journal in Jersey City, N.J.