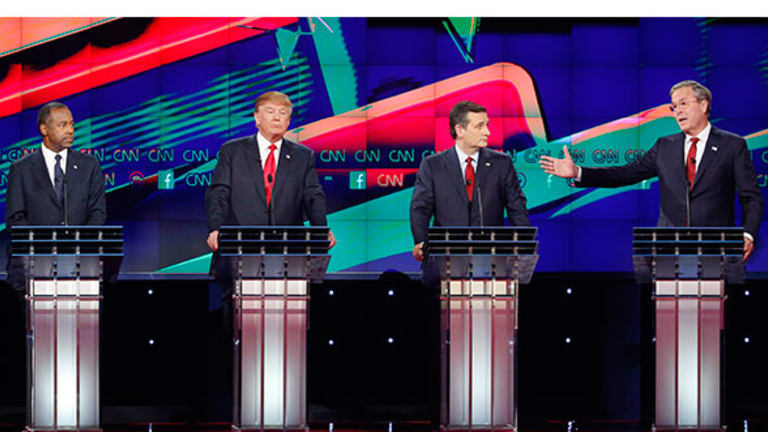 5 Big Moments from Tuesday's GOP Debate
The election year hasn't even arrived yet, and still we're somehow already five Republican presidential primary debates deep. Luckily, GOP debate No. 5 was a good one.
Somehow, we've already watched five Republican presidential primary debates. Yes, five. Even though the year when voters will actually go to the polls to pick the country's chief executive hasn't started yet.
But there's progress: 2016 is now less than a month away. And that, combined with the fast-approaching primaries in states like Iowa and New Hampshire, pumped up the adrenalin at Tuesday evening's GOP showdown in Las Vegas, hosted by CNN. The rhetoric took on heightened urgency, and the barbs grew personal. Well, more personal, anyway.
Former Florida Gov. Jeb Bush, who has struggled on the debate circuit, put in his most impassioned performance yet, and U.S. Sen. Ted Cruz, the Texas Republican whose surge in the polls has garnered him more attention recently, was so insistent on interjecting his thoughts that seasoned moderator Wolf Blitzer gave him a light scolding: "Wait your turn."
The main target of the evening was, of course, bombastic frontrunner Donald Trump. The billionaire real estate magnate and former reality television star was on the tips of his opponents' tongues in the undercard and primetime debates alike.
Trump, who generally enjoys being the center of attention, at one point in the debate made a point of complaining about it.
"I think it's very sad that CNN leads Jeb Bush, Gov. Bush, down a road by starting off virtually all the questions, 'Mr. Trump this, Mister' -- I think it's very sad," said Trump, who used some of his time in the debate to remind viewers that he was standing center-stage and leading in the polls. "Frankly, I watched the first debate, and the first long number of questions were, 'Mr. Trump said this, Mr. Trump said that. Mr. Trump' -- these poor guys."
And Trump wasn't done. "I thought it was very unfair that virtually the entire early portion of the debate was 'Trump this, Trump that,'" he continued. "In order to get ratings, I guess."
Sadly for politics junkies, it will be next year before the networks have another chance to make a similar ratings play. To hold you over until then, here are five more of the most memorable moments from Debate No. 5.
Lindsey Graham Offers Mea Culpa to Muslims
In the wake of Trump's highly controversial call to ban Muslim immigration last week, one of the biggest questions heading into Tuesday's debate was whether anyone would challenge him on it. Viewers got an early answer when U.S. Sen. Lindsey Graham responded to the first inquiry of the undercard event by establishing a sharp contrast to Trump's position and offering a sort of mea culpa to Muslims.
"You may think [banning Muslims] makes us safe, but it doesn't," the South Carolina Republican said.
"Donald Trump has done the one single thing you cannot do: Declare war on Islam itself," he said. Such a position would have Islamic State adherents dancing in the streets, he said, "they just don't believe in dancing. This is a coup for them, and to all of our Muslim friends throughout the world, like the King of Jordan and the President of Egypt, I am sorry. He does not represent us."
.@LindseyGrahamSC: "@realDonaldTrump has done the one single thing you cannot do: declare war on Islam itself." #GOPDebate
Bush Calls Trump 'Chaos' Candidate, Trump Sort of Proves His Point
The debate devolved into a Bush vs. Trump battle on more than one occasion Tuesday evening, with the former governor calling his nemesis a "chaos candidate" and the latter returning fire with insults over poll numbers.
The pair often talked over one another. At one point, Trump asked for Bush to apologize, to which Bush quipped that Trump was getting "a little of your own medicine."
The former Florida governor's main line of attack was the insistence that the GOP frontrunner is not a serious candidate, circling back to Trump's suggestion that the U.S. should kill terrorists' family members and his stump proposal to build a "great wall" between the U.S. and Mexico. "Look, this is not a serious proposal," he said of Trump's plan to bar Muslims from entering the U.S. He went on to warn the billionaire, who is known for his playground taunts, that he couldn't "insult your way into" the White House.
While Bush talked, CNN's split screen featured Trump's at times goofy reactions.
Chris Christie Pulls No Punches on Obama
Chris Christie, back on the primetime debate stage this time around thanks to a strong showing in New Hampshire polls, mentioned his home state of New Jersey six times Tuesday evening. And when he wasn't complaining about his eyes being glazed over out of boredom on policy talk, he focused his attacks on President Barack Obama and Democratic frontrunner Hillary Clinton. He said they "have betrayed the American people," referred to both as "reckless people" and lambasted them for "dysfunctional" policies.
The height of Christie's name-calling came in his assertion that he would shoot down a Russian plane in a no-fly zone over Syria. "Not only would I be prepared to do it, I would do it. A no-fly zone means a no-fly zone," he said.
He closed his statement by calling the current commander-in-chief a "feckless weakling."
Cruz and Rubio Finally Engage
After dancing around one another for weeks, Cruz and U.S. Sen. Marco Rubio of Florida finally faced off on primetime television, clashing on immigration, government surveillance and foreign policy.
Rubio went after Cruz's votes against the Defense Authorization Act, arguing, "You can't carpet-bomb ISIS if you don't have planes and bombs to attack them with," and attacking his record on government spying.
Cruz, on the other hand, eyed Rubio's immigration record.
"Where there was a battle over amnesty and some chose, like Senator Rubio, to stand with Barack Obama and Chuck Schumer [a New York Democrat] and support a massive amnesty plan, others chose to stand with Jeff Sessions and Steve King and the American people and secure the border," he said.
Candidates Display Varying Degrees of Understanding of Technology, the Internet
Former HP CEO Carly Fiorina touted her tech savvy Tuesday with some product name-dropping as she discussed how to deal with ISIS.
"We need to recognize that technology has moved on," she said. "The Patriot Act was signed in 2001, roughly. The iPhone was invented in 2007. The iPad was invented in 2011. Snapchat and Twitter, all the rest of it, have been around just for several years. Technology has moved on, and the terrorists have moved on with it."
Cruz, Rubio and Ohio Gov. John Kasich pulled out the tech-speak as well, referring to "metadata" collection by the NSA.
Others, however, struggled with that whole technology thing.
Trump promised to close "parts of" the Internet in an effort to keep ISIS from "using our Internet to take our young, impressionable youth and watching the media talking about how they're masterminds." When pressed more on the issue by U.S. Sen. Rand Paul of Kentucky, the former Apprentice star changed his tune slightly.
"As far as the Internet is concerned, we're not talking about closing the Internet," he said. 'I'm talking about parts of Syria, parts of Iraq, where ISIS is, spotting it."