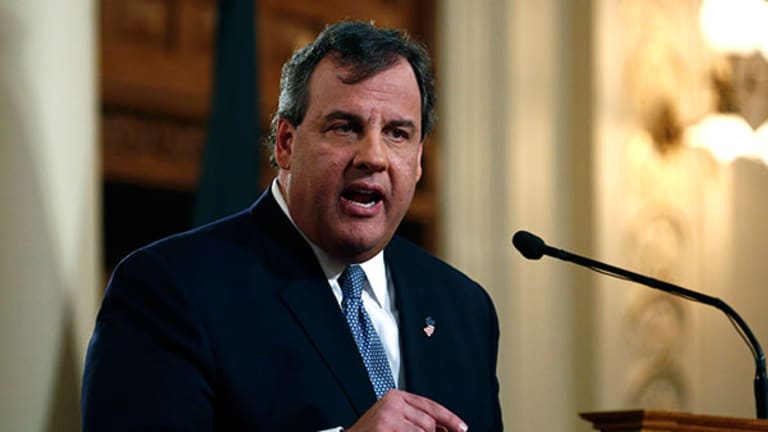 Publish date:
3 Ways Chris Christie Would Overhaul the Economy if He Became President
The outspoken New Jersey governor has plenty to say about taxes, and also wants to make changes to Social Security, Medicare, and the nation's immigration policy.
The outspoken New Jersey governor has plenty to say about taxes, and also wants to make changes to Social Security, Medicare, and the nation's immigration policy.
Outspoken New Jersey governor Chris Christie made headlines this week for getting booted from Amtrak's quiet car, and many of his economic proposals would be just as loud and disruptive. The Republican presidential candidate is convinced, though, that his pro-growth tax and other reform proposals would help jump-start a U.S. economy that's failed to significantly increase middle-class incomes for many years. 
Here are three areas related to the economy that Christie has spoken about the most; he'll undoubtedly be saying more about them during the third Republican national debate airing tonight at 8 p.m. ET, which TheStreet will be covering live (follow us @TheStreet on Twitter for the latest coverage).
Taxes
Christie's main economic platform calls for comprehensive tax reform, including simplifying the income-tax system into just three brackets rather than the current six. The top tax rate, says Christie, should be no higher than 28% -- which would be a boost for the wealthy -- while the bottom rate should be below 10%.
"We must target the tax code, because today it is targeting us -- discouraging individuals, hampering new businesses and sending job creators offshore," Christie wrote in a May 11 op-ed in The Wall Street Journal.  

"He's a pretty mainstream, conservative Republican, so on economic policy I think he would push for a tax plan that simplifies the tax code and lowers the top marginal rates," explains Brian Gardner, Director of Washington Research at Keefe Bruyette & Woods. 

The idea is that lower tax rates on the wealthy will cause them to invest more and boost the economy, but George Washington University economics professor Joann Weiner says that notion is debatable. "I personally don't think trick-down economics has really worked, there has been a lot of studies to see if the 1986 Tax Reform Act did what it said it would and the evidence is clearly mixed."  

Christie would also eliminate or modify deductions to ensure that his plan is revenue-neutral and doesn't materially increase the deficit. For instance, he has called for a cap on the total amount of deductions and credits that individuals or married couples can take. But he would leave in effect popular deductions for charitable contributions and interest on home mortgages.
More money left in the paychecks of U.S. consumers would be good news for many industries, especially retailers and restaurants. The governor also calls for a cut in the corporate tax rate to 25% from the current 35%, saying it would encourage companies to start investing in the U.S. again.
The cut in corporate tax rates could be stock market-friendly in two ways. First, lower taxes would raise the prospect of companies using their additional cash to repurchase shares at a greater clip or hiking dividends. Second, companies' bottom lines would be fatter, raising the price investors would be willing to pay to own a piece of a company's future earnings.
In terms of the broader economy, lower corporate taxes would help free up more cash for companies to spend on new projects, causing them to hire more people to carry out those initiatives.

Entitlement Program Reform

In order to curb the growth in entitlement program costs that threaten to lead to wide budget deficits in the future, Christie has proposed phasing out and eliminating Social Security income for wealthy Americans who don't need it. His plan would phase out payments for those who make $200,000 a year in other income during retirement and implement a means test for those who make $80,000 a year in non-Social Security income. Christie believes the plan would affect 2% of all recipients.
"Let's ask ourselves an honest question: Do we really believe that the wealthiest Americans need to take from younger, hard-working Americans to receive what, for most of them, is a modest monthly Social Security check?" said Christie at a speech in New Hampshire in April this year. He added, "I say no."
The Governor believes the same template should also be applied to Medicare. Under his proposals, seniors making $85,000 a year would pay 40% of their premium costs. For those who make above $196,000 a year during retirement, that figure would increase to 90%. Said Christie at the time, "If you can afford to pay more for your health benefits, you should, and if you can't, you shouldn't."
Christie is also in favor of raising the retirement age for collecting Social Security to 69, gradually implementing the change in 2022 by increasing the retirement age by two months each year until it reaches 69. Keefe Bruyette & Woods' Gardner believes Christie will push hard to address the looming crisis in mandatory spending that will confront the government as baby boomers continue to retire.
While painful for individuals, some kind of entitlement reform is a necessary evil. According to the Congressional Budget Office (CBO), under current rules, the budget deficit would clock in at about $414 billion in 2015, but spike to roughly $1 trillion in 2016. The cumulative deficit between 2016 and 2025 will be $7 trillion, in large part due to more people reaching retirement age and tapping Medicare and Medicaid, the CBO estimates.

The CBO points to higher interest rates in the U.S. as one damaging aftershock of ballooning deficits, as well as an inability to use tax and spending policies to respond to unexpected challenges in the economy.
"Long-term, entitlement reform probably helps stabilize the U.S. fiscal position," says Gardner. Social Security reform would probably cause some workers to tap into personal savings before they take advantage of the government's social safety net, according to Gardner, which "could potentially have a negative economic impact."  

But Gardner says that "whatever changes these candidates are talking about they are not happening in February 2017 -- they are phased in over long periods of time, so you will likely see minimal immediate effects to the economy."
Immigration
Christie has taken a tough stance on illegal immigration, saying at an event in New Hampshire in August that he would create a system to track foreign visitors the way FedEx tracks packages. "At any moment, FedEx can tell you where that package is -- it's on the truck, it's at the station, it's on the airplane," said Christie, adding, "Yet we let people come to this country with visas, and the minute they come in, we lose track of them."
According to Christie, 40% of illegal immigrants are allowed into the United States legally with a visa and then stay longer than their visa allows.
Days after the statement, Christie backtracked slightly from referring to immigrants as FedEx packages, and said governments should use biometric technology to track visitors to the country.
Christie's views on the hot-button illegal immigration issue could have several implications for businesses should be elected as president. First, deporting more immigrants could reduce the consumption they are doing at supermarkets, retailers and restaurants. Second, it could lower the desire of some to emigrate to the U.S., lowering the country's economic output.  
It could also raise the operating costs of businesses that need cheap labor to make their economic models work profitably, such as homebuilders, farm owners, and basic service companies like landscapers.
According to the White House, by 2023, the U. S. economy will lose some $80 billion in economic output by not allowing a path to citizenship for the country's estimated 11 million undocumented workers.

"U.S. companies are finding a tough time getting American workers to work in the trade fields, so who fills that void? Immigrants fill that void," says Gardner.  He adds, "I think for Christie, or anybody else that is pursuing a policy that reduces legal or illegal immigration, it's a negative for the construction industry, whether it's multi-family or commercial, because these folks are lacking in labor so there could be a labor shortage." The same goes for the agriculture industry, which relies on migrant workers to pick crops.
In the end, notes Gardner, cracking down on immigration "will drive up costs for certain sectors, no doubt." And with those higher costs, could come lower profits for companies. 
Bottom Line
In the end, however, the timing for Christie may just not be right this year, in part due to questions about his track record in New Jersey, but also because of who else is in the race. A recent ABC News/Washington Post survey showed Governor Christie's support among registered voters who leaned Republican at just 3%, the minimum for inclusion in the Republican presidential debate on Wednesday. 
"In many respects, one of the things I liked about him when we worked with his campaign in 2009 was that he was an outsider -- this was a guy who brought Republicans into mainstream, blue collar households not just in New Jersey, but around the country," said former chairman of the Republican National Committee Michael Steele. "Not that he has lost any of that, what has happened is someone else has sort of come in and amped up authenticity to a level where I don't think even steroids could compete with," added Steele.
That someone else? Donald Trump.


The next Republican Presidential debate starts at 8 p.m. ET tonight! Tune in to TheStreet.com for stories, videos, and more, and make sure to follow us at @TheStreet on Twitter for live commentary during the debate.