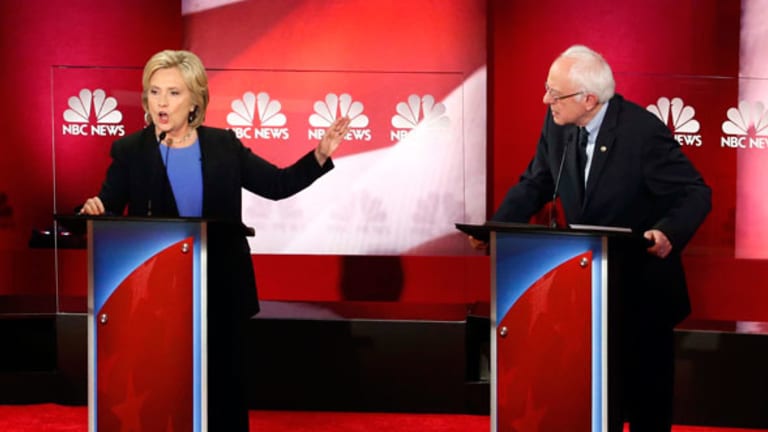 Publish date:
3 Reasons to Watch Tonight's Iowa Democratic Town Hall
Democratic presidential contenders Hillary Clinton, Martin O'Malley and Bernie Sanders will get one more chance to make their case to Iowa voters Monday night.
Democratic presidential contenders Hillary Clinton, Martin O'Malley and Bernie Sanders will get one more chance to make their case to Iowa voters Monday night.
Democratic presidential contenders Hillary Clinton, Martin O'Malley and Bernie Sanders will get one more chance to make their case in prime time on national television to Iowa voters in a town hall Monday evening hosted by CNN. And with just a week to caucus day and the race increasingly tightened, the stakes are high.
Over the weekend, Clinton landed important endorsements from The Des Moines Register (Iowa) and The Concord Monitor (New Hampshire) as well as from The Boston Globe. The New York Timesreported former New York Mayor Michael Bloomberg is contemplating making an independent run for the White House, most likely in the event that Donald Trump or Ted Cruz land the GOP nomination and Sanders becomes the Democratic nominee.
Even President Obama weighed in, giving his take on the Democratic Party election and candidates in a candid interview with Politico published Monday.
"Bernie came in with the luxury of being a complete long shot and just letting loose," he said. "I think Hillary came in with the both privilege -- and burden -- of being perceived as the front-runner.... You're always looking at the bright, shiny object that people haven't seen before -- that's a disadvantage to her."
Tonight will be the Democratic candidates' last chance to sway Iowa voters before they head to the polls next week. Here are three things to pay attention to at tonight's town hall, which airs starting at 9:00 p.m. EST.
1. The Format
The Democrats have already met in four of the six planned presidential primary debates this election season, and in many ways, Monday's event appears to be a sort of debate add-in. In style, it will be different from showdowns past.
Each candidate will be given 30 minutes on stage at Drake University's Sheslow Auditorium to face questions from audience members as well as moderator Chris Cuomo. Sanders will appear first, followed by O'Malley and finally Clinton. They won't actually have a chance to engage with one another, so look for how they talk about one another.
Both Sanders and Clinton, who were initially reluctant to attack, have been sharpening their knives on the campaign trail. The former secretary of state has ramped up her jabs at the Vermont senator, saying she is not interested in ideas that will "never make it in the real world" in reaction to his proposal for a single-payer health care system and knocking his foreign policy credentials. Sanders, on the other hand, has said Clinton is running a "desperate" campaign and focused much of his offensive on her ties to Wall Street.
Monday's format will make interplay among the candidates a more complex task and force them to strike a balance between outlining their own ideas and contrasting themselves with the others.
2. The Electability Issue
Once considered a long-shot, Senator Sanders has proven himself a formidable opponent for Clinton. Still, many continue to question whether the self-described democratic socialist is an electable candidate and wouldn't just guarantee a victory for the GOP.
Donald Trump has said he wants to run against Sanders, who he has characterized as a "little puppy." Ohio Governor John Kasich essentially wrote Sanders off at the January 14 Republican debate. "We're going to win every state if Bernie Sanders is the nominee," he said. "That's not even an issue. And I know Bernie. And I can promise you he won't be President of the United States."
"Republicans would much rather run against Bernie Sanders and have a chance to define him from the get-go as extreme and out of touch," said Republican strategist Kevin Madden Sunday on CNN's "State of the Union."
On Monday, he'll have to make the case that he can, in fact, win.
Sanders has laid out his electability argument on the campaign trail, invoking his poll numbers as proof that his candidacy is legitimate. Over the weekend, his camp tweeted an infographic showing hypothetical matchups against GOP contenders that show him faring better than Clinton.
3.The O'Malley 'Factor'
Given his continually low poll numbers, it is pretty safe to assume that the chances of Governor O'Malley landing the Democratic nomination are slim-to-none. That doesn't mean he can't influence the election.
What happens to O'Malley supporters if and when he drops out of the race is most certainly on the minds of both Clinton and Sanders. According to a RealClearPolitics average of polls, the former governor boasts 2.2% support nationally and 5.8% in Iowa. While that may not be a lot, in a tight race, it can make a difference.
"The most coveted person in Iowa politics is an undecided person or the O'Malley nonviable folks," said Kevin Geiken, a Democratic strategist in Iowa, in an interview with The New York Times.
In the debate cycle, O'Malley has taking swings at both Clinton and Sanders, focusing on the former's ties to Wall Street and the latter's record on guns. In interview with Timepublished Saturday, he critiqued both of his opponents:
I think Senator Sanders would have a very hard time of working with Congress if he ever were to be elected president. I see the same sort of obstructionism, self-defeating politics for another four years. And I think as you saw in the Benghazi hearings, I think Secretary Clinton, were she president, would give license to that same behavior. I believe what's needed is someone who hasn't been part of that divided Washington.
On Monday, might he give us a clue as to which of the two he might be willing to support?