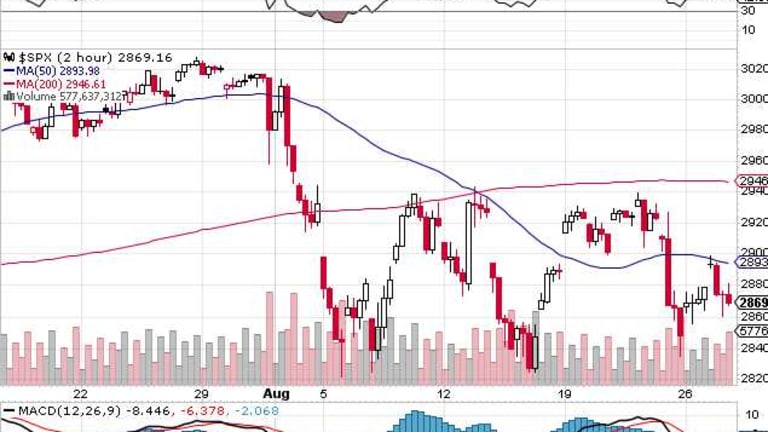 Window-Dressing Wednesday – Can the Indexes End August on a Positive Note?
We're down a lot for the summer, in fact as the S&P 500 (/ES) was at 2,971 on July 1st, 2,980 on August 1st and on...
We're down a lot for the month.
We're down a lot for the summer, in fact as the S&P 500 (/ES) was at 2,971 on July 1st, 2,980 on August 1st and on May 1st, we were at 2,952 and today at 2,860 so we could have, in fact, sold in May, gone away and had a great, long vacation – instead of feeling very much like we need one after treading water all summer.  
In our Mid-Year Portfolio Review our main Long-Term and Short-Term paired portfolios were at $2,093,568 (from a $500,000/$100,000 start in Jan, 2018) and our strategy was to stay neutral in what we thought would be a choppy market and now, two months later, the LTP/STP stand at $2,075,462 but we've moved $100,000 more towards cash in the LTP and $75,000 more to cash in the STP so we've lowered our exposure while also taking advantage of dips to roll our long positions as planned when I said in early July:
That's our very simple long-term investing strategy in a nutshell.  Stocks cycle up and down and we almost automatically take advantage of the dips buy buying bigger positions and because we usually sell calls to cover our positions, we tend to set realistic targets for our exits though that doesn't prevent us from setting up new positions using SOME of the cash we made on the first round.  The bottom line is we don't just let our risk expand – the system keeps the cash moving down to the bottom line…
So staying even(ish) and moving $175,000 (8.3%) back to CASH!!!, where it's safe, was a reasonable way to spend our summer but, on the whole, I would have been happier hiking in Norway or something else far away from all the nonsense going on in this country.  Then I could have come back to work on Tuesday (Monday's a holiday!) and said "Oh, is Trump still President?"   
We did a little bit better with our Options Opportunity Portfolio, which was featured over at Seeking Alpha and was initiated on Jan 2nd, 2018 with $100,000 and, as of June 17th, we had run it up to $276,735 and, though we were also cautious with the OOP over the summer, we didn't take as many big hits as the LTP did, as it was more aggressive in retail plays that didn't work out as well as HMNY, who completely died on us.  Anyway, as of our 8/13 review, the OOP was up to $330,610 for a nice summer gain of $53,875 which is 53.8% of the original amount and a very respectable 19.4% of what we had in June – so that was worth playing with.
Another public portfolio we publish over at Seeking Alphais our Money Talk Portfolio, which we only trade quarterly, live on Bloomberg Canada's Money Talk show.  That portfolio started with just $50,000 back on 9/6/17 and, back on June 12th, we were up to $116,043 and I didn't do the show this summer (I'll be on again next Wednesday) so none of the positions have been touched but we were indeed very well-balanced, coming in at $114,863 in the last review – down $1,180 (1%) for the summer without touching a single trade.
​
​
There was no Hemp Boca Portfolio (another portfolio we trade live on a show) back in June but we began it this summer with $50,000 and, as of August 20th, it was down to $43,205 (-13.6%) as 3 of our 4 positions got off to a bad start.  We pressed our bets on the Marijuana ETF (MJ) and Macy's (M) and, so far, neither one is turning around and, if there's no trade deal with China next month, I think M will get worse but we are giving it another month.
​
​
And finally, there's our Butterfly Portfolio, which is always the steadiest of our PSW Member Portfolios as we don't swing for the fences – we just focus on selling as much premium as possible, following our core "Be the House – NOT the Gambler" strategy.  Although we are not restricted by show dates in the Butterfly Portfolio, it's also a very low-touch strategy aimed at generating 30-40% returns annually (see "The Secret to Consistent 20-40% Annual Returns on Stocks").  The Butterfly Portfolio is an excercise in patience but we had a good summer as our $100,000 Jan 2018 start was right on track, up 64.8% in June at $164,759 and, in our August review, we're at $178,301, gaining $13,542 over the summer with almost no adjustments.  
So our newest portfolio is in trouble but, othewise, it's been a good summer and now we have to decide if we want to risk a very, VERY uncertain September where we may or may not get a trade deal and, even if the Fed does give us a rate cut on the 18th, if it's not enough for Trump – his last tantrum sent the market 5% lower – right after the Fed did give us a 0.25% cut and, since then, the Fed has hardened their stance against bending to the President.
If the tariffs do go into effect next week – it's probably time to pull the plug but by then it will be harder to cash out – especially if a panic begins to form so, for money you care about – I'd seriously consider lightening up now – just in case.