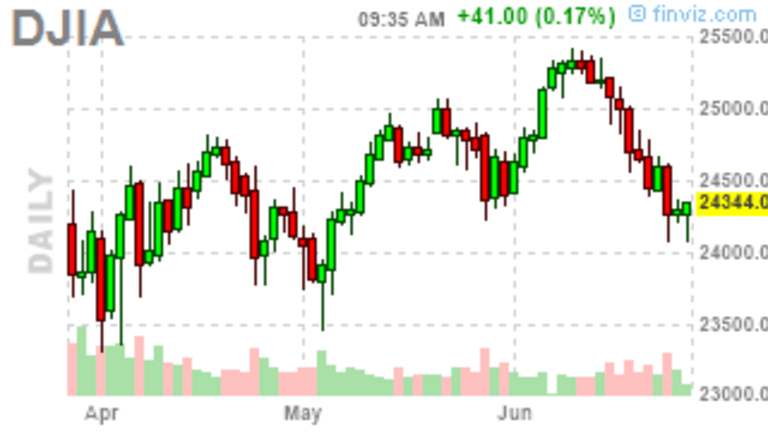 Will We Hold It Wednesday – 24,000, 2,700, 7,000 and 1,650 Edition
Here's a list of 16 of the 39 Global Sifis (Systemically important Global Banks) that are already down 20%.
Here's a list of 16 of the 39 Global Sifis (Systemically important Global Banks) that are already down 20%.
Lines in the sand.
The above levels for the Dow 30, S&P 500, Nasdaq 100 and Russell 2,000 are lines in the sand that the bulls dare not cross or we will, like China already has, enter bearish correction territory. As I have been saying all month, we're expecting at least a 10% correction from the top and that's 22,850, 2,550, 6,500 and 1,600 – so we still have about another 5% to fall before we get interested in bottom-fishing.
We did pick up a couple of longs yesterday, in our Live Member Chat Room as we caught CitiGroup (C) down at $65 and Royal Caribbean (RCL) at $105 – so we sent out a Top Trade Alert with bullish plays on both of them. We have to be careful with banks as European and Asian Banks are off a cliff and the fact that it's being ignored in the US reminds me very much of 2007 – when we acted as if nothing that happened in Europe or Asia would affect us. Here's a list of 16 of the 39 Global Sifis (Systemically important Global Banks) that are already down 20%:
Deutsche Bank, Nordea, ICBC, UniCredit, Crédit Agricole, ING, Santander, Société Générale, BNP Paribas, UBS, Agricultural Bank of China, AXA, Mitsubishi UFJ Financial Group, Bank of China, Credit Suisse and Prudential Financial.
​
According to the Financial Times, the synchronised dips were a sign of global financial stress.  Ian Harnett, the managing director of global strategy at Absolute Strategy Research in London, used the data this week to send out his first "Black Swan" alert since 2009.  The alert he put out on Monday was his first since a warning on inflationary risks in June 2009, as oil prices climbed higher. Mr Harnett drew parallels to another bearish note he wrote in March 2007, when European banks began to sink while non-banks marched higher.
We'll keep an eye on that into the holiday weekend but, on the bright side, Trump has already folded on his tough talk on China and is now falling back on our existing restrictions placed by Congress' Committee on Foreign Investment in the United States, or Cfius, which reviews investments for security threats.  "We have the great scientists, we have the great brains,"the president said Tuesday. "We're going to protect it. And that's what we were doing. And that can be done through Cfius. We have a lot of things we can do it through. And we're working that out."
While it's disturbing to think that Trump has scientists AND some loose brains stashed somewhere, at least it sounds like he's not going to haphazardly attack China though "turning things over to Congress" has been known to make things much, much worse – just ask 2,500 children who haven't seen their parents for weeks…
This does not take Trade Wars off the table, those offically kick off on July 6th, as the tariffs go into effect (and Trump has, so far, proposed $450Bn worth of tariffs on China) and we're still waiting for other shoes to drop as the affected countries roll out their own retaliatory tariffs.  Still, things are not as bad as feared and the futures are ticking up a bit but we still need to retake those bounce lines (see yesterday's Report).
We will certainly bounce this morning on the news that Trump is pursuing a less-crazy policy than the one he said he would pursue but it's not good to have a President who doesn't mean what he says, nor is it good to have random trade policies and, anyway, we still have all the stuff that took the markets down BEFORE things got crazier so I'm not sure what we should be getting excited about.
We're just going to watch our bounce lines and see if there's enough technical energy left to get us back into bullish territory but, for me, I stand by my month-old prediction that we're going to be 10% off our highs and at Nasdaq 6,500 over the summer – and it's only June 27th so, be careful out there!
​
​