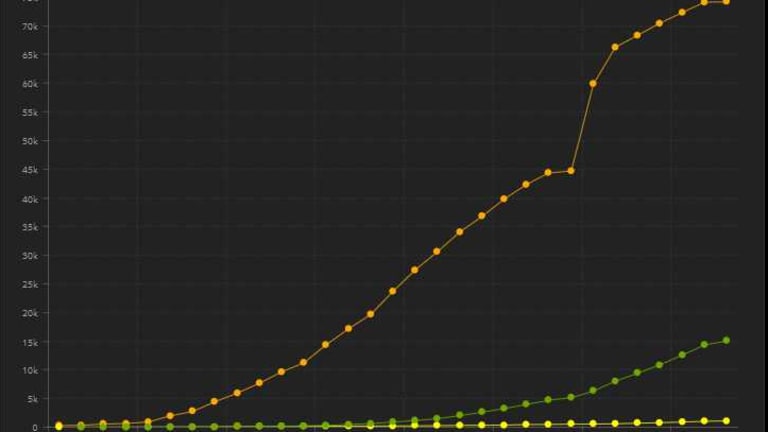 Wild Wednesday – More China Stimulus Brings Back the Highs
75,282 infected, 2,012 dead, 15,030 recovered and last Wednesday we were at 45,204 infected, 1,116 dead, 5,085 recovered
Virus, what virus?
75,282 infected, 2,012 dead, 15,030 recovered andlast Wednesdaywe were at 45,204 infected, 1,116 dead, 5,085 recovered and the Wednesday before that it was 24,607 infected, 494 dead and 988 recovered so, in the past two weeks infections jumped 83.7% and 66.5% and deaths jumped 126% and 80% and recoveries surged 414% and 195%.  Overall then, it does look like we're SLOWLY getting things under control but even "just" 33% more infections next week brings us over 100,000 – I would not say we're out of the woods by any means.  
Nonetheless, if more infections is bullish for the markets, we need to learn to play the market that way, right?  So far, the more people are infected, the more stimulus China provides and that's what's lifting stocks this morning as China's Ministry of Industry and Information Technology said the government would connect factories with technology companies to identify weak links in their supply chains. 
What does that actually mean?  No one knows but it SOUNDS good and that's all it takes these days to rally the markets.  "**'*****There will always be someone to save us'***--that is the outlook from investors at the moment," said Lewis Grant, a portfolio manager at Hermes Investment Management.  That seems to be the typical attitude of people who are managing other people's money – just keep buying!
The Nasdaq (/NQ) Futures are back at 9,680 and 9,687.5 was our high on Monday and, in our Live Member Chat Room yesterday afternoon, I said:
That's why I went flat earlier but time to short 2 /NQ again at 9,638.  We fell from 9,675 on Friday and I'm happy to DD if we test 9,700 to average around 9,660 on 4 short.  But yes, shorting is a fool's game in this market.
As you can see, we're down $1,685 so far (can't win them all) and it's very tempting to double down here at 9,680 but that makes the commitment too heavy ahead of the Fed minutes this afternoon so we'll stick with the plan and patiently wait for 9,700 and we'll see how things are going this afternoon, when we have our Live Trading Webinar at 1pm.  
We'll be reviewing our Member Portfolios this week and we can start right here with our Money Talk Portfolio,which we only update live on BNN's Money Talk show once each quarterso it's a very low-touch portfolio.We added Imax (IMAX) and Freeport McMorRan (FCX) on the 5thand now our portfolio looks like this:
We're up 11,755 (11.7%) for the year so far and that's nice and up $3,017 since we last reviewed the portfolio on 2/5 and I did a full review in that post for all 5 positions and nothing has changed so I won't get into that again.  Our expected gains for the group is $39,188 over the next 7 quarters and here we are, two weeks later, already gaining $3,017 of that so we remain nicely on track.
I know it seems boring at first but this is how we build our portfolios.  As these positions mature – if they are safely on track then we are free to add another 5 positions that will make another $39,000, etc…
Oddly enough, when I was on Money Talk on the 5th, we were just coming off a day when Tesla (TSLA) went flying up to $950+, allowing us to sell the March $1,000 calls for $120.  This morning, TSLA is back at $920 as yet another analyst raises their target for the stock above $900.  And, of course, that's all investors need to hear because, after all, Potter has been right 50% of the time in his picks – he's as good as a coin flip!  
Here are some of Potter's previous 25 calls on TSLA:
Hey, he's doing a lot better on TSLA than I am, we're still short 3 of the Sept $900 calls we sold for $200, which is net $1,100 and you would think that's safe but this stock is a monster!  I'm actually more worried about our 5 short Jan $550 puts because reality is going to be a total bitch for this stock – one day…
Meanwhile, Forbes is claiming that TSLA's Q4 revenues actually fell 34% after analyzing the companies 10-K Report and indicates that all these upgrades from FOM's (Friends of Musk) and the $2Bn offering were intended to distract investors from what is actually an alarming report.  And, of course, Q1 is going to be a disaster with the Coronavirus impacting parts, sales and deliveries – as well as the opening of TSLA's new plant in Shanghai but that hasn't stopped the stock from leaping back over $900 but hey – the 34% decline in sales is 10% better than Q3's 39% decline in sales – so why shouldn't TSLA traders be exited?  
The reality is that sales of Tesla's flagship Model 3 have completely cannibalized sales of the Model S and Model X in the U.S., so Tesla's revenue per unit is much lower on an annual basis.  Hence a flattish unit sales performance in the U.S. translated to a 14.9% decline in revenues in 2019.  As noted by Forbes:
This is probably too much to ask for Tesla's analyst community to analyze, but a very simple glance at Tesla's delivery and revenue numbers would show that the company's sales are heavily influenced by the following three factors:
Pull-ahead.In the fourth quarter this was most apparent in the extraordinary burst in sales of Teslas in the Netherlands, as I mentioned in this Forbesarticle.
Cannibalization.Deliveries of the Model S and X fell a combined 29% in 4Q2019.
First-adopter mentality*.  Elon Musk is a master at building hype for new models, but that is not —to use his word—sustainable, as shown by Tesla's poor sales performance in the U.S. in 2019.  I believe the same phenomenon will impact Tesla's sales in Europe in 2020, as Model 3 early-adopter orders were filled throughout 2019.*  
That's why we will once again be looking to sell those March $1,000 calls if they hit $100+ and, thank goodness for us, as PT Barnum used to say: "There's a Tesla bull born every minute…"