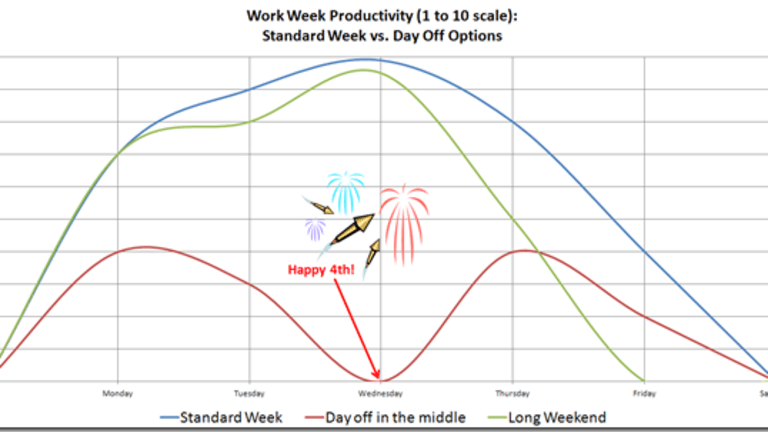 Why Bother Wednesday? Low Volumes Ahead of the Holiday
Phil - "Let's just sit back and enjoy the quiet..."
There's not much going on this week.
It's only a holiday for the US tomorrow but so may people take vacations this week and the people not on vacation are planning parties and such and no one is in the mood to work – so very little goes on.  Even as I go through the news I find a lot fewer articles being published – writers take time off as well.  So no one is making news and no one is reporting news and Trump is distracted by his parade – let's just sit back and enjoy the quiet...
I didn't find a chart for a Thursday July 4th but that's probably just a flatline into the weekend – this is usually the week I take my family on vacation but my girls are getting older and have plans with friends and we'll do a family thing next month (when it's less convenient for me).  Anyone who's been a boss knows this week is second only to Christmas in not getting anything accomplished but there is a Non-Farm Payroll Report on Friday, for some reason, so we can't completely ignore the markets.  
The Futures are up a bit this morning as Europe has nominated the IMF's Christine Lagarde to replace Draghi at the ECB.  I don't think Lagarde is going to be quite the dove they think she will be as she's been quick to lend money to struggling nations but does not sit on the lap of Goldman Sachs, as Draghi did (his previous employer).  A truly independend ECB would be a great thing – but not so much for the markets.  
Meanwhile, my theme of the week is gathering steam as now 82% of the companies pre-announcing earnings revisions are guiding down and Analysts have now downgraded the most stocks since June of 2017, though that's not really something to worry about since 2017 was a great year where we barely dipped.  It's the fact that we're getting worse and worse that should be a concern, not the comparison.
In June, 116 more companies had their earnings forecasts cut by analysts than raises – that's 20% of the S&P 500.  "There is some sagging in earnings," said John Lekas of Leader Capital. "I'm not disputing that earnings across the board are priced to perfection. You know, you're going to get some disappointments in there."
The earnings headwinds have been plenty — from a relatively stronger dollar in the second quarter to lower oil prices, higher input costs and uncertainty from the ongoing U.S.-China trade war. While a recent truce between the two world superpowers was taken as a positive, the benefit is likely short-lived since company executives are still in the dark on what comes next.
Another big concern is Friday's Jobs Report and last month was a disaster at 75,000 with downward revisions to other months that netted us down to zero and now we're getting confirmation from ADP's Small Business Employment Payroll Report, which is now showing a second consecutive down month.  That's sure to put a damper on the President's party – but at least he got his tanks! 
We'll see if the market tanks again today.  So far, all dips have been bought – both this week and this year.  No matter what happens today, it won't matter as the volumes are so low that all can be reversed before the open the next day but a trend is a trend on a chart – so we'll see what sticks as the indexes continue to test their highs which would be, by the way:
Dow – 26,90, now 26,855
S&P 500 – 2,988, now 2,958
Nasdaq – 7,852, now 7,851 
Russell – 1,620, now 1,570
So the Russell has some work to do but the other indexes are at their marks though those are now the Sept Futures Contracts, which are a bit higher than the current reads on the indexes.  Still – it shows where sentiment is heading – no one seems worried and all-time highs are expected to continue for the summer.  
Have a happy holiday, 
​
​