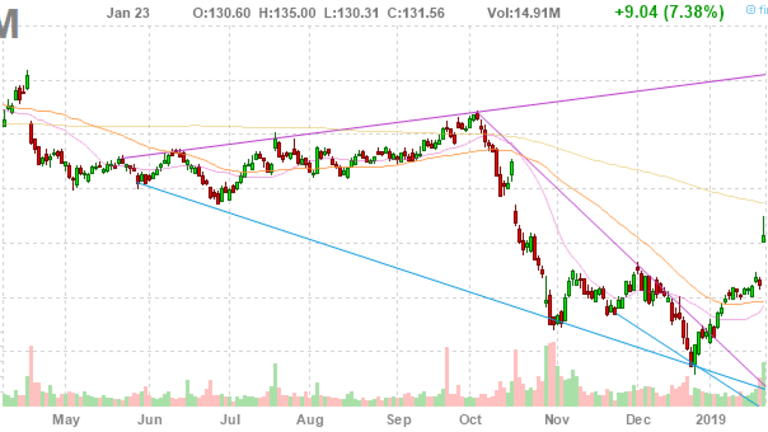 Whipsaw Wednesday – Our Stock of the Year (IBM) Leads the Recovery
Phil - "That's the kind of company we like to have in our Long-Term Portfolio – the kind that MAKES MONEY!"
Phil - "That's the kind of company we like to have in our Long-Term Portfolio – the kind that MAKES MONEY!"
Good morning!
Our Stock of the Year (IBM) is off to a good start – especially as our 2-year target is only $140!  That was part of the reason we chose IBM, the spread was so compelling because IBM was collapsing on news they bought RHAT, which I thought was a clever idea and everyone else seemed to think meant IBM was going bankrupt or something.
Monday Market Madness – IBM's $33Bn Shopping Spree Gives Tech Investors Hope
It's a powerful thing.  IBM (IBM) announced over the weekend that they will be buying Red Hat Softwars (RHT) for $33Bn which is more than 50% over Friday's $20 close at $116.  I noted in our chat room this morning that $33Bn may have seemed less ridiculous as IBM began negotiating with RHT, probably over the summer as RHT had just been at that valuation – though the people who valued them there were IDIOTS, of course.
RHT has $3Bn in earnings and $250M in profit.  If it were an IBM division it would have been shut down years ago as not worth keeping but IBM sees RHT as leverage as their customers are the customers of Amazon (AMZN), Microsoft (MSFT) and pretty much all the other cloud providers and that gives the mighty IBM sales force a foot in the door to leverage the 10s of Billions of Dollars they spend on cloud services and THAT is why this deal makes sense for IBM.
It's also a brave and confident move by IBM CEO Ginny Rometty and it's the kind of thing woman CEOs do that men almost certainly would not, which is make a move that carries a lot of personal risk for them, has no immediate payback but paves the way for the company to be much healthier in the distant future.  It's a nurturing move and the question now is whether she will be tarred and feathered for making it but predominantly male investors and analysts.
We're in a fairly painful IBM position in our Long-Term Portfolio as we sold 5 2020 $145 puts in January for $12.50 to net in at $132.50 but this morning IBM will open around $120 so we're down about $6,250 (100%) on those.  We also bought 15 2020 $120/150 bull call spreads for $14 ($21,000) back in July and yes, we still have all of next year but now net $9 is down $6,000 on that end too – ouch!
I think a lot of short-term investors may pull the plug but I have long-term faith so, most likely, we'll rescue $13 from the 15 2020 $120 calls($19,500)and pick up 25 of the 2021 $110 ($20)/$140($7)bull call spreads($32,500)so we'll spend $13,000 more but now we have 25 spreads that are $10 in the money so $25,000 and pays up to $75,000 against our net $34,000 total investment if all goes well and, of course, we'll make some short call sales along the way – but not when they are below $140.
As to the short puts, we'll leave them for now as $145 in a year is not a crazy target and we'll roll them along to 2021 or 2022 if we have to because, as I said, this is a long-term play in our Long-Term Portfolio.  IBM's Watson has been quietly taking on more and more tasks (nice list here) and you can even use Watson tohelp coach your fantasy football teamnow.   IBM has a very long-term strategy to put Watson in everyone's hands and get people used to using it – at home and at work.
Artificial Intelligence is barely a $1Bn market in 2018 but is projected to be almost $12Bn in 6 years and $36Bn by 2025 so yes, the time is now for IBM to make their moves to dominate the AI and Cloud Spaces – and that's what this Red Hat deal is all about.  Rometty is banking on being able to show some progress next year as AI doubles – even as cloud growth begins to slow (who isn't in the cloud now?) and, after making less than $6Bn in 2017, IBM has made $6.7Bn in the first 3 quarters of 2018 yet you can buy the whold company for $112Bn, just 12.4 times likely $9Bn in current earnings.
That's the kind of company we like to have in our Long-Term Portfolio – the kind that MAKES MONEY!  Last time IBM tested $120 was early 2016, when they began their turnaround program and I was banging the table hard for them at the time.  They since popped back to $180 but now $120 again and again I am banging the table for an IBM investment as they are clearly being sold off by short-term traders – to the great advantage of long-term investors.
It's a classic LTP play, we sold some puts, the stock went lower which made us like them even more, so we set up a bull call spread -  In this case we had a higher 2020 spread and rolled our longs to 2021, sold more short calls in 2021 and left the earlier short calls to decay (and we bought them back yesterday, in our Live Member Chat Room, with an 80% profit in anticipation of good earnings).  Now, when IBM gets back in near the top of our range ($140), we'll sell more puts and draw an income, while we wait to realize the full $75,000 from this net $34,000 (including our previous losses but not future short-call income) spread.
Jeff Bezos said a good CEO gets paid to make a few very important positions – that's very true and the same goes for a good stock analyst or hedge fund manager.  We're here every day so I talk about stuff every day but it's those BIG moves that really matter in the end, when we call big tops or big bottoms and put our money where our mouths are (and, of course, our hedge fund grabbed the IBM too!).
Still it goes back to ALWAYS managing your portfolio in such a way that you are Ready, Willing AND Able to take advantage of these opportunities when they present themselves – or what's the point?
As we ramp up Trade Exchange for a rollout this year, I'm going to test the waters for the demand for a service with only a few really good trades since the whole point of Trade Exchange is that we send out an actionable text Alert when something happens – so people who live their whole lives on vacation (Savi!) will easily be able to keep up with our market picks.
October 29th, 2018 at 2:36 pm | (Unlocked) |Permalink
IBM/Pstas – The April $120 ($8)/$130 ($4) bull call spread is tempting at $4.
October 29th, 2018 at 9:16 pm |Permalink
IBM CEO on Red Hat: 'There's a $1 trillion dollar market in front of us'
Yet the stock still went down to $113 the next day!  
Also a good review the next day (10/30) of where we were at the 10% line and why I thought we had further to go at the time but now 
10% Tuesday Correction – Have We Fallen Far Enough?
Now we need to watch all the 10% lines to see if they fail and those and we're not goingt to get bullish again until we are back over our strong bounce lines – which would be 6% off the top, recapturing 40% of the drop.  Failing those 10% lines is a strong sign that we are on our way to a 20% correction – another 10% lower than we are now.  Those 10% lines to watch are:
Dow24,300with a weak bounce at24,800and a strong bounce at25,300
S&P2,640with a weak bounce at2,710and a strong bounce at2,780
Nasdaq6,870with a weak bounce at7,080and a strong bounce at7,230
Russell1,485with a weak bounce at1,530and a strong bounce at1,575
NYSE11,880with a weak bounce at12,150and a strong bounce at12,400
This morning we're at 24,566, 2,646, 6,692, 1,466 and 12,000 so we're back at the 10% lines and /ES is the inflection point that gives us 3 positive or 3 negative but what's really great is how the 5% Rule is holding up 3 months later!  That means we can be pretty aggressive with our bounce predictions and that means we're going to back in the Futures business (after I've been reluctant to make too many calls in the -20-10% zone as the lines didn't have time to prove out).  
Meanwhile, getting back to IBM,it was the Wednesday before Thankgiving(11/21)that we officially made IBM our Trade of the Year for 2019 and that's another oldie but goodie that's well worth re-reading so you can get a handle as to how we think about the market at these junctures.  While the market had bounced, I had spent the week going over all the things that were wrong in the World and decided they still were not priced in, so we added the following hedge:
Back in October, we looked at the "30 Risks to Markets in 2018" and that is why we expected the correction and those risks are still out there for the most part but now many of them are REALIZED by investors – so they are less likely to cause panic selling when they bubble up in the news cycle and that means we MIGHT stablize here – down 10%, but I'd still feel a lot better about buying if we weak bounce here and continue on to a full 20% correction*.*
From 7,700 on the Nasdaq, that would be 6,160 – another 500 points down from here.  From Dow 27,000, we're looking at 21,600 – down 3,000 points ($15,000 per contract in the Futures!).  From S&P 2,950, a 20% correction would be 2,360 and that's off 300 points – also $15,000 per contract to be made shorting /ES and the Russell (/RTY) topped out at 1,740 so we're looking at 1,392 and that would be only and 80-point drop – hardly worth playing.
We had already predicted the Russell would fall the most thanks to more complex calculations using our 5% Rule™ and now we are predicting that, if we break for another leg down, it's the Nasdaq that's most likely to fall hard and the new hedge we'll be using (IF the weak bounces fail) was just sent out as a Top Trade Alert to our Members yesterday using the Nasdaq Ultra-Short ETF (SQQQ):
As a hedge, however, we're more worried about a correction between now and Jan earnings so something higher than here would be appropriate so, as a new hedge, I'd go with:
Sell 5 AAPL 2021 $170 puts for $22 ($11,000)
Buy 80 SQQQ March $15 calls at $3.40 ($27,200)
Sell 80 SQQQ March $22 calls for $1.60 ($12,800) That's net $3,400 on the $56,000 spread that's $12,000 in the money to start so you can't lose you're $3,400 unless the Nasdaq improves and, if it does improve, it's not likely AAPL will be much lower.  If, on the other hand, AAPL is below $170, it's not likely SQQQ isn't paying you most of that $56,000 back and you are only obligated to own $85,000 worth of AAPL stock so, as a stand-alone – the worst likely case is owning 500 shares of AAPL for net $29,000 ($58/share) but more likely you have some very good downside protection.
You don't have to pick Apple(AAPL)as your offset, any stock you REALLY want to buy at the net price is fine but we REALLY want to buy AAPL for $170 or less – REALLY!!!  That makes using it for spreads like this a no-brainer. It's hard to say if the Apple-bashing has run its course yet but this happens to the stock once in a while as the Banksters know they can manipulate the entire stock market by taking AAPL down (or talking it up) and right now, the Banksters want you to sell all your shares so they can step in and buy them before they tell you how oversold the market is getting.
We cashed the long SQQQ calls as we spiked up towards our $22 goal for around $7.50 (just under the max for the spread at $60,000) and we left the short calls to die on the vine.  The 80 short March $22 calls are now 0.40 ($3,200) and we bought them back when we added more hedges on Friday and now we're "stuck" with 5 short AAPL 2021 $170 puts that are now $30.50 ($15,250) so the net of the spread is now $41,550, up $26,150 (1,222%) so far, with another $15,250 (448%) to gain if AAPL gets back over $170 in two years.  THAT'S A NICE HEDGE!  
Worst case is we end up owning 500 shares of AAPL very cheaply as those $170 puts still have a lot of premium that WILL burn off, leaving us with all the CASH!!! ($60,000 – $3,200 = $56,800) to put towards the purchase of AAPL shares or, as we actually did in the LTP – to put towards a deep in the money spread that's just as good – better even…
Anyway, the point is that this is the PROCESS we follow at PSW.  When the market goes low, we buy value stocks, usually starting a spread by selling long-term puts that either give us an even cheaper entry or, if the stock goes up, drops more CASH!!! in our portfolio – which is what happens more often than not.  When the less often happens and one of our "value" stocks gets an even deeper discount, we then (assuming the Fundamentals haven't changed) begin to establish our long position, as we did with IBM.  If our stocks are cheap because the whole market is down – we have our hedges to put more cash towards the trades and when our stocks recover (as they did last week)we take some of those profits and use them to buy more hedges to lock in our gains.  It's really not that complicated...
Getting back to our 11/21 official Stock of the Year pick, IBM dipped back down and I took advantage of the opportunity to give our readers a similar trade to the one we had made a month earlier in our Member Chat Room, saying:
IBM, for example, came back down to our buy zone ($115) yesterday and our Top Trade Alert from Oct 31st was:
Sell 5 2021 $120 puts for $20 ($10,000)
Buy 15 2021 $120 calls for $11.30 ($16,950)
Sell 15 2021 $145 calls for $5 ($7,500) That's a net $550 credit on the $37,500 spread so $38,050 upside potential (6,918%) if IBM is over $145 in Jan 2021.
We got a quick $10 pop but now it's fading back but we love IBM, who have made $6.7Bn in the first 3 quarters of the year yet you can buy the whole company for $105Bn at $117, which is about 10x current earnings.  That's for a company that made over $12Bn a year all decade except last year, when they took restructuring charges and reorganized the company to accomodate future growth.  Nonetheless, "investors" panicked out of the stock and continue to do so, despite almost being back to normal $10Bn+ earnings already.  Idiots – did I mention that the average investor is an idiot?  Keep it in mind…
IBM's CEO, Ginni Romettyjust bought $1M worth of stock at $117and another $2M for her retirement fund along with a couple of Directors who bought $250,000 each recently.  Now, when Elon Musk buys $1M worth of TSLA stock, I'm quick to point out it's just a stunt ashe's worth $22Bnand most of that money is tied up in TSLA stock so all he's doing is pumping up his own bank account by creating a stir.Ginni is no slouch but worth "just" $45Mso, when she puts $3M into her company's stock – it's making much more of a statement, isn't it?
As you can see, they've also been busy buying back their own stock, at a pace of about 8% per year, which means that $10Bn+ in earnings will be divided by a lot less shares going forward than it was in 2016.  IBM did overpay for Red Hat (RHT) at $34Bn but it's money that was burning a hole in their pockets anyway and they had strategic reasons for doing so and no, there won't be a bidding war because RHT will owe IBM $975M if they don't complete the deal – the opposite of a ususal buyout condition.
RHT only makes $250M a year on $3Bn in sales so, on the surface, it seems insane for IBM to buy them but Red Hat has 33% of the Global Server Market (and it's the fastest-growing) and, though Linux is basically free, those same companies buy hundreds of Billions of Dollars in Services, which Microsoft (MSFT) is able to parlay into $60Bn worth of sales and $10Bn in profits.  NOW does buying RHT make sense for IBM?
Red Hat is IBM's foot in the door to customers who do buy all those services that IBM sells – just not from IBM.  Now the first interacton they will have is with IBM sales people, coming to the office to deliver their free version of Linux while discussing all the ways IBM can help them install, host and service that software – it's brilliant actually…
That's why IBM, who were our runner-up for Stock of the Year in Nov 2015 at $140, are now our official stock of the year at $117 and that makes the above trade our PSW Trade of the Year and usually we promise to give people who buy an Annual Subscription between now and Dec 31st a full year bonus if our Trade of the Year doesn't make 100% before the renewal next year(you don't have to make the trade but you do have to subscribe), but this one is so cheap we'll simply guarantee that, by November next year, this trade makes at least $5,000 – or your renewal is FREE!
We'll talk more about it at today's Live Trading Webinar (1pm, EST)and we'll be watching those bounce lines to see if we're going to buy more longs like IBM, which has the potential to return 6,918% on cash(actually a credit), or whether we're going to add our SQQQ hedge – maybe with an IBM offset?
I'm very sorry to report though, that those who bought an Annual Subscription hoping for a freebie are already disappointed because IBM will open around $130 this morning.  Even yesterday, at $122, the 2021 $120 puts were $16.81 ($8,405) and the 15 $120 ($14.10)/145 ($6.00) bulll call spread was net $8.10 ($12,150) for net net $3,745, which is up 780% including the original $550 credt (from $550) so already miles past 100% gains in just two months and, as of this morning, should be double that at least - up over our $5,000 promise a full year ahead of schedule! 
Congratulations to all who paid and please don't forget to use that quick $7,000 gain tobuy a PSW Membership, so we can give you trade ideas like this all year long!
​