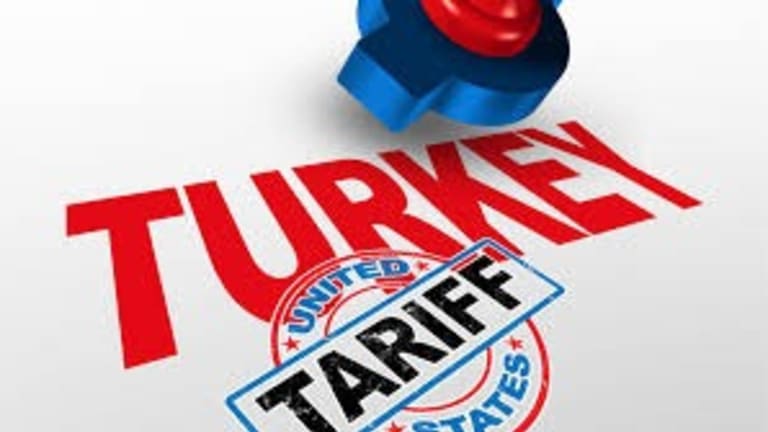 Whipsaw Wednesday – Futures Collapse as Turkey Strikes Back With Tariffs
Turkey is already benefiting from standing up to Trump with a 7% pop in the Lira this morning.
Whipsaw Wednesday – Futures Collapse as Turkey Strikes Back With Tariffs – What Will Happen When China Does?
Does our economy have a glass jaw?
We like to punch others but it doesn't look like we can take one as the Futures where KO'd with one punch as Turkey announced they would raise tariffs on US goods and boycott other goods like, gasp, iPhones which are, I think, 90% of the US economy. "For the sake of a pastor, they have come to the point of breaking relations with Turkey,"Erdogan's spokesman Ibrahim Kalin told reporters in Ankara on Wednesday. It's not so much Turkey as the realization that ALL the other countries we are in a Trade War with (ie. ALL the other countries) may stop rolling over and start going on the attack against Trump and his bullying tactics.  
Turkey is already benefiting from standing up to Trump with a 7% pop in the Lira this morning but it's still down over 30% against the Dollar this year, so nothing for them to celebrate over at the moment.  The decree signed by Erdogan doubled Turkish tariffs on passenger cars to 120%, on alcoholic drinks to 140% and on tobacco to 60%. Tariffs were also doubled on goods such as cosmetics, rice and coal.  
The United States was the fourth largest source of imports to Turkey last year, accounting for $12Bn of imports and, as noted yesterday, Turkey's GDP is $850Bn – so they really don't have that much to lose cutting off relations with the US while we desperately need their strategic location for NATO defense.  In other words, it's another victory Trump has handed to Putin and Russia as we push Turkey out of NATO's arms and back to Russia – something that was competely unthinkable before Trump got "elected".  
Hey, but at least there are no tapes (remaining) of Trump saying the "N" word over and over again on his Apprentice set because THAT would be bad, right?  Not that it would matter, Trump would just spin it the way he's spinning the Russia investigation – relentlessly until people aren't sure what to believe anymore.  Trump comes down on Omarosa for "changing her tune" about him after he's no longer paying her to say nice things, saying she has "zero credibility" because she used to say good things about Trump and now she is revealing dirt on him.
Here's what he said about Omorosa at a September 2016 rally in Ohio:  "She's a wonderful woman. She has done so much for me with the African American community, with communities generally. And she's another one — she is such a fine person, and nobody knows it. And I just blew her income for the next 20 years. You are amazing, okay, and I just want to thank you very much for everything you've done. She works so hard, she feels so strongly. Thank you. Omarosa."
So, by the President's own logic, he has "ZERO CREDIBILITY" yet even an example as blatantly obvious as that won't make a difference to Trump and his followers (you can't call them voters anymore as they clearly would never vote for a better-qualitifed candidate – they are simply Trump loyalists who have swallowed the Kool-Aid and are going to go down with the ship as he steers it into iceberg after iceberg until only Russia is left standing on the World stage).  
Nonetheless, that's the reality we have to deal with so, this morning, in our Live Member Chat Room, I said:
I'm picking up some /NQ longs at 7,400 but tight stops below and other lines are /ES 2,825, /YM 25,125 and /RTY 1,685.  If ANY of them fail – don't be long (and /RTY is the lagger to the downside) but, otherwise, I like /NQ and /ES best for longs (and of course /SI ($14.80) and GLD ($1,192), but those can be painful).
Commodities are down because the Dollar is up, and the Dollar is also exaggerating the Futures sell-off so it's a great time to play the counter-trend for at least a weak bounce – per our fabulous 5% Rule™.  We don't even need to calculate the index more as the Dollar is up from 96 to 97 (not there yet) so rejection is at 96.80 (weak) and 96.60 (strong) so that's the line we'll watch for a pullback on the Dollar and a bounce from the indexes and metals but, if 96.60 holds up – we should take quick profits on the bounce plays.
Oil (/CL) and Gasoline (/RB) should be interesting to play around 10:30, when they release the EIA report.  Last night's API Report showed a huge 3.66M barrel increase in oil inventories but, nonetheless, we are heading into a holiday weekend and $65 should be bouncy ($2 on /RB again)and that's off a fall from $75 so, per the 5% Rule™, we're looking for $2 bounces to $67 and $69 so not much fear picking up some longs as we test the $66 line two weeks before Labor Day weekend.
​
Oil trading is not that complicated – go long into Memorial day (up $10,000 per contract from the April lows), go long into July 4th (up $10,000 per contract from the June lows) and go long into Labor Day (now available for $66.35 and I'll tell you how much we made in 3 weeks).  It has basically no Fundamental reason for doing this but oil trading is not based on Fundamentals – it's based on creating the APPEARANCE of a shortage or short supply so "THEY" (the US energy cartel) can screw you over at the pumps (see "Goldman's Global Oil Scam Passes the 50 Madoff Mark").
You can't beat these guys – I've been trying for over a decade to make people in Congress aware of this scam so they are very aware at this point – they are simply choosing not to act.  Since we can't beat them we can at least get our cut by picking up our $10,000 gains into the holidays and another $10,000 (per contract) on the way back down once the holidays are over.  You have to know how to pick your spots, of course, but the general trend is pretty simply to predict – within the context of the broader, more fundamental trends that do actually matter in the longer run.
​
​