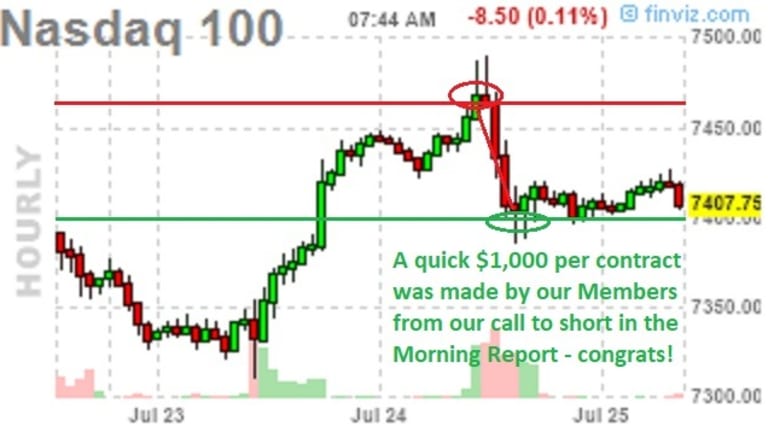 Which Way Wednesday – Trump & Earnings Drive the Market, both are Unpredictable
We'll be thrilled to take a quick $500 off the table ahead of the report on any sort of dip.
MADNESS!
Our call to short the Nasdaq Futures (/NQ) at 7,460 inyesterday's Morning Reportmade a lovely $1,000 per contract–you're welcome!  Today we are shorting Oil Futures (/CL) below the $68.50 line (tight stops above) ahead of the 10:30 inventory report as API (a private report)showed a big draw in Oil (3.2Mb), Gasoline (4.9Mb) AND Distilates (1.3Mb) and yet, $68.50 is all they could manage – even with a weak Dollar.  That sends a pretty clear sign that oil is in trouble and anything but a huge draw in the official EIA report is likely to send it down hard and fast but, as I said, we'll be thrilled to take a quick $500 off the table ahead of the report on any sort of dip.
Meanwhile, earnings season is off to a good start with 17% (85) of the S&P 500 reporting as of last night and 87% of them (74) have beaten expectations vs 70% (60) in a typical year.  Those of you who know statistics may cringe at the small sampling and more so considering Banks and Big Tech have gone first but those are the kinds of numbers TV pundits throw out as if they are meaningful – I'm sure you'll hear plenty of examples of it this morning on any of the Financial Networks.  
All this FABULOUS news was already baked in however as companies are only beating expectation by an average of 4.5%, vs 5.6% last year and revenues are only 1.4% ahead of expectations.  Analysts are, in fact, LOWERING their Q3 expectations on companies that have reported, especially in the Non-Finanical, Non-Tech sectors (Energy, Industrials, Consumer Discretionary, Health Care, Utilities, Consumer Staples, and Real Estate).
Speaking of Real Estate, sales of new and existing homes in Southern California are down 11.8% from last year's first halfwhile the median price of a home shot up to a record $536,250.  Newly built homes were the hardest hit, with sales off 47% compared to last June – partly due to low inventory and partly due to rising rates putting prospective buyers on the sidelines.  
As goes Real Estate, so goes the Nation – and the markets — eventually.  So far, no one seems to care while, in Manhattan,inventory is up 25%from last June as NOTHING is selling.  Even "affordable" homes that are priced at less than $1M are clogging up the books, those bargains are up 27% from last year at the highest level of inventory since 2013.  Even the hip boroughs of Brooklyn and Queens are looking at the highest inventory levels since 2008.  In September, listings usually pick up after the summer and that could actually force NYC home prices negative for the first time since Bush II was President.  
There is good news, however, in China, where the Government is using stimulus to offset the damage done by Trump Tariffs and that has popped the CSI 300 200 points (6%) in the past 10 days but still down 20% from the highs so only really weak bounce so far – so let's not get too excited but it is better than going lower.
Of course, stimulus-driven rallies should always be taken with a grain of salt and our rally is driven by tax cuts and buybacks – both one-time events as it's really hard to go any lower and now there are no funds to repatriate.  Trump keeps talking about how other countries are using us as a piggy bank but Trump is using $4Tn of money that was kept overseas to avoid paying the US Government $1Tn in taxes as a piggy bank he has busted wide open to boost the economy.  If 4% GDP growth is all we can do after "repatriating" 20% of our GDP – that's actually kind of sad…
We'll get our first look at Q2 GDP on Friday and the Atlanta Fed is now predicting a whopping 4.5% expansion in our economy and the President already put out a gleeful tweet about the economy, presumably because he saw the number and can't wait to take credit for it.
The problem with the GDP number is that it counts rising inventories as a positive and Trump's Tariffs have caused a lot of inventory to pile up at the docks and in warehouses as things remain uncertain and already Trump is spending $12Bn of the $12.5Bn in taxes his tariffs have generated to ~~bribe~~ bail out farmers who got slammed with unsold crops.
Unfortunately, you can't claim your inflated costs on goods and services as a campaign contribution but Trump can sure use it as one as he robs from everyone to give to the famers so they don't end up on camera complaining about how Trump screwed them over into the election.  Even if we hit 4% in Q2, that still only averages the same 3% we averaged last year for the first half of this year and, in order to average 4% for the year – we'll have to average 5% growth in Q3 and Q4 – which simply isn't going to happen so prepare to be "disappointed", no matter how excited the President gets or how many victory laps he does based on a single data point.
​
​
On the other hand, you can expect the usual Economorons featured on the Financial Networks to start pontificating that the US is the new China and extrapolating continued record growth and that should help us put in a firm market top and set us up for a lot of earnings disappointments as the other 83% of the S&P 500 along with 3,000 smaller-cap companies report over the next few weeks.  
The NYSE has finally gone bullish over our Must Hold Line and the Dow is flirting with the 20% line at 25,200, which we shorted yesterday for a 100-point gain (+$500 per contract) and we'll see if we get another chance today but, as noted above, things are very unpredictable at the moment so the wise thing to do is not make any predictions until we get a bit more clarity so I declare a watch and wait day and we'll have our Live Trading Webinar at 1pm to see how things are shaping up.
​
​