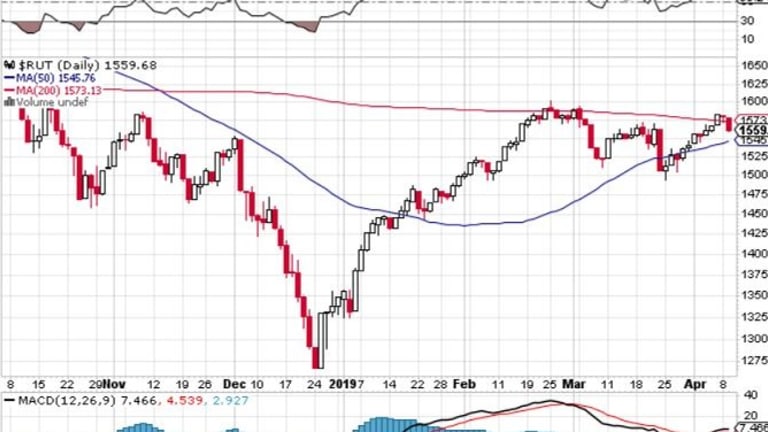 Which Way Wednesday – Russell 2000 Fails at the 200 DMA
The ECB announced they will keep interest rates unchanged for the rest of the year "at least"...
Are we recovering from yesterday's dip?
While the Futures are up 0.2%, the Dollar is down 0.2% so that's just a re-pricing against the weak Dollar, rather than a pre-market rally and, even with the currency boost, the Russell (RUT) has once again failed to hold the 200-day moving average at 1,573 and that's what signaled our March sell-off but it won't be a catastrophe until we fail the 50-day moving average at 1,545 – so that's the line we want to watch very closely.  
Yesterday we shorted the S&P Futures (/ES) with a target of 1,580 and we hit that on the nose for a $1,000 per contract gain and then we flipped to the Nasdaq (/NQ) shorts at 7,600 and those paid us another $400 per contract into the close but this morning we're just watching and waiting – mostly hoping oil pops to $65 on inventories (10:30), so we can short that. 
​
​
Oil is up from the $59-60 range in late March so call it $59.50 and 10% up from there is actually $65.45 but let's say $65.50 and it's a $6 run so $1.20 pullbacks to $64.30 (weak) and $63.10 (strong) but I'm betting weak holds as we have a holiday coming up.  In either case, we can prettty confidently take a poke at shorting oil at $65 with a tight stop over (0.10) and then again at $65.50 and $66 if we have to and we'll carry our 0.20-0.30 loss knowing it's very likely that, when we get it right, we have a $1.20 ($1,200 per contract) gain to look forward to.
Remember, I can only tell you what is likely to happen and how to make money trading it – the rest is up to you!
Today we have a $20Bn auction of 10-year treasury notes at 1pm and it's long been a pattern that the market goes down ahead of a 10-year auction as it scares investors into buying bonds, which keeps the rates low and countries that owe $21Tn NEED to have rates a low as possible.This morning the ECB announced they will keep interest rates unchanged for the rest of the year "at least"and they will keep re-investing their asset purchases – taking pressure off the Fed to change their policy.
The real pressure on the Fed is coming from Washington and, just this morning, Trump's Fed nominee, Stephen Moore called for a reversal of the December rate hike.  The Trump Administration has been pulling out all the stops to get the Fed to go back to emergency level zero-rates, even as they tell you how GREAT the economy is.
Speaking of data, CPI just came in hot at 0.4% vs 0.2% expected by Leading Economorons, probably caused by that 10% pop in oil prices they forgot to take into account because, you know – morons!  Sadly, they will ask the same group of idiots what they predict next month, and the month after that…
As you can see from the Fed's "Dot Plot", rates are supposed to go up to 3% by election year (2020) and a 1% rise in rates will add $210Bn to the Deficit, which is already over $1Tn a year under Trumps 2nd budget (they start in July).  With the weaker economy, higher rates and lower tax collections – it's possible that Trump's 2021 budget projections will be borrowing $2Tn a year on behalf of the American people.  Are we great yet?
Remember, Trump is really good at building things – he just sucks at paying for them – that's why he went bankrupt 5 times and how he turned Atlantic City, NJ into a wasteland as he built $10Bn worth of casinos and stiffed all the local contractors and then the casinos shut down (because all of his projections were ridiculous fantasies) and now all the people are out of work and the town has no money because they gave tax breaks to Trump on the expectations of revenues that never came.  Sound familiar?
There's no particular news that should rally the market back up today but, lately, the pattern has been anything BUT bad news leads to more gains so we'll see how things shake out but next week is earnings – there's going to be plenty of bad news for the next 4 weeks after that!
Be careful out there.