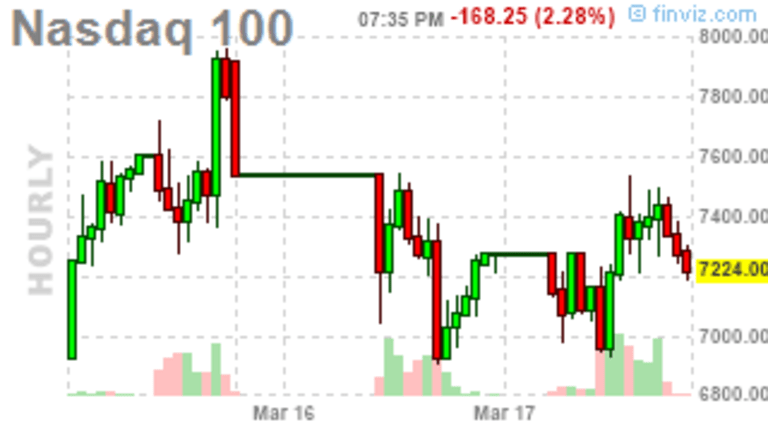 Which Way Wednesday – Rallying Back to the Highs (Again)
It doesn't matter what happens during the day, in the overnights, we rally to new highs.
This is just amazing.
It doesn't matter what happens during the day, in the overnights, we rally to new highs. Oddly enough, we've been making our money on the short side (see last week's Webinar) by playing the indexes short when they peak and selling on the dips so this morning we're doing it again at 9,240 on the Nasdaq (/NQ) Futures, 3,335 on the S&P Futures (/ES) and 29,280 on the Dow (/YM) Futures.
Meanwhile, we're stubbornly long on Natural Gas (/NG), which is now at $1.90 but our average entry is $1.962 and we already have 4 long so we either get back to 2 even or we wait for $1.80 to add 2 more longs and bring the average below $1.90 (with a $6,000 loss on 6 contracts). It's a long-term conviction play and could get very painful as we're bucking the overall trend.
I reviewed our logic on the Natural Gas plays in yesterday's Live Member Chat Roomand we're doing another Live Trading Webinar this afternoon at 1pm, EST, so I'm sure we can discuss it some more. The strong(ish) Dollar hasn't been helping the commodities very much. Oil is still down in the dumps at around $57.50, which is a nice place to go long (/CL) with tight stops below that line, which should match up with $64 on Brent (/BZ) – so if Brent fails to hold, don't play/CLlong!
Not that the news seems to matter these days but President Trump is back to threatening tariffs on Europe in an attempt to force them to make a Trade Deal with him because he needs the distraction to take away from his impeachment trial. One thing that's distracting everybody at the moment is the Chinese virus scare, with 50% more cases today than there were yesterday (now 470) so no, it's not at all under control. The US case that panicked our markets yesterday was from a guy who was in China recently and it does seem to be contained (so far).
In drugstores and at airports, and on the online marketplaces increasingly at the heart of Chinese commerce, fear and confusion manifested themselves in shortages or long lines for suddenly scarce products promising protection from the deadly but still largely mysterious respiratory disease. Surgical masks flew off shelves, travelers canceled plans and rumors flooded social media. Drug makers are doing well, travel stocks are doing poorly.
Speaking of travel stocks doing poorly, Boeing (BA) got crushed again as re-certification of the 737 Max is now pushed off "at least" until Q3 and BA made $0 this year and will likely make $0 next year yet $300/share values the company at $170Bn. In a good year they make $10Bn – but when will it be a good year again for BA? That's the question.
Of course, after falling 25% from $400, BA will bounce off the $300 line and our 5% Rule™ tells us to expect a 20% (of the drop) weak bounce back to $320 or maybe even a strong bounce to $340 but, if the weak bounce fails – then even $300 may not hold so we're not jumping back into BA just yet – tempting though it may be.
Other than that, we'll just have to wait and see. The market has been remarkably resiliant