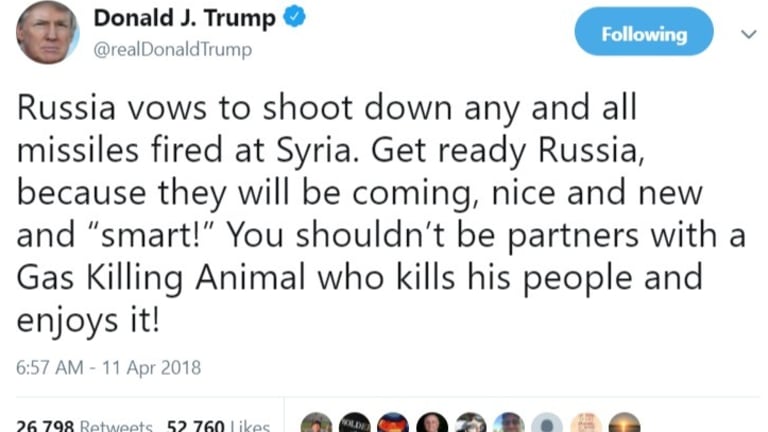 What Now Wednesday – Trump's Manic Tweets Cost Markets Half Their Gains
In a tweet that was so bad at 7am that they have already pulled it by 8, Trump pushes the Nuclear Clock to 11:59:59.9.
In a tweet that was so bad at 7am that they have already pulled it by 8, Trump pushes the Nuclear Clock to 11:59:59.9 by threatening Syria and Russia with missile strikes.  Remember when Trump said you shouldn't tell your enemies your plans in advance?  Too bad he didn't stick to that.
The tweet may be gone but the damage is done and the Futures have already given back half of yesterday's silly gains and it's going to be a busy data day with Fed Minutes at 2pm (which was going to bring down the markets anyway) but CPI is coming right up and Atlanta Fed is at 10, EIA at 10:30, a 10-year note auction at 1pm (we're borrowing $21Bn this week) and Bed Bath and Beyond earnings after the close, which I think will be very telling.
Of course, Trump can't stay mad at his Putie for too long and his last tweet (so far) has offered to reconcile by offering to "help with their (Russia's) economy" and "stop the arms race" Trump just started by cliaming to have "nice, new and smart" missiles.  
​
​
As noted by Bloomberg, A strike that hits Russian assets in Syria — even if unintentionally — could result in a dangerous game of one-upmanship, potentially dragging the U.S. further into a conflict the president wants to leave. Oil prices rose after Trump's remarks, while U.S. stock futures fell and the Russian ruble slumped to the lowest level in 16 months.  Russia has already strengthened Syria's air-defense capabilities, deploying S-400 missile batteries after U.S. strikes a year ago hit a Syrian base.
​
"The most important thing about a U.S. strike is the potential for Russian casualties as a result of any military activity there," said Ayham Kamel, head of Middle East and North Africa research at Eurasia Group. "That is where there's a risk of an escalatory cycle that would be much more meaningful than attacking Assad's forces."  In March, Valery Gerasimov, chief of Russia's General Staff, already warned the US that "in the event a threat arises to the lives of our servicemen, the Armed Forces of Russia will take retaliatory measures against both missiles and the carriers that use them."
As I warned yesterday, just because China's Xi makes some vague promises about cooperating on trade doesn't mean the World is all fixed and the markets are ignoring what is very, very clearly a worsening macro enviroment.  As I noted to our Members this morning:
No change from my prediction all year, 2,640 will form up as the top of a channel that bottoms out around 2,400 (if we avoid WWIII and all-out trade war with China) and Q1 earnings should start well on Friday with Financials and large caps but, as we move into the meat of the S&P 500, cracks are likely to show that will force a bit of a revaluation and give us a shot towards 2,400, likely in May.
​
As you cans see from the daily chart, the S&P (and others) has by gyrating wildly for the past few weeks but generally below the 2,640 line and, if we break down below 2,550 to 2,400, it will establish 2,640 as a very serious top and opens us to the possibility of another 10% drop below that if we have another round of bad news.
Earnings will tell the tale and we're expecting them to deteriorate but we don't get into the meat of earnings season until the end of the month and into May so, for now, we'll look for early indications from the Consumer Products and Services Sectors and we'll ignore how much money the Big Banks are making when the Fed is handing them free money and they are jacking up the borrowing rates for consumers.  For the banking sector, current lending conditions remind me of the scene in Scarface where Pacino has a mountain of coke on his desk and just buries his face in it…
​
​
Meanwhile, the World is still out there and here's what we're ignoring with all this other nonsense going on:
Are Trump's tweets this morning an attempt to distract us from the deepening investigation into his people and his Presidency?  Even if you think the President legitimately woke up and HAD to start World War III this morning, are these the kind of macro conditions that are likely to support near record-high valuations for equities?  
Be careful out there!