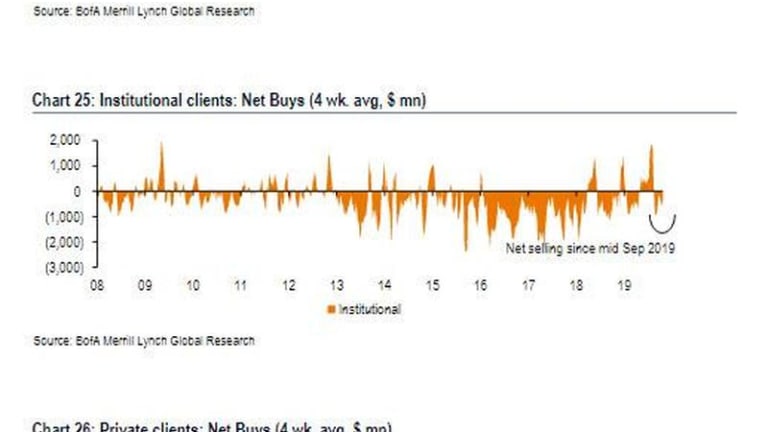 What Blackout Period: BofA Just Had Its 6th Busiest Week Ever For Stock Buybacks
There was still a plethora of companies announcing they will buy back their shares...
Courtesy of ZeroHedge
It's time to finally put the entire "buyback blackout" myth to pasture.
Commenting on its client flows during the past week in which the S&P 500 closed up 0.9%, Bank of America clients were net buyers of US equities after a week of net selling. Both single stocks and ETFs saw inflows, marking the ninth straight week of ETF inflows.
Looking at the breakdown of client activity that crossed its trading desk, BofA writes that hedge funds were net sellers after buying for six weeks, while in a mirror image of activity, institutional clients bought for the first time after selling for six weeks. Meanwhile, retail clients remained net sellers for the sixth consecutive week.
​
​
But what may come as a big surprise to those that still believe buybacks are mostly barred during earnings season is BofA's disclosure that corporate buybacks surged last week (last major week of reporting season) to their sixth-highest weekly level in BofA history. YTD, buybacks are +26% from the comparable period last year.
​
​
The bulk of buybacks in the past week was focused on large cap companies, with nearly $3 billion in large cap buybacks executed by BofA's desk.
​
​
As for the industry that once again led the surge in buybacks, no surprise there: as has been the case for much of 2019, it was almost all tech, which engaged in the fourth-largest ever weekly stock repurchase on record, with a few banks thrown in for good measure.
​
​
Last week's repurchase activity is merely a continuation of the buybacks announced over the past three months, which were also led by infotech and financial companies.
​
​
Yet as executed buybacks soared, buybacks announcements (which can take place at any time in the near future) dipped, although there was still a plethora of companies announcing they will buy back their shares.
​
​
More importantly, while it is now clear that companies deploy buybacks even more aggressively during "blackout" period, the recent surge in stock repurchases probably explains why buyback-linked ETFs have been trouncing dividend ETFs.
​
​
In fact the surge in stock repurchases may explain not just the impressive outperformance of buyback-linked ETFs, but why the market has continued to levitate despite the latest bout of violent momentum/value reversal, which any other time would have been sufficient to know the S&P500 several percent lower, but not this time.