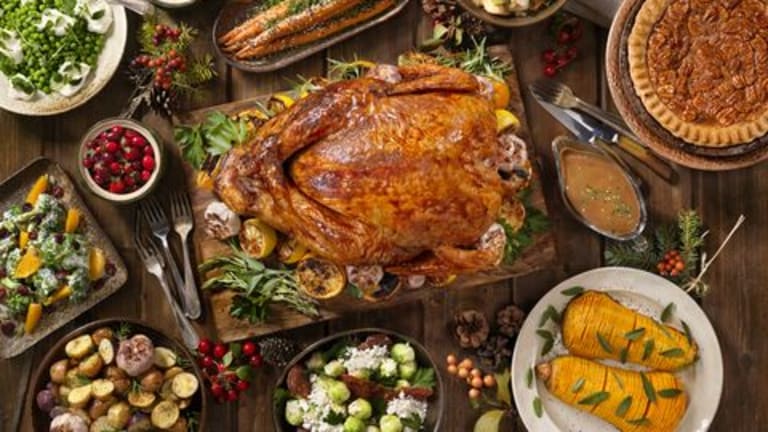 Wednesday Wipeout – Let the Slaughter of 50M Turkeys Begin!
Getting ready for Thanksgiving? If you are an American, of course you are – it's what we do here.
Getting ready for Thanksgiving?
If you are an American, of course you are – it's what we do here.  And, of course, after the orgy of food to be consumed tomorrow – we begin the orgy of shopping known as Black Friday – because that is, traditionally, the day that the ledgers for retailers finally gets into the black for the year.
The Retail Sector has already made a bit of a comeback, with the Retail ETF (XRT) gaining 7 points (18%) from the August lows, outpacing the 10.5% gain on the S&P by a wide margin.  Still, overall, XRT is still about 15% below last year's highs so there's still a lot of bargains out there – including our beloved Macy's (M), who host the Thanksgiving Day Parade from their flagship store in Herald Square – which is the World's Largest Department Store at 2.5 MILLION square feet and, in downtown New York City, with rents at $776 per square foot – that's $2Bn a year if they decide to rent it out – yet you can buy the whole company for just $4.75Bn at $15.37/share. 
​
Macy's has been entertaining the idea of SPENDING about $1.5Bn to build 1.2M feet on top of the existing structure and use that space to generate about $1Bn a year in rental income.  They already have to maintain the building so, aside from the building costs – they wouldn't be taking on a lot of running expenses – so it's a very good idea and, when you consider that Macy's "only" drops about $1Bn a year to the bottom line (on $25Bn in sales) – it's a GREAT idea.
Unfortunately, for about 3 years, it's all costs and no income so nothing to get excited about for the short-term investor but, for a long-term accumulator, Macy's just narrowly missed being our 2020 Stock of the Year and I predict it will be our 2023 Stock of the Year as construction nears completion and income is poised to double.  I don't think Retail is dead in the same way that Radio isn't dead just because we have TV now. 
​
Amazon (AMZN) and other on-line retailers will get their shares but, on the whole, people still like to shop – 90% of $6Tn in Retail Sales in the US are still done in person and Amazon, for all the noise and now in their 25th year of operation, are "only" doing $250Bn in sales – about 4% of US Retail Sales.  Yes, they have captured a lot of the growth but, so far, there is no Retail Apocalypse – just a culling of the weak – which was probably long overdue. 
In fact, Toys R Us is making a comeback, opening a new store in Paramus, NJ this very day.  That's another great thing about retail – the resurrections!  This new version of Toys R Us has been started by a group of former executives from the old company and is looking to "re-invent" the shopping experience – we'll see what that means over time but their experimental stores do look pretty cool.  They are more like a place to take the kids, which is very smart and, at the end, there are things to buy – like a Disney (DIS) ride.  Speaking of Disney:
​
​
DIS is up about 40% this year as they opened Star Wars Theme Parks in Florida and California and, through September, they had sold $8.1Bn in movie tickets around the World, accounting for 33.4% of the US box office at $2.7Bn and now Frozen II is a monster hit and should add another $1Bn World-wide and then we will have another Star Wars movie in December.  Oh yeah – and they just launched a new on-line video service and have been signed up about 18M people already – and it's only month 2!  
DIS is getting a little ahead of itself at $151.64 as that's $273Bn in market cap and they "only" make about $11Bn a year on $85Bn in sales so we're paying 25x earnings which aniticipates more growth than is likely but, what I like about Disney stock is there's a very nice floor to it – that's why we bought it back at $95 but we're out now – and waiting patiently for a correction to $130 to buy again. 
By the way,we did pick M as a Top Trade Alert on the 19th for our Hemp Boca Portfolioand it came at net $725 and now it's net $1,147 for a quick $422 (58%) profit in the first week but it's a $10,500 spread so, if it pays off for us, there's still another $8,853 (771%) left to be gained if M is over our $20 target in Jan, 2022.
​
​
That will make for a very White Christmas, 2021 (we should be well up by then) and that makes Stephen Miller happy indeed!  As we just discussed yesterday in our Live Member Chat Room (you can join here for the Holidays), there are PLENTY of great bargains still to be had – even in this runaway market – espeically as we are able to discount things even further for ourselves using options spreads.  
​
​
The first Thanksgiving (Plymouth, 1621) was such a success, they extended the festivities for 2 additional days but, then again, they didn't bring a lot of extended family members on the Mayflower and, of course, the young men in the colony were not happy to see the native girls go – as 3/4 of the women who came over on the Mayflower did not survive the first winter in Plymouth.
Speaking of Plymouth, if you want to do something very cool with the kids (or for yourself), Plymouth Plantation puts on an original Thanksgiving dinner with authentic courses like a corn pudding and fish fricassee, tales of colonial life, and centuries-old songs.  They also have recreated the original colony in all it's architectural… er… glory.
​
​
Still, I love it for the historical perspective EXCEPT the actual Mayflower – which is a huge disappointment – just a tiny little ship that makes you realize what a miserable journey 100 people must have had on it – especially arriving in DECEMBER of 1620 – the European refugees were lucky to have survived at all but, fortunately, there no wall to stop them.
The Americans that were already for 15,000 years, living in peace and harmony and respecting this great land helped the refugees through that first winter and the Thanksgiving Celebration one year later, when the refugess had their own first harvest, was a celebration in thanks for the tolerance of the original Americans – who put up with their pasty skin color and strange clothing and bad habits, wierd religious practices and crazy morals*.*  
Thank God for tolerance!  
Happy Thanksgiving,