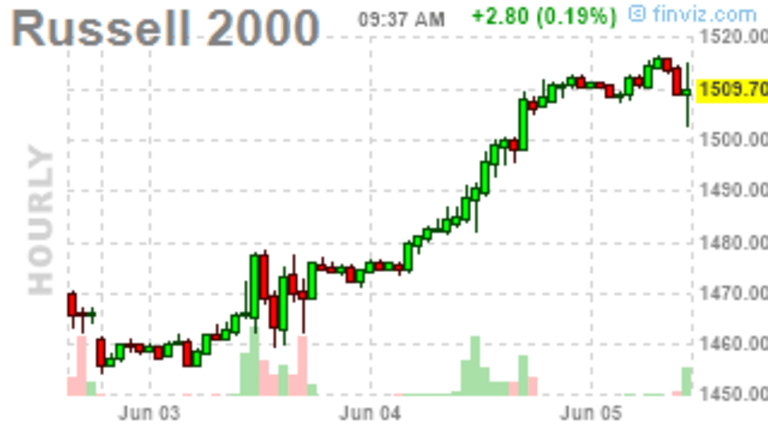 Wednesday Weakovery – Low Volume Rally Gives Us Hope
Phil - "We've got a lot more green on the chart than we had yesterday morning."
Quite the bounce.
All it took was a few words from China, Mexico and, of course, the Fed and the market was off to the races again led by the small-cap Russell Index, which is already testing the strong bounce line at 1,510 in the overnights.  We're still waiting for the Nasdaq to make it's weak bounce line at 7,250 but, on the whole, we're glad we kept our longs in play (covered with hedges, of course).  As it stands now, we've got a lot more green on the chart than we had yesterday morning:
Dow 26,700 to 24,700 is 2,000 so huge 400-point bounces to 25,100 (weak) and 25,500 (strong)
S&P 2,950 to 2,750 is 200 so 40-point bounces (or what I said above) to 2,790 and 2,830
Nasdaq 7,850 to 7,100 is 750 so 150-point bounces to 7,250 and 7,400
Russell 1,600 to 1,450 is 150 so 30-point bounces to 1,480 and 1,510
That's really about as much progress as you can expect for one day but the underperformance of the Nasdaq is a concern and, as you can see from the daily chart – even the 100-point rally off the bottom isn't enough to put much of a dent in the 850-point drop – so we'll be watching the Nasdaq very closely today to let us know whether we should be looking up or down for our next targets. 
Senate Republicans signaled they were willing to cross the aisle and veto any tariffs Trump wishes to place on Mexico and that encouraged the markets while Mexico, for their part, indicated they would be willing to have "sensible" negotiations but also made it clear they were not going to stop people from legally entering their country.  
If the White House says the justification for the tariffs rests on Trump's declaration of a national emergency from earlier this year, Congress could revive a resolution of disapproval that already passed both chambers but failed to get enough votes in the House to override Trump's veto. If the White House declares a new national emergency, Congress could pass a new resolution of disapproval — effectively removing the provision Trump would cite to have the power to impose tariffs.
Any measure that could be a check on Trump's trade policy would need a two-thirds majority in both chambers to override a veto. That means roughly 20 Republican senators and 55 Republican representatives would have to stand up to the president — and their constituents who support him.
Fed Chairman Jerome Powell signaled an openness to cut interest rates if necessary, pledging to keep a close watch on fallout from a deepening set of disputes between the U.S. and its largest trading partners.  Central banks are resuming their first-responder role as the world economy runs into trouble even if they lack the firepower they once had at their disposal.  All this has been taken very positively by the market so far.
Asian equity futures are pointing higher after U.S. stocks jumped the most since January on Powell's comments. Big banks surged as Wells Fargo analyst Mike Mayo said the industry would "party like it's 1995" if rates are cut. Treasury yields rose from multiyear lows as the Fed chairman stopped short of signaling any imminent moves, and the dollar declined.
Oil, however, is still down as yesterday's API Report showed a 3.5Mb build in oil last week and millions more builds in both Gasoline and Distillate  stockpiles – a string of disastrous reports indicating extremely weak demand to kick off summer driving season. 
The Nasdaq has been lagging as Big Tech is facing a probe by the House Judiciary committee regarding potential anti-trust issues as well as looking into "fake news" and other issues that seem to be getting worse, not better, on Social Media.  This will play out over many, many months and we expect the Nasdaq to snap higher as the immediate heat dies down.  Short sellers were already badly burned yesterday and the pain is likely to get worse unless Trump does something else stupid in England this morning.
​
​
This morning we'll look for failures at our various bounce lines and, if we start seeing rejections, we simply short the laggard, like Dow (/YM) Futures, which we were long on yesterday at 25,000 with a projected target at the weak bounce line at 25,500.  We took the $2,000 per contract profit and ran yesterday but this morning we may get a chance to go short at 25,500 with tight stops ABOVE this time and it's the same very good risk/reward play we took advantage of yesterday.
Play smart, not hard!