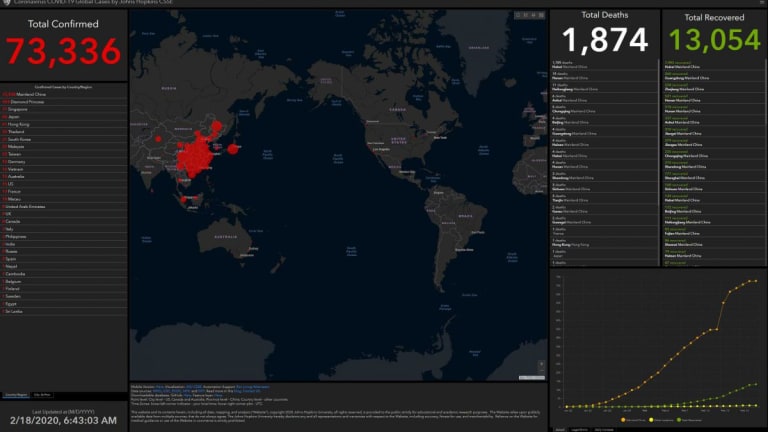 Turn Back Tuesday – Virus Fears Heat Up over the Weekend
Now Apple (AAPL) has warned they will miss on revenues.
Now Apple(AAPL)has warned they will miss on revenues.
We went from 64,456, 1,384 and 7,115 Friday morning to 73,336, 1,874, 13,054 so that's 13.7% more infected (that ship is a nightmare), 35.4% more dead (we knew that was coming) and 83.4% more recovered – there's a bright spot but almost 2,000 dead is certainly not.  SARS killed only 744 in a much longer period of time.  
At some point, investors are going to start taking this seriously, I think.  130+ S&P 500 companies have mentioned Coronavirus as affecting them somehow but only 40 guided down over the issue but now AAPL is one of them so it's making things interesting.  Fortunately, in Friday morning's PSW Report (which you can subscribe to here), we shorted the index futures over the weekend and that was good for a total gain of $6,622.50 – a great way to start the week! 
We're done with them for now as we expected the indexes to snap back a bit into the open (I called that in this morning's Live Member Chat Room) but we'll either look to re-load or add some more index shorts to our options portfolios later today as there's no reasn not to have protection in this volatile evironment.
Germany looks like they are heading into a Recession and now Japan is at the brink with 9 out of 14 Economists seeing the economy shrinking in Q1, after already shrinking sharply in Q4.  As we were discussing last week, Japan is about 300% of their GDP in debt and if we combine that with a shrinking economy, we can get Greece 2008 on steroids.  
Economists now see the virus preventing a rebound this quarter and keeping the economy in reverse. The immediate impact of the epidemic has been to stop hundreds of thousands of Chinese visitors to Japan, the biggest source of tourist income. The outbreak could also further curtail dismal spending by Japanese consumers, as they avoid crowded places after reports of some infections in Japan's biggest cities.
Japan, in fact, had a huge jump in infections over the past week, from 28 last Wednesday to 66 this morning – that's up 135% in a week – NOT under control!  Japan's exporters, already suffering after a long stretch of weak global demand, could be hit even harder, as the outbreak disrupts production and domestic demand in China, Japan's biggest trading partner. The longer the outbreak continues, the more likely some parts supplies from China for Japanese manufacturers may also dry up.
​
As usual, MORE FREE MONEY for the Top 1% is the answer to everything andChina, Hong Kong and Singapore all pleded extra fiscal stimulus over the weekend into the upcoming G20 conference.  China will lower Corproate taxes despite a widening fiscal gap and Hong Kong has a record budget deficit while Singapore has the biggest budget deficit in two years.  BUYBUYBUY???
The head of the International Monetary Fund said the lack of deeper improvements in the global economic system is hindering what's already an "anemic" outlook for growth, especially as the shock caused by the coronavirus further dims prospects for a pickup this year. "The monetary policy space is shrinking and the reliance on fiscal measures as well as on structural reforms to boost growth ought to be stronger," IMF Managing Director Kristalina Georgieva said Sunday in a Bloomberg Television interview in Dubai. What's missing is "a more aggressive swing in structural reforms." As the virus's impact raises the threat of disruption across supply chains, most major central banks are on alert but have yet to indicate that they plan monetary easing.
Our own Fed will be on the warparth this week with the Fed Minutes out tomorrow surrounded by 5 (five) Fed speakers and 5 more on Friday and Barkin on Thursday and Kashkari today could be a new record (12) for a short week.  Just some housing data until Thursday Philly Fed and Leading Indicators and PMI on Friday is a very slow data week otherwise:
And we're still packing in those earnings reports but, as I said last week, I'm much more interested in the Chinese earnings reports though it's possible they will be instructed by the state not to mention negative impacts from the virus because, as we all know, if you ignore a problem it might go away…
Be careful out there!