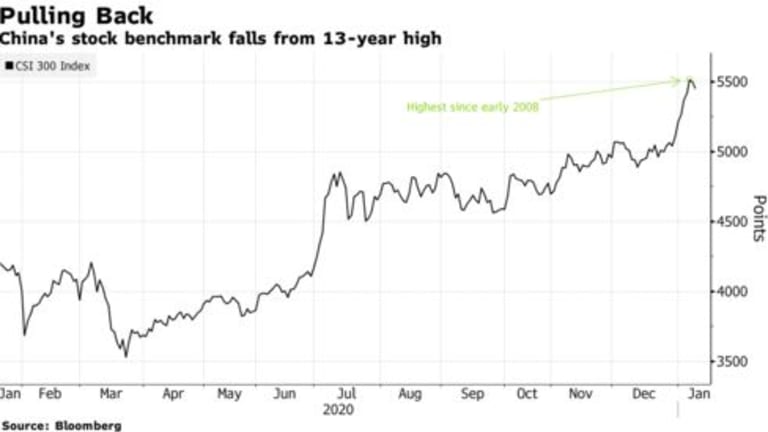 Tuesday Turmoil – China Sells Off, Weather Gets Cold
The weather isn't the only thing turning cold.
Chinese stocks fell the most in three weeks, led by consumer shares and commodity producers, amid concern valuations for the most popular stocks were stretched and as metal prices slumped. The CSI 300 Index dropped as much 1.5% before paring losses to 1% at the close. Gauges tracking energy, consumer staples and materials producers slumped more than 2%.
Some 39 Chinese companies both domestically and offshore defaulted on nearly $30 billion of bonds in 2020, pushing the total value 14% above 2019's. Defaults by Chinese companies are likely to top last year's record as tighter monetary policy squeezes borrowers, according to China Merchants Securities Co.
"The central bank will implement more prudent monetary policies this year," said Yuze Li, a credit analyst at China Merchants Securities. "More companies may face refinancing pressure. As the maturities jump, the default amounts will climb by an estimated 10%-30% from the previous year," he said, referring to both onshore and offshore defaults.
In the dollar-bond market, the financial sector accounted for about 43% of total defaults, followed by technology and energy. ?Five state-linked companies defaulted for the first time in the onshore bond market, the most since 2016.
Meanwhile, Global Warming is making us cold as it disrupts the normal air currents and sends the frigid air mass that usually circles the arctic down to the Northern Hemisphere which is, as they say in acedemia, bad. The icy blasts threatening to sweep across North America, Europe and Asia starting in late January are from the same weather pattern that triggered the 2014 cold snap known as the polar vortex, which plunged temperatures in Chicago to minus 16 degrees Fahrenheit.
Enjoy your outdoor dining!
Natural Gas has already been spiking but still only $2.85 and we should hit $3 or more on the /NG Futures contracts with all this cold weather ahead along with a slowdown in shale production that is slowing the supply of Nat Gas. Natural Gas Futures pay $100 per point, per contract, and $2.85 is a good support line so tight stops below limit your losses while a move to $3 would be a $1,500 per contract gain – a good way to stay warm!
The cold has already descended upon Western Europe and China, sending prices for gas in Spain, and liquefied natural gas in Asia, to record highs. Beijing temperatures fell to a record low of minus 9 Thursday. An icy blast from Jan. 16 will mean the third highest number of heating degree days in 40 years. The vortex of seven years ago kept shoppers indoors, grounded flights and made it harder for shippers to fill product orders.
It's an interesting way to start the year and we'll see how things play out but we're still shorting those index lines at Dow (/YM) 31,00, S&P (/ES) 3,800, Nasdaq (/NQ) 13,000 and Russell (/RTY) 2,100 and we'd love to see Oil (/CL) closer to $55 so we can short that into tomorrow's inventory report as further OPEC cutbacks aren't going to make a dent in the surplus we have going on. For now, we can use the $52.50 line as our shorting zone with very tight stops above.
I put that last one up as it's good to know what kind of insanity the other half are reading. Like this:
I notice THEY USE A LOT OF CAPS….