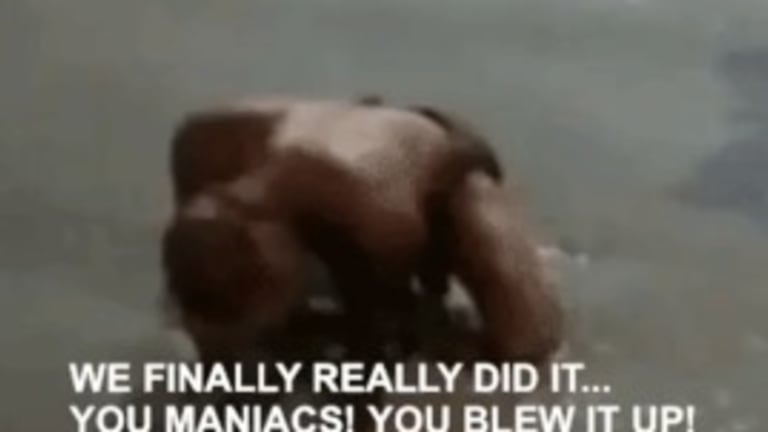 Trade War Friday – "You Maniacs, You Blew It Up!"
Sure it's "only" a Trade War, at the moment but that's how World War I started.
Well, Trump has started World War III.
Sure it's "only" a Trade War, at the moment but that's how World War I started and this trade war is far bigger than that and  the second biggest trade war in the 20s and 30s led to the Great Depression which clearly led to World War II so I don't think I'm jumping the gun declaring this World War III – just give it some time...
One good thing about wars is they create a lot of jobs and also they create a shortage of workers so we will be sick and tired of all the "winning" as this thing drags along over the next few years.  Trump is heading off to kiss Putin's ring in 10 days and, now that he's declared war on Europe and China, Trump will make a trade pact with Putin (who we're supposed to be santioning) and declare it a victory for America and half the people in the country will actually believe that.  No really, they will! 
We shorted the Russell (/RTX) futures early this morning at 1,685 and they fell back below $1,680 for quick $250 per contract gains and the 8:30 Non-Farm Payroll Report showed 213,000 jobs added in June so the Futures are heading back up and hopefully we can short them again at about the same highs (1,690) or short the S&P (/ES) futures back at 2,745 as there's really nothing good about any of this as the strong jobs keeps the Fed on the table despite the tit for tariffs going on in the background.
The market is still complacent as China has not officially retaliated against our initial $34Bn worth of tariffs (at 25%) but the People's Daily (official paper) said the customs agency was carrying out a plan announced last month to impose 25% tariffs on a $34 billion list of American goods including soybeans, pork and electric cars.
Trump has already announced another $16Bn worth of tariffs to begin in two weeks and says the US is ready to trigger another $200Bn worth of immediate tariffs followed by another $300Bn more if Beijing does not yield bringing the potential total to $550Bn, more than the $506Bn worth of goods China shipped to the US last year (half was from iPhones and such we asked them to make for us, so imagine what complete assholes we look like to them!).
Imagine that you are running a business and you get a new CEO who gets angy and calls your manufacturing partner and complains that you buy a lot of stuff from them (the things you sell) but they don't buy enough stuff from you to balance things out.  Let's say you sell fish tanks and they make 100,000 fish tanks a year for you for $200 each so $20M but they "only" bought 10 fish tanks from you for $2,000 – so you have a trade imbalance with your manufacturer of $19,998,000, right?  
Your new CEO says you can't tolerate this so he puts a tariff on fish tanks of 25%, a tax he will collect and give to the Top 1% Board Members in the form of tax breaks and the 25% will either come out of company profits or be passed on to your customers and he will keep the pressure on the manufacturer until they start buying another $19,998,000 worth of fish tanks.
That would clearly be insane, right? All of your customers would be hurt, your company's profits would take a dive and the only people we're helping are the people who get tax breaks paid for by the tariffs which is really just another way to transfer money from the poor to the rich from our con man President.  
And no, it is not "more complicated" than that. In a truly free economy, we buy what we need from the low-cost producers and sell to the customers that are willing to pay and EVERY SINGLE TIME Governments have attempted to interfered with that process has led to a complete and utter economic disaster.
But this trade policy is not about "fixing" anything other than robbing the poor and giving to the rich along with forcing a situation in which a trade deal (rather than sanctions) with Putin suddenly seems like a "win" for our puppet President.
I'm disgusted – how about you?