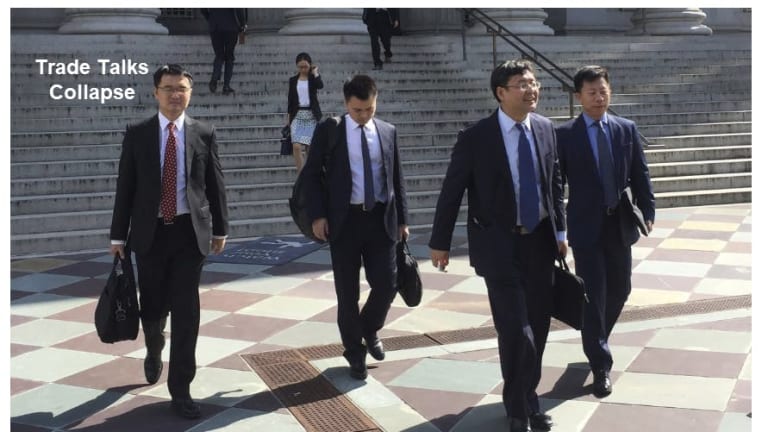 Trade War Friday – US China Talks Collapse With No Resolution
The WSJ says: "U.S.-China Trade Talks End With No Sign of Progress"
As we predicted, trade talks between the U.S. and China failed to produce any visible sign of progress, reducing the prospects of a deal soon, people closely tracking the talks said.  The statement was significant for what it didn't say as well, people said after the talks. There was no discussion of follow-up talks or any accomplishments.
For now, the U.S. continues to turn to tariffs to pressure China. As negotiations wrapped up on Thursday, the U.S. put in place $16 billion in tariffs on Chinese goods, raising the total to $50 billion. The Chinese have matched them dollar for dollar.  Public hearings continued on U.S. plans to hit another $200 billion in Chinese imports with tariffs as high as 25%, which would place levies on about half of Chinese imports. If the U.S. continues on the same schedule as in the past, those tariffs could start to take effect in September.
As I explained in yesterday morning's report, Trump has no interest in ending the Trade War with China as these "tariffs" are nothing more than a 25% tax on consumer goods purchased by the average American which fund tax cuts for the above-average American, who are better than you because they have more money – so don't complain!
​
President Trump is complaining that Twitter, Facebook and others are cracking down on Russian Hackers, White Nationalists, Hate Mongers and Bots which spread Fake News in Social Media (often from Russian Troll Farms).  It may be difficult for Republican Congresspeople to get elected without all the fake news and fake supporters and, of course, it's a fantastic distraction as the real news flow is turning towards articles of impeachment as more and more of Trump's inner circle is convicted or "flips" on him – something else he's been complaining about.
Obviously, people who are not guilty do not complain of their associates "flipping" on them and they don't decry plea-bargain agreements and they don't screem for the Attorney General to halt investigations – especially when they are effectively uncovering many, many, MANY crimes.  No, this is what guilty people do – especially when they are the heads of vast criminal conspiracies.  Take away the "fake news" and all that will be left are the facts – and Trump can't afford to have that happen!
​
And PLEASE, do not tell me that Trump's issues are not relevant to the stock market.  Trade is relevant, right?  Well if Trump is seen as weak or soon to be dragged out of office in handcuffs by the people they are negotiating with, then he and his team will not be taken seriously in the negotiations.  Also, if you follow the money (as we did yesterday), you can see in advance that Trump is using the Trade War as a distraction and as a stealth tax on US Citizens and 25% of $50Bn ($12.5Bn) is not going to cut it, but it is enough to buy the farm vote, which Trump and the GOP will be doing in their new Senate Bill.  That money will go to rich farmers, who donate some of it back, not to poor farmers who actually need it.
Trump wants another $50Bn in taxes and the best way to take it from you is to wrap it up in a flag and put a 25% tax on $200Bn worth of things you buy and they want to get it done next month so the money starts coming in to make his Q4 Budget seem a bit more balanced.  That's all this is about.  China is just the bogey-man of the moment as it also serves Russia's interest to put a wedge between what were improving relations between China and the US.
We'll see how this plays out but it's a long game, not a short one.  My overriding premise is that there's no particular catalyst to put us over our February highs and, in fact, there are plenty of potential catalysts that can send us tumbling lower.  HOWEVER, the market is still technically bullish and we have plenty of long positions we like too much to cash in so we're simply keeply ourselves well-hedged (see yesterday's Report for one of our shorting ideas) – just in case things collapse again.
​
I already put out a note to our Members this morning to look again for shorting opportunities at Dow (/YM) 25,750, S&P (/ES) 2,865, Nasdaq (/NQ)7,450 and Russell (/RTY) at 1,725 – we use very tight stops over the lines and wait until at least two are under before shorting the laggards and, if ANY of the shorting lines break up – we take a quick loss.  Since the risk is low and the reward is high – toppy markets like this can present many opportunities to make some quick money in the Futures.  
Have a great weekend,